GT-Mods Renault Premium Route Rework v1.2
Author:
Tacsi68
| 21-08-2018, 15:11 |
Views:
573 |
Comments:
0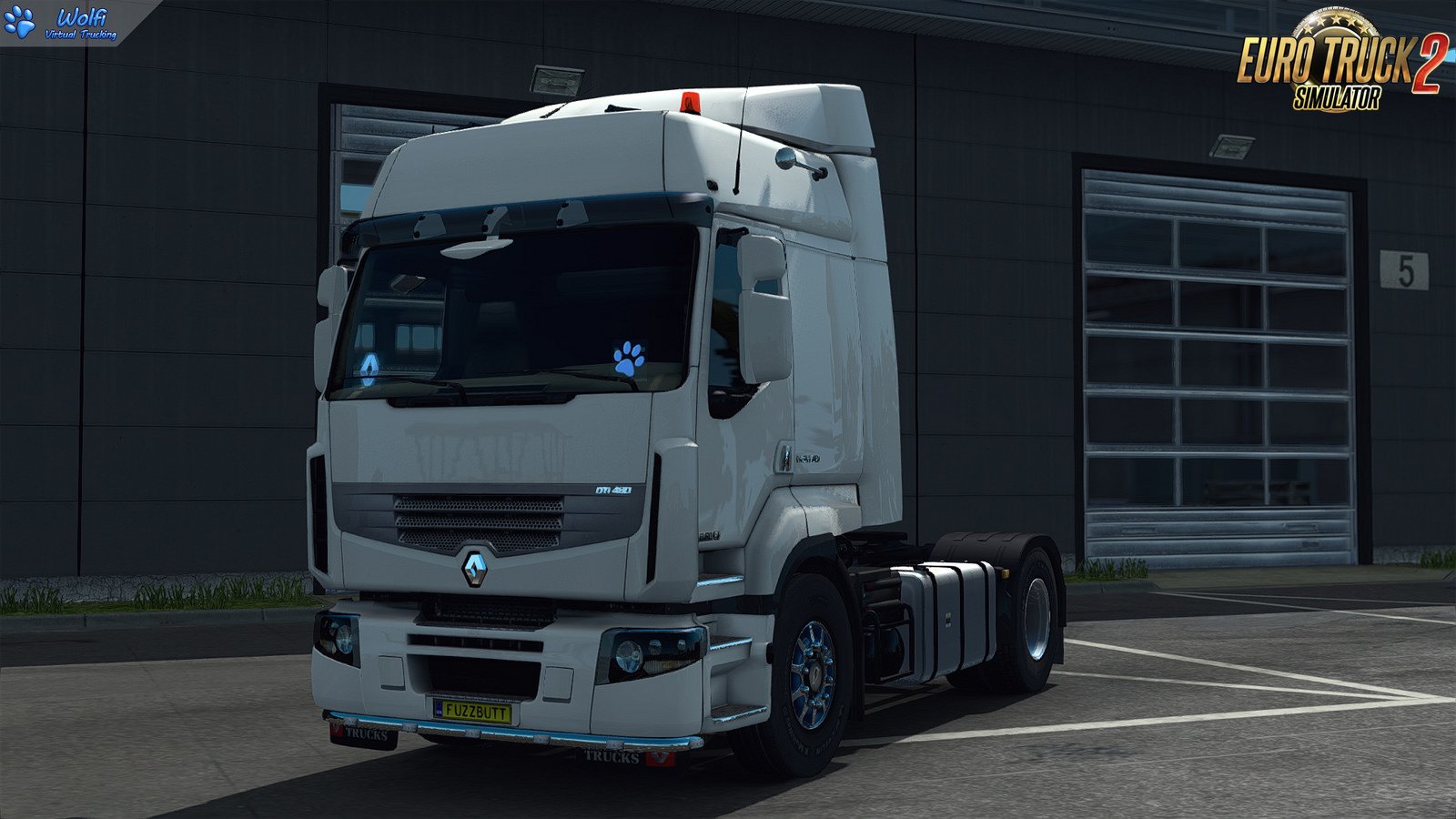 Version game
-
1.31.x,1.32(beta)
Credits: - Wolfi (GT-Mike)
GT-Mods Renault Premium Route Rework v1.2 for Euro Truck Simulator 2 game. 
This mod reworks default SCS REnault Premium and fixes most exterior 
bugs I was able to find, additionally some new parts are added.
Full list of changes:
-reworked chassis models, cleaned and unified everything
-changed materials and textures to achieve more realistic look
-readjusted chassis height and relative wheel positions
-added propper rear fender models
-added proper rear lamp models
-added missing side lights
-side lights are working properly with flares
-reworked sideskirts
-added 6x sideskirts
-changed texture on fueltanks to mat aluminium
-added fuel level indicators for fueltanks
-removed unnecessary parts from 6x chassis
-reworked muffler and added propper exhaust piping
-updated Adblue tank
-reworked, retextured chassis covers
-replaced fifth wheels with better quality Jost sliders
-reworked headlights 
-added missing flares
-reworked lightmasks
-removed front bottom chassis cover and added it as a separate accessory
-added new bottom bars with and without bottom covers
-added front and rear mudflaps
-removed unnecessary parts from front bumper
-reworked AO textures
-fixed multiple parts on both cabs
-added multiple missing parts
-added missing engine badges
-added 3 new Euro6 engines based on Renault Range T with custom badges
-rebuilt main grill with a higher quality texture
-adjusted most materials to resemble real life parts
-reworked main mirrors (including interior models of those)
-added 2 new variants of main mirrors
-added paintable variant for front and side mirror
-added a few sunvisors and reworked existing ones
-added "slots" roofbars for both cabs
-added missing "beacon" slots
-fixed naming of multiple parts
Mod was not properly tested, so if you find any bugs please report them here.
Credits:
-Wolfi
Special thanks to:
-Renault Trucks for providing some referrence data
-Siperia for some parts inspirations
-Carl1992 - testing
Share / Download mod «GT-Mods Renault Premium Route Rework v1.2»
---
---
Download Links – Policy & Disclaimer
This document refers to links to third-party content/website, from both our website(s) and our official Social Media pages. External links are selected and reviewed when a page/post is published. However, we are not responsible for the content of external websites. If you would like us to remove a link to your website from NHS Choices, please Contact us (Admin) Note that unless you have a legal right to demand removal, such removal will be at our discretion.