Kraker Walkingfloor Pack v2.1 by Kast [1.35.x]
Author:
Tacsi68
| Date: 9-06-2019, 12:46 |
Views:
217 |
Comments:
0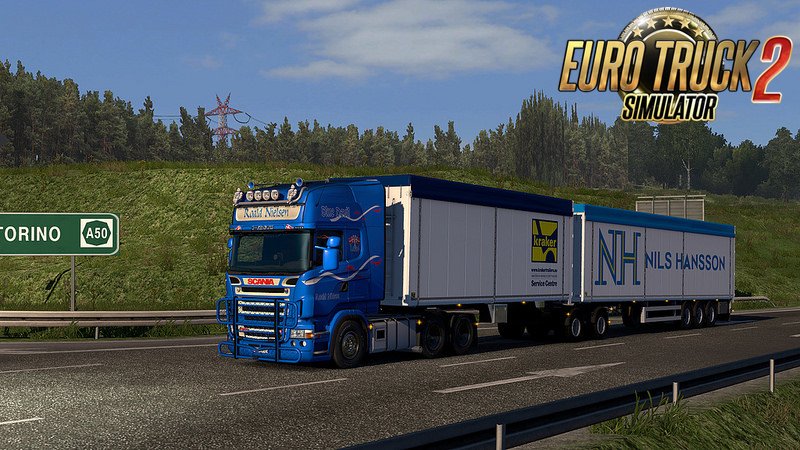 Category
-
ETS 2 trailers
Credits: - Kast, Nordisch, Bora, Abasstreppas
Description about « Kraker Walkingfloor Pack v2.1 by Kast [1.35.x]: »
Kraker Walkingfloor Pack v2.1 for Ets2 1.32.x game version 
This pack includes: 
-3 Semitrailers: standard, scandinavian type and with tail-lift. 
And all these 3 type of trailers have variant with Thermo King Refrigeration Unit.
-B-train trailers. (B-link trailer folded and unfolded, b-train with 3 trailers)
-34m double trailer with NTM dolly
-Ownable trailers
Features:
-Standalone
-Advanced coupling 
-Trailer lift axle 
-Steer axle
-Company paintjob system
-Animated braces
-Ai Traffic-LOD Models
-Trailer cables
-Ownable trailers 
- for 1.35.x game version
New Changes for v2.1
-Converted and updated to game version 1.35.x
-small fixes
-Body locators moved
Huge thanks to Bora for the wheels and Abasstreppas for taking the time to adjust the shadows pluss the wheels!
Thanks Kajilius for testing the trailer.
Thank Scs forum community and people who are active to help people, share info about modding!

Credits:
Trailer: Kast
New skins, textures: Nordisch, Fabry85
Trailer wheels: Bora
B-link trailer wheels, Shadows, Flares: Abasstreppas
SCS for everything


Please do not reupload. If you want to share mod use original link!
Share / Download Kraker Walkingfloor Pack v2.1 by Kast [1.35.x]: