AI Traffic Pack v10.5 by Jazzycat
Author:
Tacsi68
| Date: 13-07-2019, 00:39 |
Views:
175 |
Comments:
0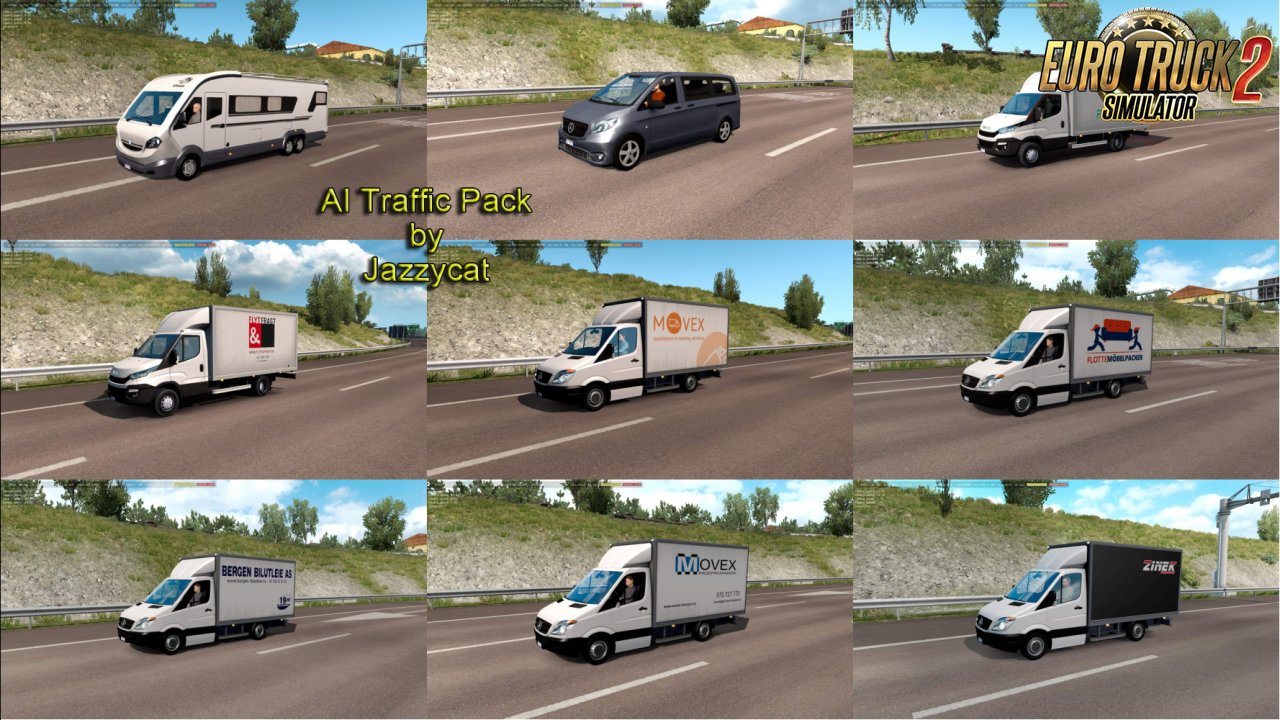 Category - ETS 2 other mods
Description about AI Traffic Pack v10.5 by Jazzycat:
AI Traffic Pack v10.5 by Jazzycat for Euro Truck Simulator 2 game. 
New version 10.5:
- Added motorhome Knaus Sun Liner, Mercedes-Benz Vito(W447) 
and 7 new skins for Iveco Daily and Mercedes-Benz Sprinter.
This pack ack adds in traffic 378 new AI cars. 
Included real 3D logos for default cars and about 600 skins for different vans.
Models of other authors: Dacia Logan (Srele), MB Vito, W210, VW Passat B5 (Alexx_Os), 
Renault Kangoo (Alexx_Os, SNAIL_KILLA), Alfa Romeo Brera, Mito, Audi RS5, 
RS6 Avant, VW Golf 6 (Serj999), some skins by IJ's Mods. 
For game version 1.35.x
All standalone and works on any maps.
Compatible with all Jazzycat packs.

List of cars
Mercedes-Benz A(W169), B(W246), C(W202, W203, W204), E(W124, W210, W212, 
W213, S212), S(W220, W221, C217), R, ML, G, GL, CL, CLK, CLA, CLS, 
GLC, GLE, X, Vario, Vito(W639, W447), Sprinter(903, 906)
BMW 1(E82, F21), 2(F87), 3(E36, E46, E92, F80), 4(F82), 5(E34, E39, F10, F11), 
6(E63, F13), 7(E38, E66, G11), X1(E84), BMW X3(F25), X5(E70, F15), X6(E71, F16)
Audi 80(Avant), 100(C4), A1, A2, A3(sedan, sportback), A4(B5, B6, B6 Avant, 
B7, B8, B8 Avant), A5, A6(C5, C6 Avant, C7 Avant), A7, A8(D2, D3, D4), Q7, Q5
Volkswagen Touareg, Golf(2, 3, 4, 5, 6, 7), Tiguan, Arteon, Polo, Fox, Beetle, 
Scirocco, Passat(B4 Variant, B5, B6 Variant), Lupo, Up!, Bora, Jetta, Corrado, Amarok, Crafter, Transporter(T4, T5), LT
Renault 19, 21, Laguna(1, 2, 3), Fluence, Clio(I, II, III, IV), Megane(II, III), 
Espace(III, IV), Scenic(II), Twingo, Kangoo, Master, Trafic
Fiat Panda, Fiorino 3, Freemont, Punto Evo, Multipla, Altea, Palio, Brava, 
Barchetta, Ducato( Camper, Van), Coupe, Fiat/Abarth 500
Alfa Romeo 145, 147, 155, 156, 164, Brera, Mito, GT, Giulia
Citroen C1, C2, C6, C8, Nemo, Berlingo, Xsara Picasso, XM, DS3, DS4, DS5
Peugeot 106, 107, 108, 206(Hatch, cc), 207, 307, 308, 406, 508, 605, 607, Partner, Bipper
Seat Leon('03, '10), Ibiza, Arosa, Altea, Toledo
Dacia Logan, Duster, Sandero, Lodgyб Solenza
Skoda Octavia I, Superb, Yeti
Opel/Vauxhall Vectra C, Astra(F Caravan, G Caravan, J Hatch, Caravan), Omega A, Meriva, 
Zafira, Insignia(Sedan, Wagon), Agila, Corsa(D, E)
Porsche Cayenne, Panamera('09, Sport Turismo '17), Macan
Ford Focus(1, 3), Mondeo Wagon, Kuga, Scorpio(I, II), Transit'10, Galaxy, EcoSport, Fiesta, Ka
Bentley Arnage T, Continental GT, Bentayga
Land Rover Discovery(2, 3), Freelander(I, II), Evoque, Range Rover
Smart Fortwo
Knaus Sun Liner
Maybach 62
Rolls Royce Wraith, Phantom VIII
Saab 9000, 9-3('02,'08), 9-5
Volvo 850(sedan, wagon), 940, S60('04, '11), S80, V40, V60, C30, XC90
Toyota Corolla, Yaris('99, '08), Aygo, Prius, Land Cruiser 200, Avensis, Hilux, C-HR
Lexus IS(XE10, XE20, XE30), CT200h, GS350, RX, LS460
Subaru Legacy, Forester, Levorg
Honda Jazz, Civic('94, '04, '07, '15, '19), Accord, CR-V('01, '15), CR-Z, Insight
Mazda 2, 3('08 hatch, '12 sedan), 6('06, '08, '15), 626, Premacy, Xedos6
Nissan Micra('11, '17), Primera(P11 Wagon, P12 Sedan, Wagon), Juke, Leaf, Murano, Patrol
Mitsubishi Colt, Lancer(VIII, IX), Pajero, Outlander, L200
Suzuki SX4, Liana, Swift
Maserati Quattroporte, Ghibli, Ghibli II
Mini Cooper Roadster, Clubman
Lancia Delta, Thema
Infinity Q50
FSC Zuk A-11
FSD Nysa 522
FSO Polonez(Caro Plus, Atu Plus, Kombi, Truck Plus, 1500)
Jaguar XJ(X350), XE, F-Pace
Aston Martin Cygnet
Hyundai i20, ix20, i30('07, '17), ix35, Getz, Santa Fe, Veloster, Genesis Coupe
Daewoo Lublin 3
Kia Sportage, Carnival, Soul
Chrysler PT Cruiser 
Share / Download AI Traffic Pack v10.5 by Jazzycat:
Vkontakte
Facebook
Тwitter
Pinterest