Mexico Extremo Map v2.1.10 (1.35.x) for ATS
Author:
admin
| Date: 14-09-2019, 16:30 |
Views:
353 |
Comments:
0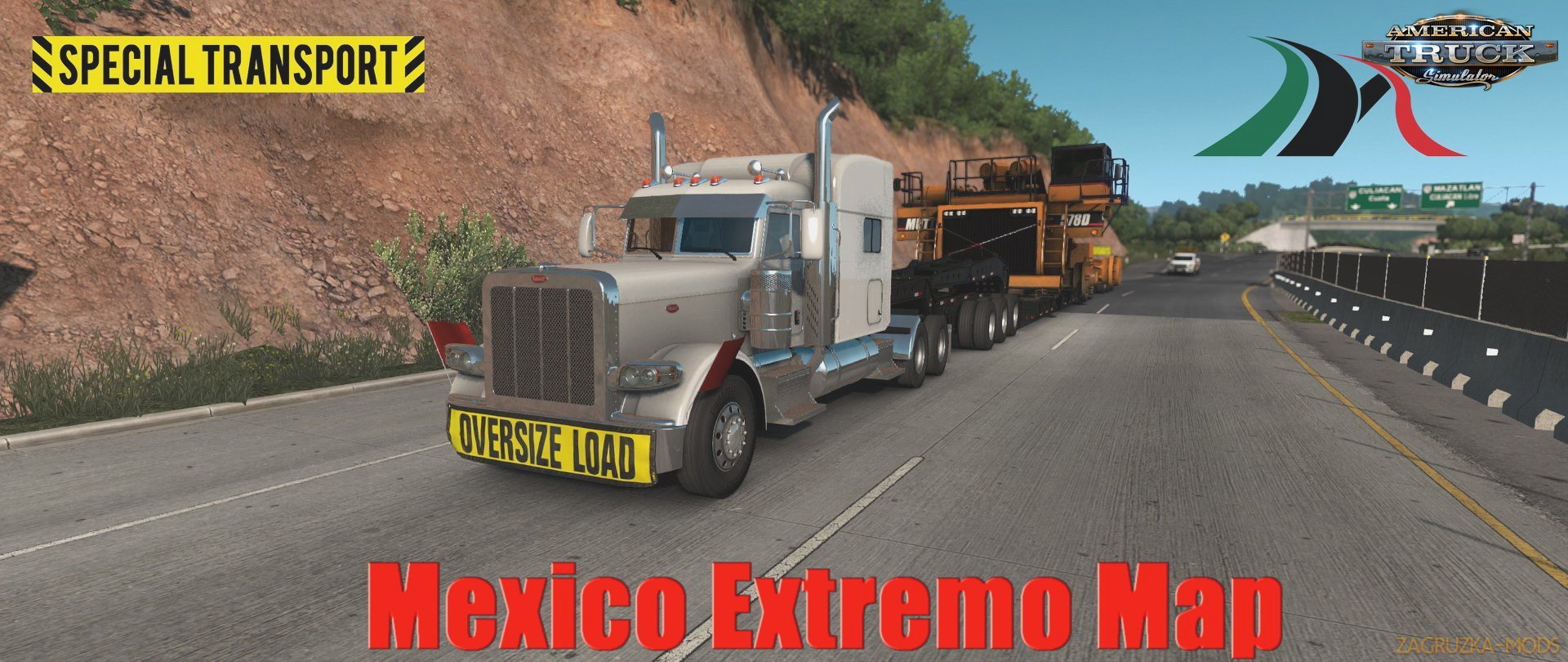 Description about Mexico Extremo Map v2.1.10 (1.35.x) for ATS:
Download mod Mexico Extremo Map v2.1.10 (1.35.x) for ATS | American Truck Simulator game.
A great addition added to the game American Truck Simulator is Mexico Extremo Map for 1.35.x game version, which can be downloaded for free and without registration. You can also see other maps from the category Maps for American Truck Simulator or go to the main section ATS mods.
Trucking in Mexico is never as straight forward as in the US. Experience windy and dangerous roads, questionable conditions, road blocks, speed bumps and the ever satisfying beauty of the Mexican landscape, all from the comfort of your home.
New two states added, Aguascalientes and Nayarit, remodel of Durango state entirely, small portion added south of Chihuahua state, some upgrades made in Zacatecas. Special trasnport DLC support with 7 special transport cargo routes in map.
*NEW MEXICO DLC NEEDED and Oregon DLC needed
Features map Mexico Extremo:
-Special transport support (6 routes)
-Aguascalientes state added.
-Remodel of durango state entirely.
-New areas south of chihuahua state (rest of the state is WIP)
-New deliveir areas from oregon DLC assets (Oregon DLC needed)
-Remodel of extreme route in Canelas and Tamazula
-New remodel routes in Durango state, federal road 23, 45, 49 and state road 44.
-A maze! first in ATS, figurate out in Mapimi area called "Zona del Silencio"
-New urban and rural junctions in map
-17 new cities and remodels in 2.1 "Aguascalientes".
New cities in 2.1 "Aguascalientes";
-Aguascalientes, Ags
-Calvillo, Ags
-Parral, Chih
-Jimenez, Chih
-Gpe y Calvo, Chih
-Nuevo Ideal, Dgo
-Rodeo, Dgo
-Mapimí, Dgo
-Sta Ma del Oro, Dgo
-Tepehuanes, Dgo
-Ojuelos, Jal
-La Cruz, Sin
-Cosalá, Sin
New remodeled cities in 2.1 "Aguascalientes";
-Gómez Palacio, Dgo
-Santiago Papasquiaro, Dgo
-Canelas, Dgo
-Tamazula, Dgo
-Guanacevi, Dgo
- New update for ATS 1.35.x
- Currently the card is compatible with dx11 and dx9,
- New visual enhancements to Mexico Extremo panoramas (Durango, Zacatecas),
- performance improvements,
- Error correction.

Improved cities:
-Mazatlan, Sin
-Zacatecas, Zac 
-Durango, Dgo 
-Fresnillo, Zac 
Added functional new cities:
-Colotlán, Jal
-Huejuquilla, Jal
-Salinas, SLPNew 
*The map needed, download from here; (if you have it already no need to re-download)
LOAD ORDER:
**Other mods such vehicles, trailers, skins, etc
**OTHER MAP MODS
Mega Resources 2.1.3
Mexssimap 1.3 (if used)
Mexico Extremo 2.1.9
Viva Mexico 2.5.2
Tested on game version 1.35.x
Share / Download Mexico Extremo Map v2.1.10 (1.35.x) for ATS:
Vkontakte
Facebook
Тwitter
Pinterest