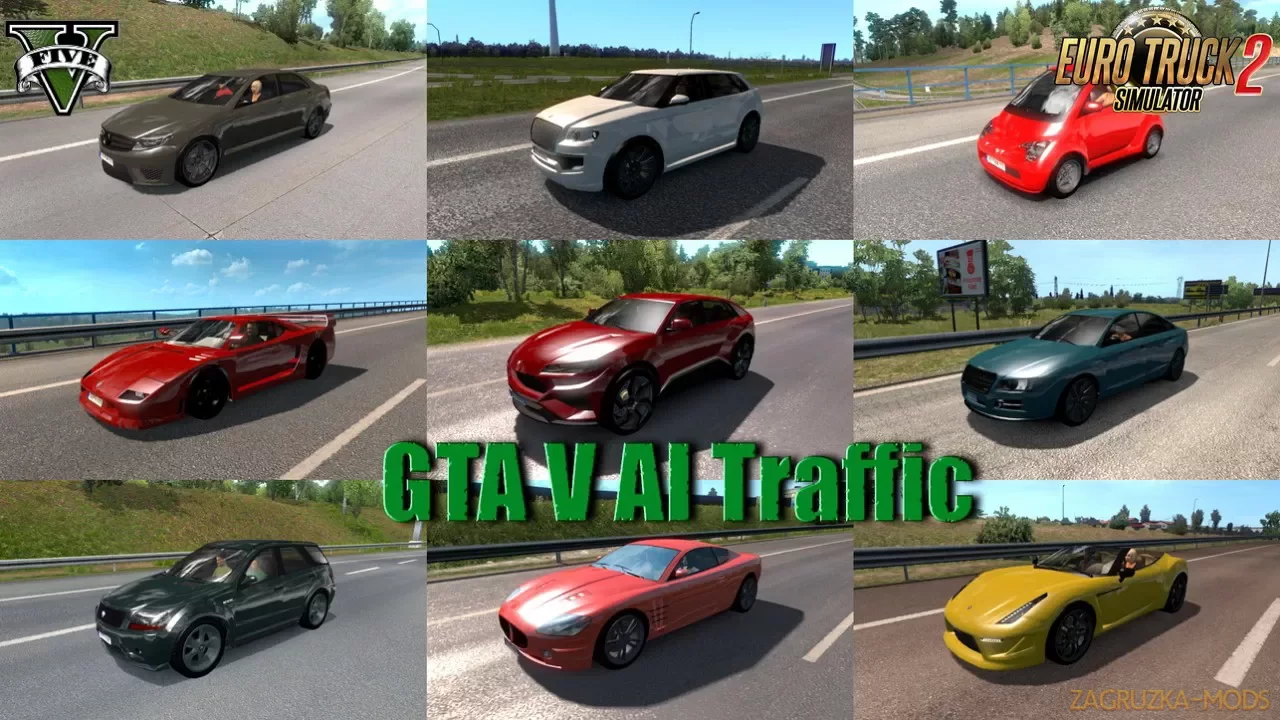 Last edited by: admin - 2-05-2020, 15:05
Reason: Mod Updated to v2.4
Download mod GTA V AI Traffic Pack v2.4 (1.36.x) for ETS2 | Euro Truck Simulator 2 game.
A great addition added to the game Euro Truck Simulator 2 is Mod GTA V AI Traffic Pack for 1.37.x game version, which can be downloaded for free and without registration. You can also see other fashion from the category Other mods for

Euro Truck Simulator 2

or go to the main section ETS2 mods.
---
GTA V AI Traffic Pack - This mod adds cars from Grand Theft Auto V and Online are now on European Roads! It also features new AI driver models! All standalone and not replace any original AI cars.
---
Cars List
Annis - Elegy RH8, Hellion
Benefactor - Schafter V12, Schwartzer, Feltzer, Krieger, Schlagen GT, Surano, Panto, Dubsta, XLS, Serrano
Bravado - Banshee, Verlierer
Cheval - Taipan
Dewbauchee - Exemplar, Massacro, Rapid GT, Seven-70, Specter, Vagner
Dinka - Blista, Blista Kanjo, Sugoi, Jester
Enus - Huntley S, Paragon R, Cognoscenti, Super Diamond, Windsor Drop
Gallivanter - Baller II
Grotti - Bestia GTS, Carbonizzare, Cheetah, Furia, Turismo R, Turismo Classic, Itali GTO, Visione, X80 Proto
Hijak - Khamelion
Invetero - Coquette
Karin - Kuruma, Everon
Lampadati - Felon, Felon GT, Furore GT, Komoda, Novak
Maxwell - Asbo
Obey - 8F Drafter, 9F, Tailgater, Rocoto
Ocelot - F620, Jackal, Jugular, Lynx, Pariah, XA-21, Penetrator
Overflod - Entity XF, Entity XXR, Autarch, Tyrant
Pegassi - Vacca, Zentorno, Reaper, Osiris, Tezeract, Zorrusso, Infernus, Infernus Classic, Toros, Tempesta
Pfister - 811, Comet
Principe - Deveste Eight
Progen - Itali GTB, T20, GP1, Emerus
Truffade - Adder, Nero, Thrax
Ubermacht - Sentinel XS, Oracle XS, Oracle II, Rebla GTS, Zion Cabrio
Vapid - FMJ, Dominator GTX
Vulcar - Ingot
Vysser - Neo 
Changes in v2.4:
- Added Ubermacht Zion Cabrio, Dinka Sugoi and Blista Kanjo.

Old Changes
Tested on game version 1.36.x
This document refers to links to third-party content/website, from both our website(s) and our official Social Media pages. External links are selected and reviewed when a page/post is published. However, we are not responsible for the content of external websites. If you would like us to remove a link to your website from NHS Choices, please Contact us (Admin) Note that unless you have a legal right to demand removal, such removal will be at our discretion.