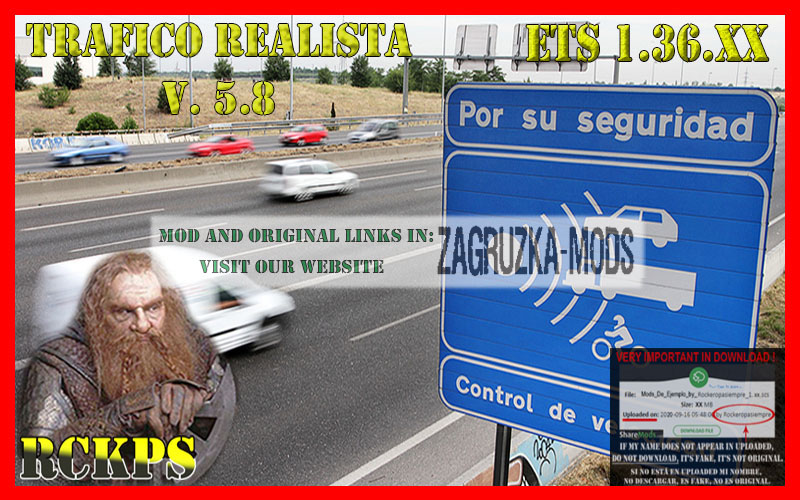 Tráfico realista 5.8 de Rockeropasiempre para V.1.36.XX 

Actualización de MOD
NO CARGUE EL MOD A OTRO SERVIDOR. POR FAVOR, RESPETE EL ENLACE ORIGINAL DEL AUTOR.
Nota: Si tiene una barra de eventos aleatorios muy alta,
pueden ocurrir embotellamientos absurdos en la ciudad. No es para el mod.
Dentro del archivo Winrar, 2 versiones. Normal y sin extras. Extrae y usa el que quieras.
Descripción:
- Instrucciones de modificación completas en español, inglés, alemán, ruso y polaco.
- Compatible con el paquete Drive Fixely Sound Fixes.
- Si usa Sound Fixes Pack, debe colocar Sound Fixes Pack, encima de este mod.
- Coloque este mod, encima de los mapas o mods del tráfico AI.
- 2 versiones del mod. Uno incluye el sonido del vehículo (con extras),
y la otra versión (NO EXTRAS), no incluye estos sonidos.
- El mod, contiene el tráfico del juego base + tráfico agregado con sus propios sonidos,
(SOLO EN VERSIÓN CON EXTRAS).
- Compatible con todos los mapas y todos los dlc del juego.
- Compatible con todos los paquetes de tráfico IA-mods.
Cambios en V5.8: 
Reestructuración del mod completo. 
Edición de archivos para una compatibilidad total con el mod de Sound Fixes Pack de Drive Safely.
Actualización de archivo para la versión estable 1.36.
Tiempos de semáforo editados de la nueva área de Road To The Black Sea.
Reglas de tráfico editadas y la cantidad de tráfico completo.
Nuevos vehículos añadidos: Renault Scenic y Bmw e66.
Reducción de volumen de sonido para el grupo de motores Wolverine y Quad Kvadro con la versión With Extras.
- Lista completa de vehículos IA con sonido agregado al mod (VERSIÓN NORMAL).
- Los mismos vehículos para la versión (NO EXTRAS), sin incluir sonido propio.
Audi A6, Bmw 5, Bmw e66 Citroen BX, Citroen C3, Citroen C4, Citroen 2Cv,
Citroen Gs, Dennis Dagger Bomberos, Dumont 47, Fiat Ducato, Fiat Panda,
Mercedes Econic Recogida de Basura, Foxom Bomberos, Foxom Recogida de Basura,
Mercedes GLB 2019, Mazda CX3, Neoplán Tourliner, Opel Astra, Quad Kvadro,
Renault Clio, Renault Megane, Renault 9, Renault Scenic,
Renault 11, Renault 18, Taxi Ford Crown Victoria, Toyota Land Cruiser,
Tatra T815 Bomberos, Tractor, Volkswagen Transporter, Volkswagen Beetle 63,
Volkswagen Crafter Ambulance, Volkswagen Golf, Volvo XC70,
Volvo XC70 con Skin Race, Yamaha Wolverine X2.
Daf XF, Daf XF Euro 6, Iveco Hiway, Ivecho Stralis, kamaz 43118, Man TGX,
Mercedes Actros, Mercedes New Actros, Mitsubishi Fuso (3 Chasis distintos),
Renault Magnum, Renault Premium, Scania R, Scania R y S 2016,
Scania Streamline, Volvo FH 2009, Volvo FH 2012, Zil 4331.
Busscar Panoramico dd 6x2, Marco Polo Paradiso G6 1800 6x2,
Marco Polo 1800 8x4, Ikarus 255, Temsa Opalín.
Peso del archivo WinRar: 211.5 Mb.
Créditos Sonidos: Cipinho, kriechbaum, Drive Safely.
Modelos: Scs, AlexGold, Jazzycat, pete379jp.
Probadores: Salsambo, TurcoTron
Autor: Rockeropasiempre