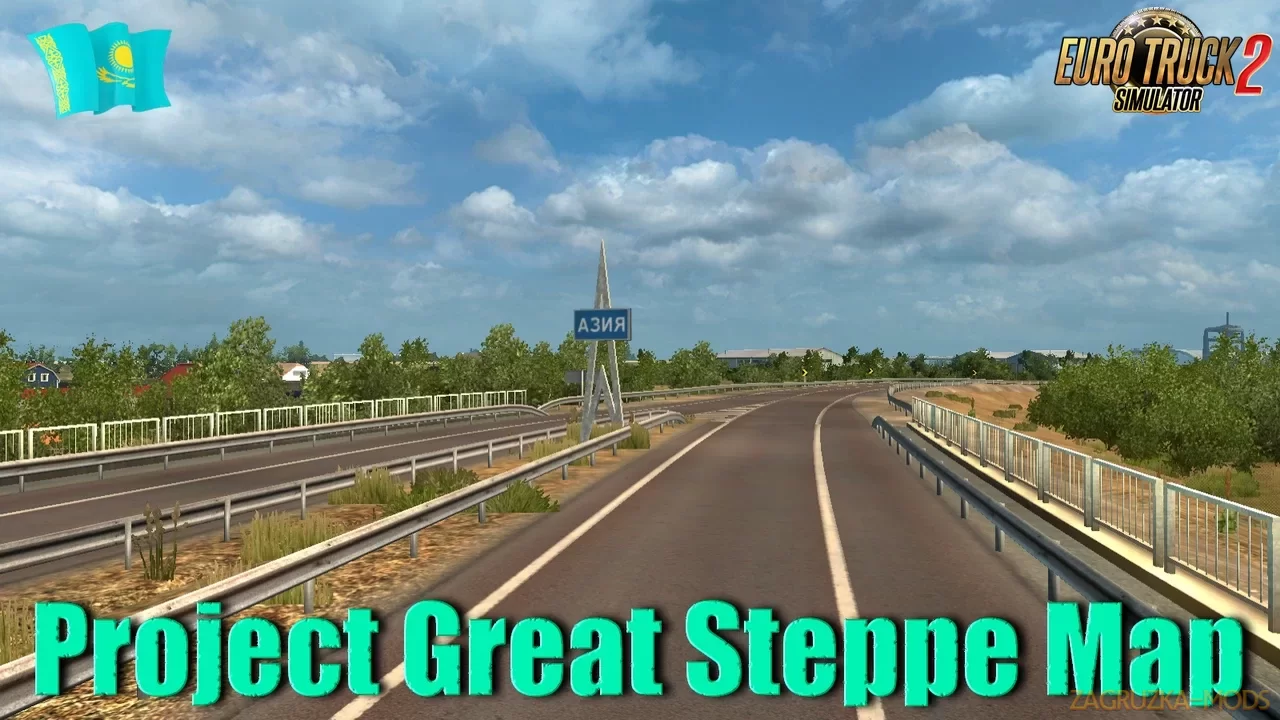 Last edited by: Zagruzka - 4-01-2021, 14:14
Reason: Mod Updated to v1.5
Download mod Project Great Steppe Map - Kazakhstan v1.5 (1.39.x) for ETS2 | Euro Truck Simulator 2 game.
A great addition added to the game Euro Truck Simulator 2 is Mod Project Great Steppe Map - Kazakhstan for 1.39.x game version, which can be downloaded for free and without registration. You can also see other fashion from the category Maps for Euro Truck Simulator or go to the main section ETS 2 mods.
---
The Project Great Steppe
- is a map of the Republic of Kazakhstan which opens a way from Europe To Asia by means of the RusMap Project. The card comprises two countries: Kazakhstan and a part of Russia - which was constructed for connection with the RusMap map. Modification works as in itself (in the right side from the main map and it isn't connected with others, that is it is autonomous) and together with RusMap and other modifications... 
The new mod provides an opportunity for everyone to visit Kazakhstan, it is worth noting that this region is almost not affected by modders, so the new project is doubly interesting!
 The map turned out to be very atmospheric, the life and cultural features of Kazakhstan are perfectly conveyed, which is adjacent to realistic flora and fauna, howling winds in the steppe, bad roads encountered on the way and other bright solutions that add originality to the game world.
---
Features Project Great Steppe Map: 
- Way to Asia
- Flat area, melkosopochnik, steppes, deserts, semi-deserts
- The broken roads (in places)
- Sparsely populated areas, long distances.
- Required DLC's: "Going East", "Scandinavia", "Vive La France", "Italia", "Beyond the Baltic Sea" 
- adapted to the latest game patch 1.39
- fixed bugs from previous version
Tested on game versions 1.39.x