ProMods Map 2.46 (1.37.x)
Author:
Tacsi68
| Date: 21-05-2020, 22:54 |
Views:
956 |
Comments:
1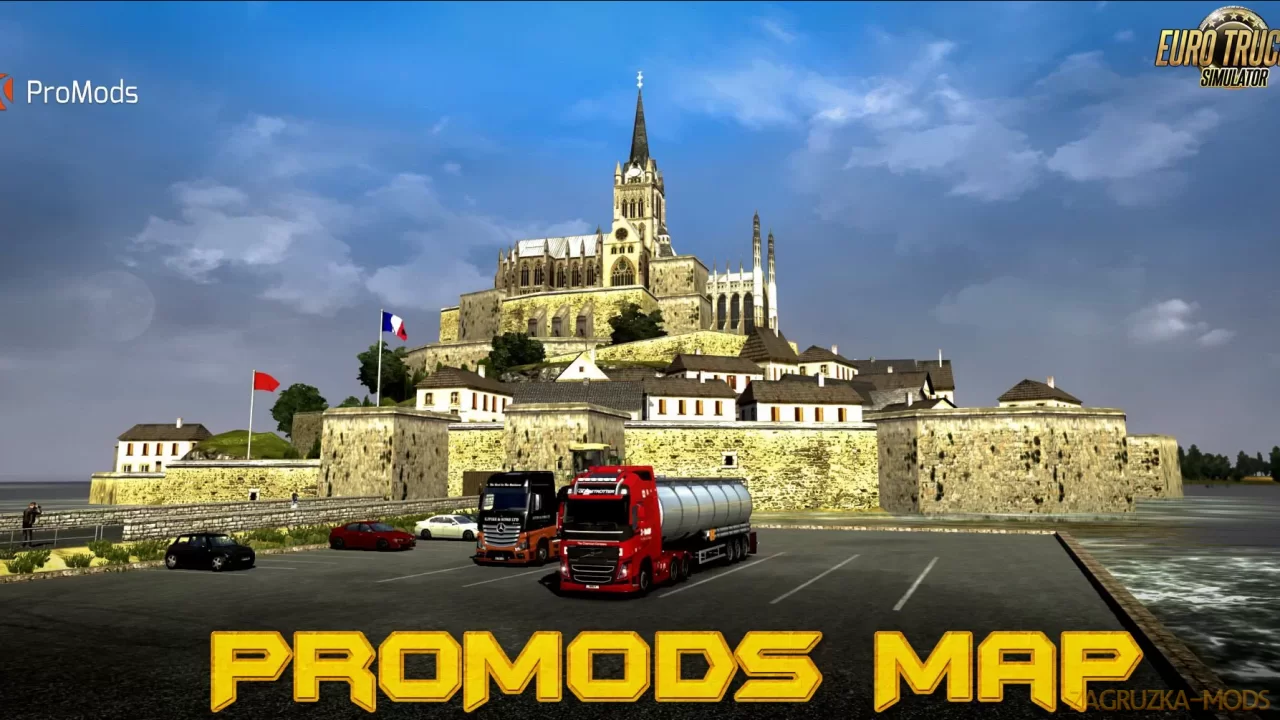 Credits: - Kutchek, Mandelsoft, ScuL81, Nico, Claus Vendelboe Holmberg, Søren H. Nicolaisen, Frank Sørensen, Lars Møllebjerg, Andu, Birsu Fanel, Hotaru Customs, Tete_sniper, stefag40, CorsicaTruck
Last edited by: admin - 22-05-2020, 00:19
Reason: Mod Updated to v2.46
Description about « ProMods Map 2.46 (1.37.x): »
Download mod ProMods Map 2.46 (1.37.x) for ETS 2 | Euro Truck Simulator 2 game.
ProMods 2.46
 has been released. It runs on game version 1.36 and requires ALL map DLCs.

Please note that TruckersMP (multi-player) is still on game version 1.36 / ProMods 2.45
---
ProMods 2.46
brings compatibility with the most popular mod for Euro Truck Simulator 2: 
TruckersMP
. Around a week ago SCS pushed out update 1.36 bringing a large number of features and improvements, like removing DX9 entirely. In the early stages of the open beta 1.36 was still quite unstable and had a lot of issues causing issues in the map editor, which has affected our ability to update our modification for 1.36 version of ETS2, such as broken mouse movements that made our work on the update to stall or become significantly difficult.
Over the weeks the build stabilised and we started working on preparing our first beta. One of the largest issues we had was that we had to replace every single walker, as SCS was removing them and replacing them with movers. After a lot of work Mandelsoft managed to get a script to replace them all for us. 
---
REQUIRES DLC:
- EAST, NORTH, FRANCE, ITALY, BTBS & Road to Black Sea 
Supported DLC:
- Special Transport DLC
---
New version 2.46:
        - Critical bug fixes versus 2.45
        - 10 new border crossings to the Black Sea DLC
        - Bosnia Herzegovina: Бања Лука (Banja Luka), Добој (Doboj)
        - Bulgaria: Благоевград (Blagoevgrad). Rebuilt: Монтана (Montana), Видин (Vidin)
        - Croatia: Virovitica
        - Czechia: Jihlava
        - Greece: Σέρρες (Serres)
        - Macedonia: Штип (Štip)
        - Poland: Rebuilt: Cieszyn
        - Romania: Satu Mare
        - Serbia: Панчево (Pančevo)
        - Added full support for the Black Sea DLC
        - Completed Northern Rescale project
        - Completed Germany Phase 2 merge
        - Temporary removal of Moldova 
This version requires all current map DLCs to be installed. 
Tested on 1.37.x game version
Share / Download ProMods Map 2.46 (1.37.x):