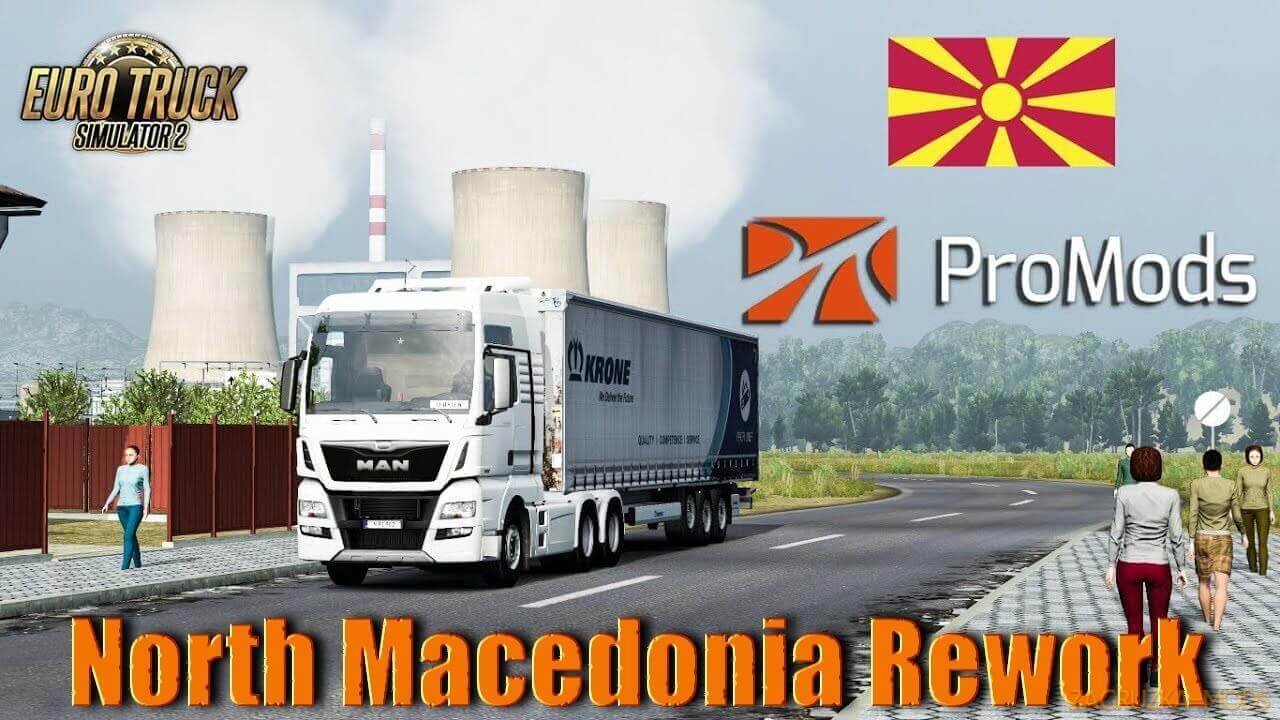 Last edited by: Zagruzka - 17-11-2020, 10:45
Reason: Mod Updated to v1.4
Download mod North Macedonia Rework v1.4 for ProMods v2.51 (1.39.x) for ETS2 | Euro Truck Simulator 2 game.
A great addition added to the game Euro Truck Simulator 2 is Mod North Macedonia Rework for ProMods v2.51 for 1.38.x game version, which can be downloaded for free and without registration. You can also see other fashion from the category Maps for Euro Truck Simulator or go to the main section ETS 2 mods.
---
North Macedonia Rework
- This mod is compatible with Euro Truck Simulator v1.38 and requires
ProMods v2.50
.
The modification rebuilds a map of Macedonia from Promods.
The mod adds two new cities to the map, two new roads plus contains correction and changes to the entire map.
A new intersection south of Kichevo connecting R-1305 with E-65 is added, prefabs at the exit from Ohrid (E-65) to Strugi (E-852) are changed and the prefab at the connection between E-65 and R-1305 (Bitola is changed
) to account for left turns.
---
Features North Macedonia Rework:
- This mod adds new cities to the existing ProMods map;
- new roads;
- new signs;
- support for Special Transport Job;
- other changes and improvements.
New cities:
- Fully rebuilt the city of Strumica and made it fully functional;
- Added the towns of Nov (New) and Star (Old) Dojran;
New Roads:
- Added the R-1401 (Strumica - Valandovo);
- Added the R-1105 (Valandovo - Dojran);
- Connection to E-75 from Valandovo;
New companies:
- Added the Okta refinery near Skopje;
Special Transport:
- Added a Special Transport Route from Stip (Rosmark) to Star Dojran (Marina) - Special Transport DLC Required, make sure to pick the appropriate def file (instructions on first page);
Changes:
- Rebuilt the road from Strumica to the Novo Selo/Zlatarevo Border Crossing;
- Refreshed the Okta petrol station north of Struga to help resemble its real-world counterpart more closely;
- Other changes, additions and fixes.
Tested on game versions 1.39.x