Ural 6464 + Interior v1.4 (1.40.x) for ATS
Author:
admin
| 26-03-2021, 08:43 |
Views:
553 |
Comments:
0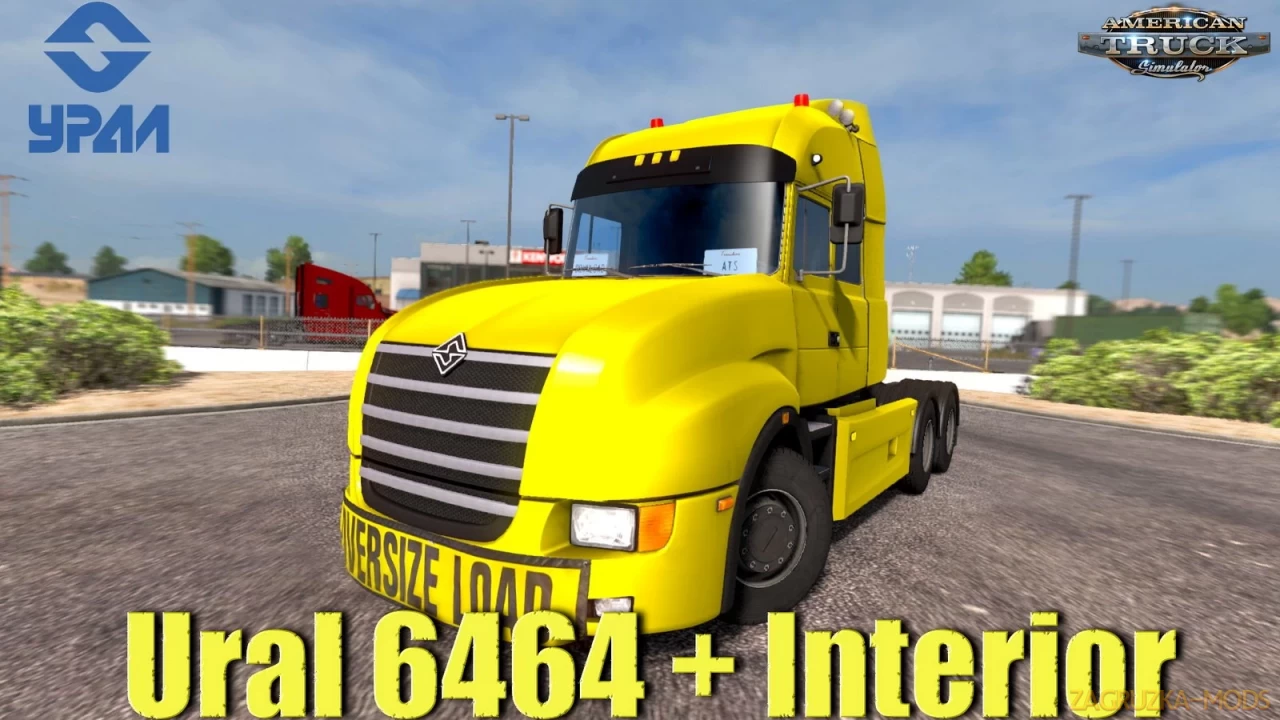 Credits: - JAWA, Stas556, Мишанька, Артем Аббасов, vasja555, YuriI
Last edited by: Zagruzka - 26-03-2021, 08:43
Reason: Mod Updated to v1.4
Download mod Ural 6464 + Interior v1.4 (1.40.x) for ATS | American Truck Simulator game. 
A great addition added to the game American Truck Simulator is 
Truck Ural 6464 + Interior for ATS for 1.40.x game version, which can be downloaded for free and without registration. You can also see other fashion from the category Trucks for American Truck Simulator or go to the main section ATS mods.
---
Ural 6464 - One of the most famous Russian producers. It's quite a modern conventional truck, able to compete with the best representatives of the automotive industry in other countries. This mod has a high quality model and the possibility of tuning. The URAL 6464 truck tractor boasts not only good driving characteristics, but also increased comfort. Ural 6464 is the latest solution of the family of road tractors produced at the Ural Automobile Plant named after Stalin. When designing the new Ural, the engineers followed the American hood concept, as a result, a mainline tractor with a wheel formula of 6×4 was designed, capable of transporting semi-trailers weighing up to 62 tons
---
- independent truck model
- High quality 3D model
- High quality detailed exterior
- High quality detailed interior
- the model has own interior
- the model has own sound
- the model has own wheels
- the choice of engine power (5 Engines: YaMZ and Pakkar )
- the choice of transmission and gearbox (

3 gear boxes

)
- choice of color body / metallic paint
- the choice of wheels configuration
- the choice of chassis (3 types)
- passanger seat
- the character is correctly sitting in the driver's seat
- correct position of the Ural logo
- present the illumination of arrow speedometer and tachometer
- Working headlights, brake lights, tail lights, front and rear turn signals, steering wheel and reverse signals
- working lights
- working mirrors
- The correct position of the player
- There are external tuning
- Cables trailer support
- Supports all major functions of the game
- buy in Acces Mod dealer
- compatible and with
ETS2
- adapted to the latest game patch 1.40;
- 
3 types of sounds added - YaMZ, Cummins, Pakkar.
Tested on game version 1.40.x