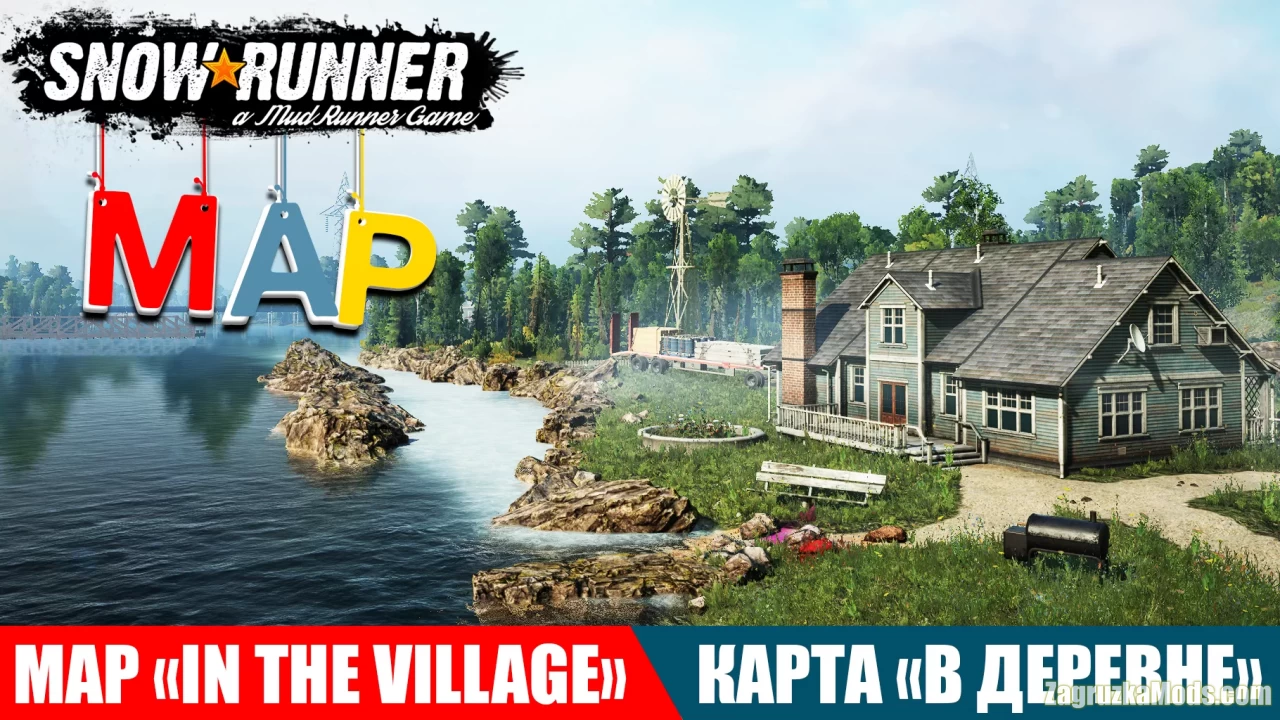 Last edited by: Zagruzka - 4-04-2021, 22:02
Reason: Mod Updated to v1.05
Download mod In the Village Map v1.05 for SnowRunner game.
In the Village
- this mod adds a high quality russian map mod for Off-Road players.
f you once lived with your grandmother in the village and love the countryside, then the map is for you! Full immersion in the countryside, forested, swampy areas will engulf you in an interesting adventure that you will go through until the very end! There are a huge number of tasks on the map that will not make you rest. You have to repair bridges, clear road blockages, repair pipelines, haul and repair cars, and much, much more!
Features mod In the Village:
- 1 Garage (you need to rebuild the bridge) to get to it.
- 3 cars at the start, plus there are along the way that you can find.
- There are gas stations that need to be restored under a contract.
- About 15 cars need to be pulled out or repaired, which you can get after completing the mission.
- 6 observation towers
- 50+ tasks on the map (contracts and orders)
- 3 timed competitions
1. Reduced the depth of the "ford" across two rivers (near the beginning of the map, next to the destroyed bridge)
2. Changed the mud on the road along the river, before there was solid mud, now everything is different.
3. Fixed a bug with protruding water (next to the task "forgotten blocks"), and also expanded the intersection, for easy passage)
4. Changed dirt on the road (near the railroad tracks, not far from the sawmill)
5. There is now a ford near the "crashed plane".
6. Raised the pipeline into the ford near the garage. (earlier, high cargo, such as a large-sized and cargo container, did not pass there)
7. Reworked many crossings, expanded and changed visually.
8. Reduced depth in many puddles, mud balanced.
9. Added a lot of visual updates, as well as many fixes that are not worth writing about.
10. Added 1 order, namely:
* Added the task "North Bridge" which leads to the "overturned wagons".
Tested on game version v12.2
---
This document refers to links to third-party content/website, from both our website(s) and our official Social Media pages. External links are selected and reviewed when a page/post is published. However, we are not responsible for the content of external websites. If you would like us to remove a link to your website from NHS Choices, please Contact us (Admin) Note that unless you have a legal right to demand removal, such removal will be at our discretion.