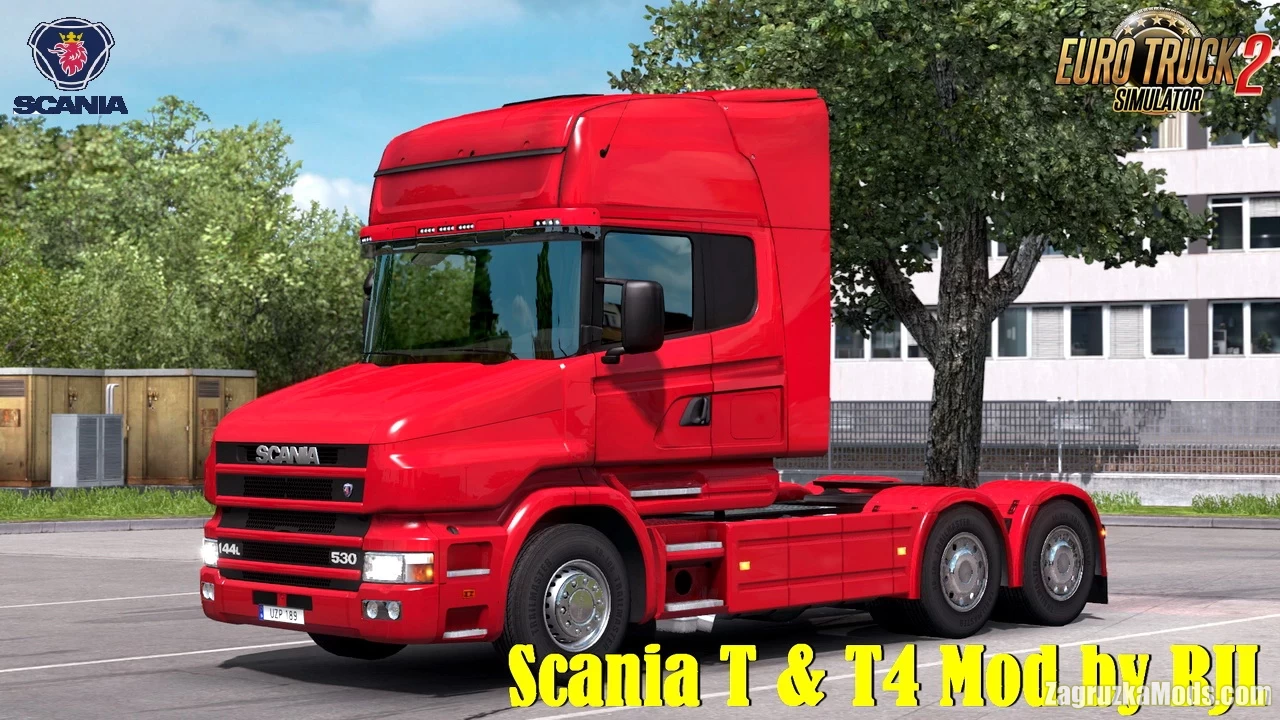 Download mod truck Scania T & T4 Mod v2.3 by RJL (1.39.x) for ETS2 | Euro Truck Simulator 2 game.
A great addition added to the game Euro Truck Simulator 2 is Mod Scania T & T4 Mod by RJL for 1.39.x game version, which can be downloaded for free and without registration. You can also see other fashion from the category Trucks for Euro Truck Simulator or go to the main section ETS 2 mods.
---
Scania T & T4
-
is perhaps the best tuning kit for Scania trucks today, with this mod you can change the appearance of your truck beyond recognition, however, the external tuning of the Scania T mod is not limited, besides, you can easily make technical improvements by installing a more powerful
engine and choosing a suitable gearbox.
---
- Contains many customization options and more chassis, cabin, engine and transmission options.
- Fully standalone
- find the truck in Scania dealer
- Normal, Highline, Topline, Extended Topline and Longline cabins.
- 4x2, 6x2, 6x2/4, 6x2*4, 6x4, 8x2/*6, 8x4/4, 8x4*4, 10x4/6, 10x4*6 and 10x6/4 chassis.
- Scania T1 and T2 interiors.
- Euro 3, Euro 4, Euro 5 and Euro 6 engines.
- 8-, 9-, 12- and 14- speed gearboxes with 2.71, 3.08, 3.42 and 3.80 rear differentials.
- Wide range of T1, T2 and Streamline parts.
- Plastic and paintable chassis + a lot of Scania stock parts.
- Many custom and tuning parts.
- Compatible with Cabin Accessories, National Window Flags and Mighty Griffin DLCs (separate compatibility addons required)
- Added support for openable windows and FMOD® sound system introduced in 1.37
- Made some minor upgrades for 4-series interior
- Fixed missing engine badge for DT12 18 440 Euro 3 engine
- Added more plastic/paint combinations for front fenders
- Added DXT5 compression for many uncompressed DDS-textures
- Lowered 4-series cabin by 7cm to its correct/more realistic position.
- Fixed issues with advanced coupling and collisions on the rear of the truck
- Fixed DX11 bugs with 5-series low bumpers
- Some other tiny changes I don't remember anymore
- Renamed a few locators with incorrect names.
Tested on game version 1.39.x