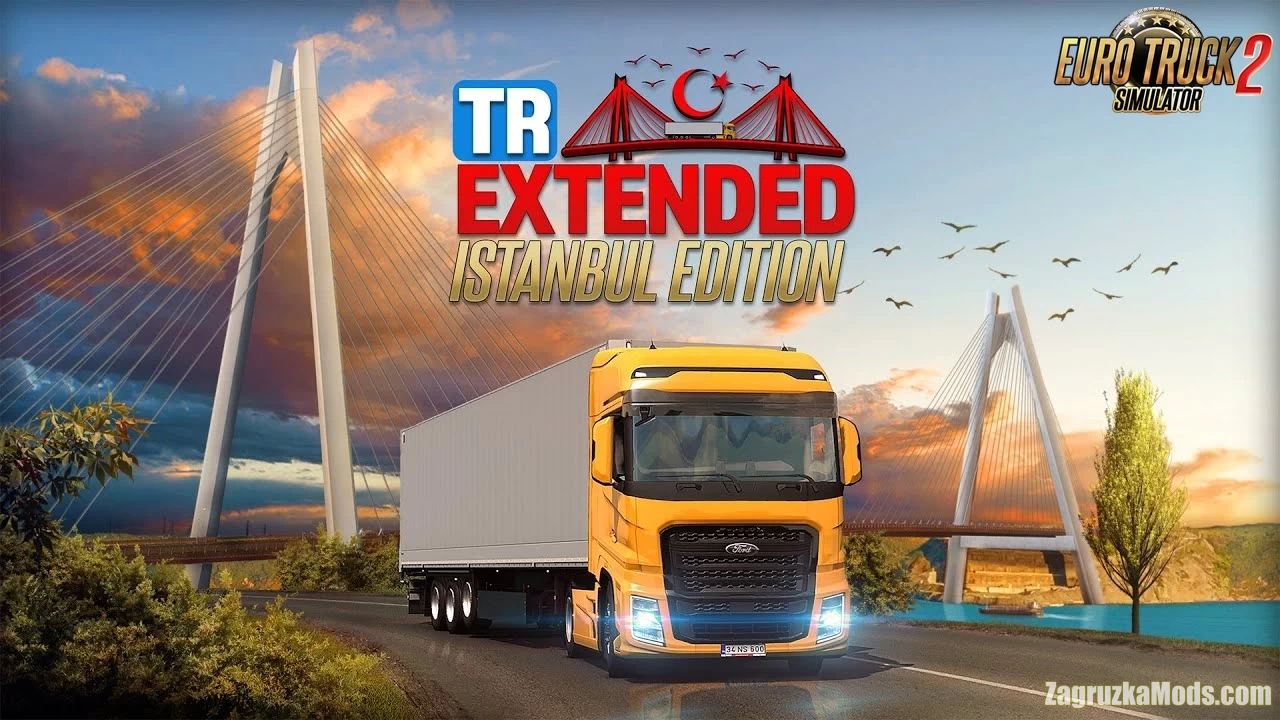 Last edited by: admin - 5-01-2021, 21:26
Reason: Mod Updated to v1.1.1
Download mod TR Extended Map Istanbul Edition v1.1.1 (1.39.x) for ETS2 | Euro Truck Simulator 2 game.
A great addition added to the game Euro Truck Simulator 2 is 
Mod TR Extended Map Istanbul Edition 
for 1.39.x game version, which can be downloaded for free and without registration. You can also see other fashion from the category Maps for Euro Truck Simulator or go to the main section ETS 2 mods.
---
TR Extended Istanbul Edition - this map mod expand territories in Turkey with more roads, cities, signs, prefabs and much more. With the TR Extended Map mod, you can travel on new roads in Istanbul and pass to the Anatolian Side by using Yavuz Sultan Selim Bridge. In addition to the city view, you can transport on local roads in rural areas of Istanbul. Ambarlı Port and Istanbul Airport are also among the important points you will discover. In TR Extended Map Mod, you will discover many landscapes such as the historical Architect Sinan Bridge and the Silivri shopping center. Also you will enjoy using a different route than the European Motorway for transportation to Istanbul.
---
Features TR Extended Map Istanbul Edition:
- Over 1000 kilometers of roads to drive on
- Many new models
- More than 500 new traffic signs
- More companies in Istanbul to work for
- Rebuilt intersections
- Northern Marmara Motorway
- Yavuz Sultan Selim Bridge
- Villages on the Anatolian and European sides
- New motorway service areas.
- Istanbul Airport
- Ambarlı Port
- New districts
- Tuyap Building and TV tower
- New motorway tunnels
- Ambarlı-Trieste ferry connection (for Promods users)
- All map DLCs are required.
- TR Extended Map, is NOT compatible with other Turkiye Map mod. (Except Promods)
- LED sign updated.
- Invisible walls have been removed.
- The problem of al vehicles disappearing at Çorlu intersection and the Çatalca mine road entrance has been fixed.
- Places with gaps in the landscapes were closed.
- Weeds that appeared on the roads in various places have been removed.
- Kurnaköy 1, 2 and İstanbulPark toll booth signs were placed.
- The road not visible on navigation in Ambarlı Port has been fixed.
- Tekirdağ marina company didn't work problem fixed.
- Objects such as sidewalks, lane lines, tire tracks and signs that were above ground were placed to ground.
- Rainfall problem in underpass in the airport cargo section has been fixed.
- A bend at the Kınalı junction has gained a more aesthetic appearance.
- Speed limit regulations were made in Ömerli and Reşadiye recreational facilities.
- Al trucks were prevented from entering Istanbul Airport.
- In front of Tuyap TV Tower and the Marport facility in Ambarlı Port were opened to the entrance.
- In Ambarlı Port, the problem of falling vehicles has been fixed.
Tested on game version 1.39.x