MAN TGA Truck + Interior v1.6.2 by MADster (1.40.x) for ETS2
Author:
admin
| 14-05-2021, 22:20 |
Views:
5 905 |
Comments:
1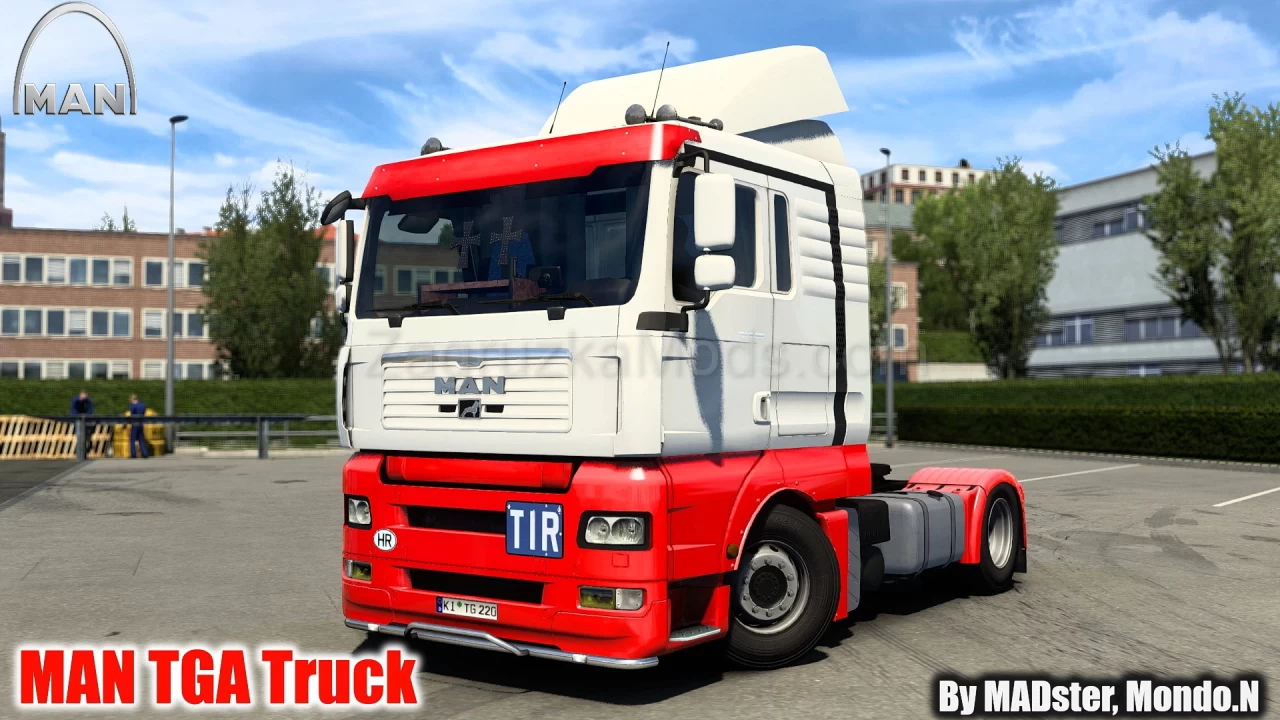 Credits: - MADster, CobraBlue6, SCS Software, Mondo.N
Last edited by: Zagruzka - 14-05-2021, 22:20
Reason: Mod Updated to v1.6.2
Download mod MAN TGA Truck + Interior v1.6.2 by MADster (1.40.x) for ETS2 | Euro Truck Simulator 2 game.
A great addition added to the game Euro Truck Simulator 2 is Mod MAN TGA by MADster for 1.40.x game version, which can be downloaded for free and without registration. You can also see other fashion from the category Trucks for Euro Truck Simulator or go to the main section ETS 2 mods.
---
MAN TGA
-
 the main and most popular series of main tractors of the German company MAN SE until 2008, the TGA line became the basis for the design of the heavy series
MAN TGS.
MAN TGA tractors were produced in various modifications, the range of TGA engines varies from 280 to 660 hp, and the wheelbase is up to 8 × 8, however the most popular options are 4 × 2 and 6 × 4.
The MAN TGA mod turned out to be quite high-quality and at the same time not demanding on the resource of the system; when developing the mod, professionally made 3D models were taken as the basis.
---
- A great looking MAN TGA
- A REAL and good looking interior
- All default accessories
- All default skins
- Chassis: 4x2 / 6x2 - midlift / 6x2 - taglift / 6x4 / 8x4 (with liftable axle)
- Two interior types Grey / Black dashboard
- Two types of bumper Road / Heavy
- Plastic bumpers available for both setups
- Cab Accessories DLC compatible
- And a lot of special addons
Changes in

v1.6.2 by AoD_Lexandro

:
- Bug fixes;
- Updated interior textures;
- Minor interior model update;
- Updated Goodyear pack items;
- Added 4x4 heavy chassis option;
- Added unique interior glass set;
- Renamed Yellow tint to Xenon Yellow;
- Added new Xenon Blue headlight option;
- Added ZF TraXon gearbox options (source ZF);
- Switched mod to stock TGX Euro 5 engine sounds.
Tested on game version 1.40.x