ROMANIA Map v1.4 by MIRFI (1.32.x)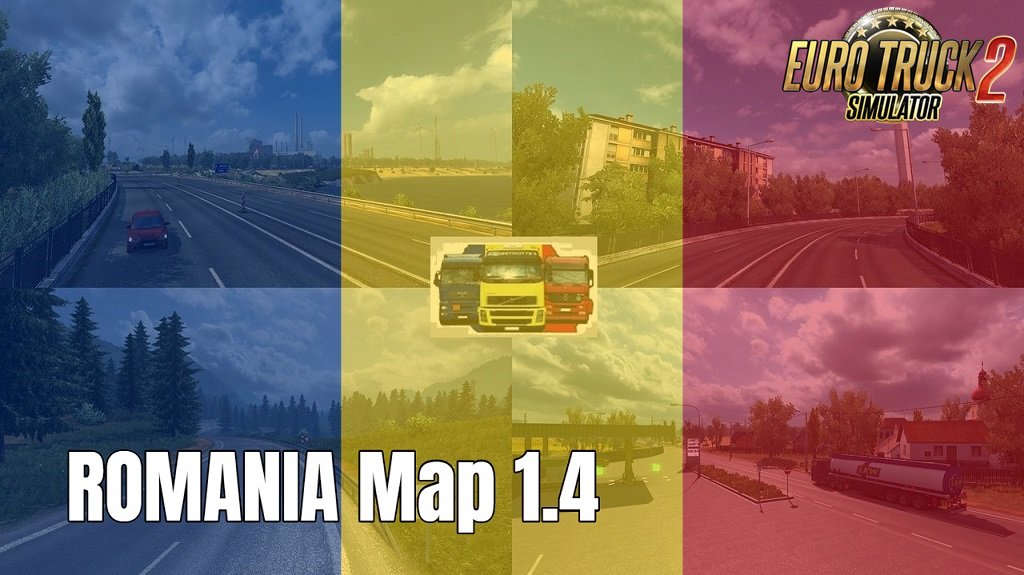 ETS 2
Description about ROMANIA Map v1.4 by MIRFI (1.32.x):
ROMANIA Map v1.4 by MIRFI (1.32.x) for ETS2 | Euro Truck Simulator 2 game.
DLCs needed
: Going East, Scandinavia, Vive la France, Italia.
Note from the Author: 
This map contains parts from my older Romanian map, parts which I've also used in my additions to the ProMods project. 
This map has nothing to do with ProMods though and contains no Promods assets. 
This is a different project altogether. Big thanks to Tudor Alin for his Dacia Logan MCV model.
Tested and work on 1.32.x game version
Changes in v1.4:
- new update not be less focused on new content but on solving errors and other fixes and improvements. 
- quick fix for the flare issue of the Dacia Logan MCV model (by Tudor Alin)
Changes in v1.3:
- new road templates
- a vital fix for the Piatra-Neamț companies
- other small fixes and improvements
Changes in v1.2:
- new cities
- hundreds of small fixes
- some new models added

Changes in v1.1:
- new roads
- bugs fixed from previous version
- adapted to the latest game 1.32.x
Truck Dealers in Romania:
Bacău - Iveco
BUCHAREST - Scania
Cluj-Napoca - Renault Trucks
Constanța - Mercedes-Benz
Craiova - MAN
Iași - DAF
Timișoara - Volvo  
© 2018 Mirfi ALL RIGHTS RESERVED 
Tested on game version 1.32.x
Share / Download ROMANIA Map v1.4 by MIRFI (1.32.x):