Mechout4 23rd Century Combat v1.1 for Fallout 4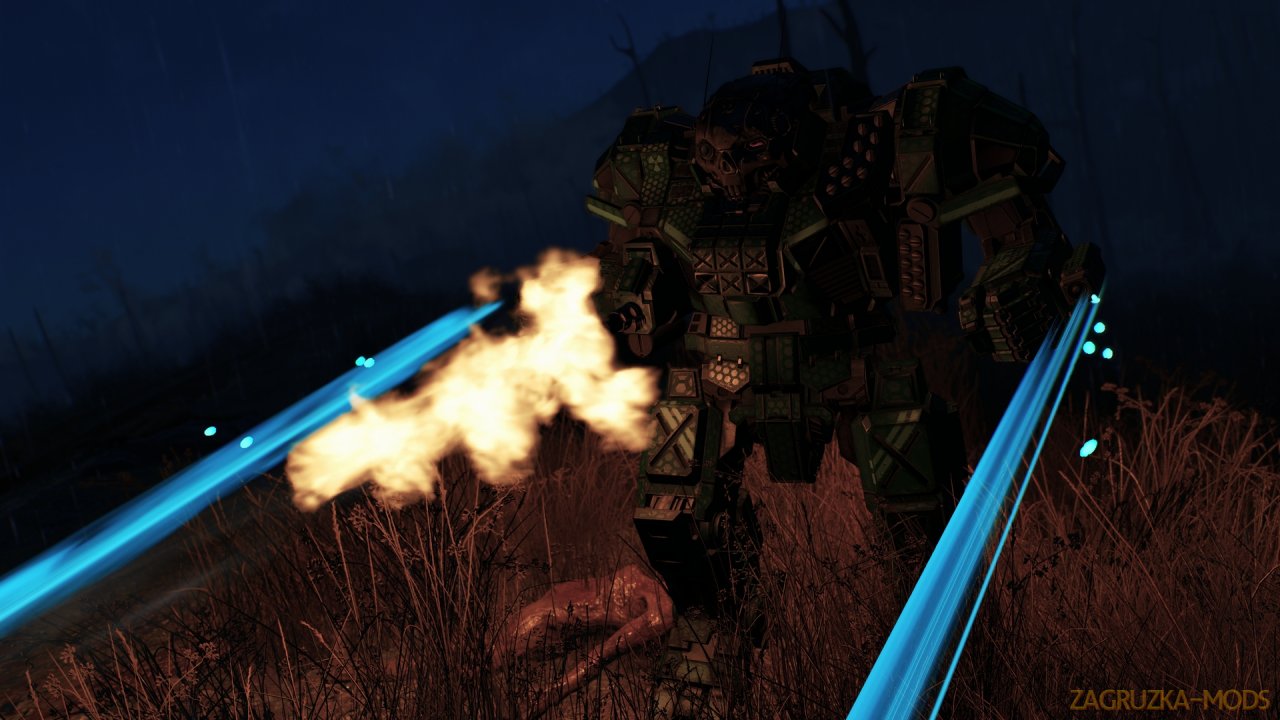 Fallout 4
Description about Mechout4 23rd Century Combat v1.1 for Fallout 4:
Download mod Mechout4 23rd Century Combat v1.1 for Fallout 4 game.
This mod adds MWO's Battle Mech to robots that can be created with an automatron.
It can be equipped with 4 arms at the same time and boasts powerful firepower and robust armor.
As we use form list, there is a possibility that it conflicts with the mod which adds other Robo.
It does not consider the use in different combinations. Be sure to combine parts of the same series.
One or two later may be added.
Version 1.1
Overall changes
-Fixed AC20.The damage was dispersed into a direct hit and an explosion.
-Implemented resizing. It is in the MechTech category.If you set Atlas to its original size (scale 10), it will be nearly twice that of Liberty Prime. Perhaps you can not expect decent behavior, so adjust the size.
-As the size is increased, the speed is equally fast, so it has been changed to the scale 1 equivalent.
-Added four colors of CamoSpec.
-A change of fusion engine was also added. Instead of lowering your health, you can speed it up.
-Other minor fixes.
Atlas
-I adjusted the speed. By changing the foot, it can be applied to existing mech.
-Only when approached, fight with two hands.
Centurion
-I adjusted the speed. By changing the foot, it can be applied to existing mech.
Timberwolf
-Implemented Timberwolf.This BattleMech is fast, solid and has high firepower. However, not good at close range combat.Bolt-on is not supported.
Urbanmech
-Fixed a problem with the torso disappearing.
In Ver.0.5, two machines of Atlas and URBANMECH can be used.
7/5/2019
It is Ver. 1.1 which added the Timberwolf now
Since there was no plan to implement Timberwolf originally, the technology was not enough and the movement could not be reproduced.
Please enjoy the atmosphere.
7/1/2019
It is Ver. 1 which added the centurion now.

Please check the changelog for all changes.
How to get:
There is no need to use anything in particular. It is possible to create with a little material.
Requirements:
Fallout 4 - Automatron
Installation:
Use NMM or install manually.
Known Bugs:
The shadow of Atlas Chest Armor is strange. I'm looking for a fix.
(It looks like a specification no matter how many times you check it, so I'm thinking about changing it to a dummy laser that is less noticeable.)
If the robot is destroyed, physical operations will be bad. For now, I'm giving up the solution.
Share / Download Mechout4 23rd Century Combat v1.1 for Fallout 4: