More Special vehicle v0.2 by Muszek
Author:
Tacsi68
| Date: 27-11-2018, 18:28 |
Views:
105 |
Comments:
0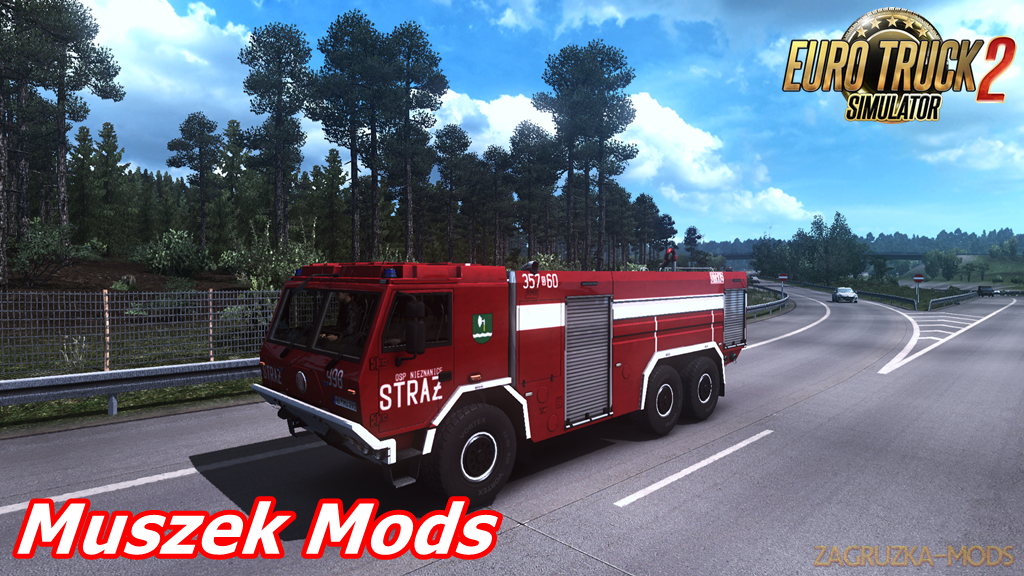 Category - ETS 2 other mods
Description about More Special vehicle v0.2 by Muszek:
More Special vehicle v0.2 by Muszek for Euro Truck Simulator 2 game. 

Hi! I come back after more than 4 months of fighting with the computer … 
I present my modification ADDING new emergency vehicles. 
This is a very early version, started two days ago, but I want to check if 
creating such a module makes sense and if people like it.
New version 0.2:
- Completely changed and adapted skins grid. (the ability to paint the whole vehicle)
- 5 POLISH skins made from scratch, I tried to reproduce as much as possible vehicles from the real world that surround me.
- reduced frequency of appearance from 1.0 to 0.1 (much smaller number on the road, vehicles become rare)
I would like to help the community, what kind of fire trucks would you like 
to see in the 
game (of course I'm skins) So far I'm not experienced enough to create a model from 
scratch .. (photo or name of the fire engine / unit you can put in a comment)

Version 0.1:
– 5 Polish special vehicles, (in the future I plan to make as many skins variants as possible, 
not only for the guard, but the tags for the Ambulance and Police, and when I am at a 
higher level in Blender new vehicles will be created from the ETS2.
It will be nice if you rate my mod, say what is missing, any suggestions, 
I will read everything … I would like to make a modification with the community!
In the comments you can also give units that I have to imitate (skin) of course too much 
so far I can not do it but slowly move forward.
A huge thank you to the person who once created a video for me, thanks to which I am
able to make my early version. THANK YOU
I respond to comments ONLY in the SCS forum !!! 
Share / Download More Special vehicle v0.2 by Muszek:
Vkontakte
Facebook
Тwitter
Pinterest