Truck Simulator Launcher v1.0.3.0 (1.46.x) for ETS2
Author:
admin
| 4-02-2023, 15:23 |
Views:
1 696 |
Comments:
0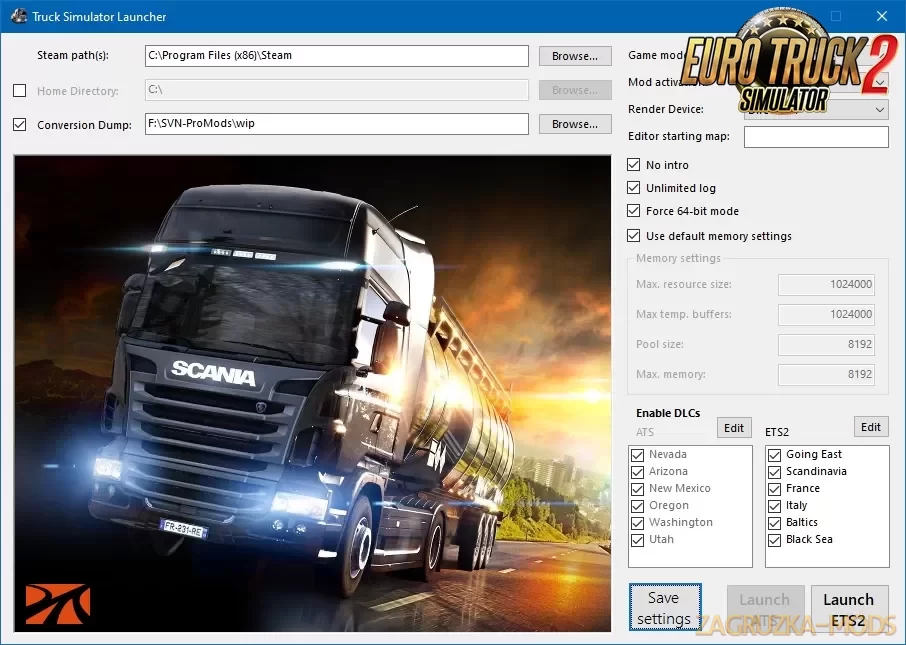 Category
-
ETS 2 other mods
Credits: - MandelSoft
Last edited by: admin - 4-02-2023, 15:23
Reason: Mod Updated to v1.0.3.0
Download program Truck Simulator Launcher v1.0.3.0 (1.46.x) for ETS2 | Euro Truck Simulator 2 game.
Truck Simulator Launcher is a tool that sends start-up parameters to Steam. The parameters can be changed in an intuitive, visual way. We have experimented and refine the launcher within the ProMods team to see if it works, but now I want to release it to a bigger audience. Since 1.36, it's not possible anymore to launch the map editor from the game, and you have to launch it with command line codes. Now this is quite a hassle for people to switch between different game modes. So, I made a tool that helps you to do just that, and much more!
Features Truck Simulator Launcher:
 Change your home directory
 Define the location where it needs to dump automatically converted files
 Change the game mode (game, editor, item validation mode)
 Change the rendering device (DirectX 11 or OpenGL)
 Define which map module the editor starts in
 Enable or disable mods
 Enable or disable DLCs
 Enable or disable the intro animation
 Enable or disable unlimited logs
 Force 64-bit mode
 Change memory management options
Changes in v1.0.3.0 (2021-03-21):

Added option to ignore loading the "user_map" folder when loading the map editor. Useful when your map's source files are on a different location (like team projects).
Added option to force mods without loading workshop mods: "Force Mods (Local only).
Added Map Sound Editor game mode option, since SCS separated sound editing from the map editing.

Install
Tested on game version 1.46.x
Share / Download mod «Truck Simulator Launcher v1.0.3.0 (1.46.x) for ETS2»
---
---
Download: truck-simulator-launcher-v1_0_3_0-1_46_x.zip | Size: [877.17 Kb] | Downloads: 62
Download: pm-tools-truck-simulator-launcher.zip | Size: [876.88 Kb] | Downloads: 86
Download Links – Policy & Disclaimer
This document refers to links to third-party content/website, from both our website(s) and our official Social Media pages. External links are selected and reviewed when a page/post is published. However, we are not responsible for the content of external websites. If you would like us to remove a link to your website from NHS Choices, please Contact us (Admin) Note that unless you have a legal right to demand removal, such removal will be at our discretion.