Norfolk Southern N-Line Route v1.0 for TS 2020
Author:
admin
| 2-03-2020, 13:00 |
Views:
5 230 |
Comments:
1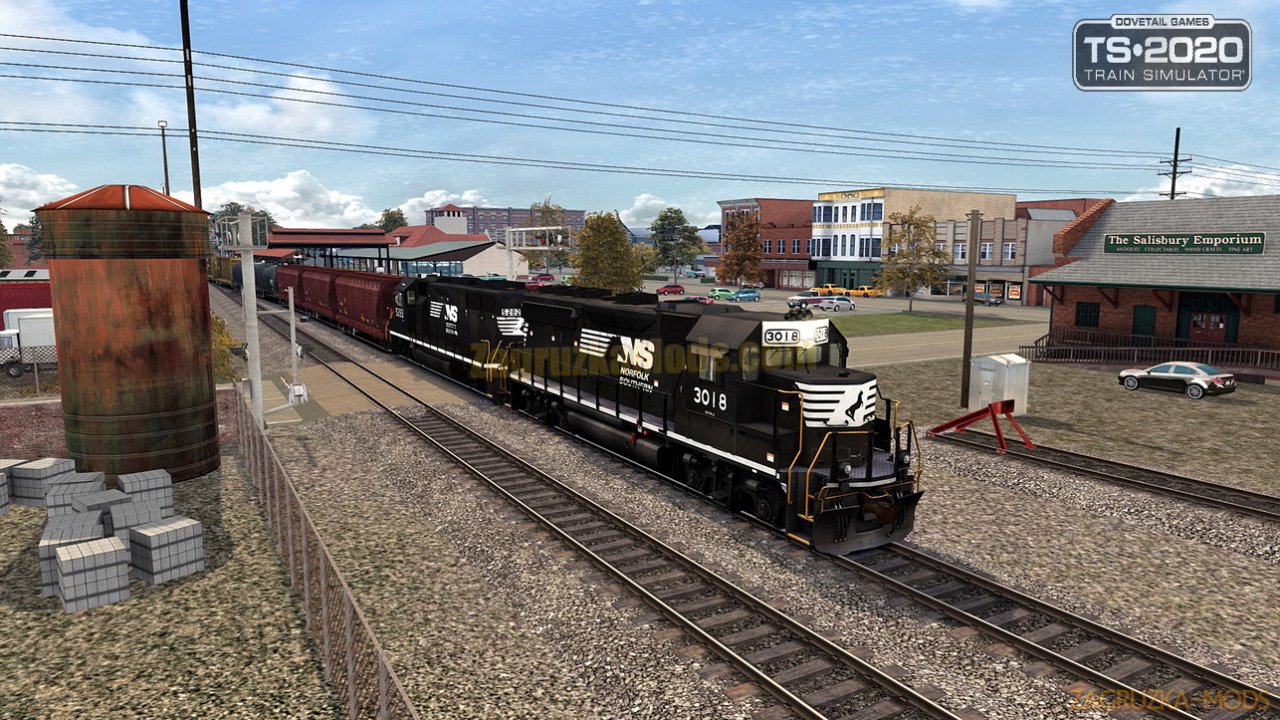 Category
-
Train Simulator Routes
Credits: - Dovetail Games
Mod Norfolk Southern N-Line Route v1.0 for TS 2020 | Train Simulator 2020 game.
Norfolk Southern N-Line Route
- is a American branch lines and short lines, especially those in the Southeast, have long been revered for their unique and captivating style of railroading – and now that extraordinary experience comes to Train Simulator with the Norfolk Southern N-Line route!
The Train Simulator Norfolk Southern N-Line route puts you in the engineer's seat for operations over a curvy and roller-coaster branch line which will require you to keep a close hand on both throttle and brakes as you make your way along the "up one hill, then down the other" route over sometimes uncertain trackage. And you'll enjoy the depth of lineside switching and local duties as you serve the N-Line's variety of customers. In addition to the N-Line itself, this Train Simulator route also includes the Salisbury "Old Spencer" Yard along the NS main line from which N-Line operations are based.
Included Scenarios
The Norfolk Southern N-Line route features seven challenging career scenarios that highlight operations over the full length of the line, local operations, and yard and lineside switching duties. Two railfan scenarios are also included.
[GP38-2] 1. The Whole Line
[GP40-2] 2. All of the Wagons!
[GP38-2] 3. Out of the Yard
[GP38-2HN] 4. A tough Day
[GP40-2] 5. Hopper Retrieval
[GP40-2] 6. Delivery in the Drizzle
[GP38-2] 7. Tricky Transit
[Railfan] Gold Hill
[Railfan] Salisbury Station
Key Features
Norfolk Southern's classic N-Line branch line between Salisbury and Halls Ferry, NC.
Challenging operations on a "saw tooth" profile and curvy branch line
A dozen lineside industries to serve
Old Spencer Yard at Salisbury
Norfolk Southern EMD "hi-nose" and "low-nose" GP38-2s
Norfolk Southern EMD GP40-2
Authentic selection of freight equipment
Seven career scenarios
Quick Drive compatible
Install:
How to set the fashion in the Train Simulator: for RailWorks add-ons are installed using the built-in Utilites Add-ons Manager, located in the root folder of the game.

Press the large Install button (SET) which is to the right, and specify a location or rpk rwp-archive.

If the file is not packed in such a file, then copy the Assets folder to the root of the game and confirm the replacement.
Tested on game version TS 2020
Share / Download mod «Norfolk Southern N-Line Route v1.0 for TS 2020»
---
---
Download Links – Policy & Disclaimer
This document refers to links to third-party content/website, from both our website(s) and our official Social Media pages. External links are selected and reviewed when a page/post is published. However, we are not responsible for the content of external websites. If you would like us to remove a link to your website from NHS Choices, please Contact us (Admin) Note that unless you have a legal right to demand removal, such removal will be at our discretion.