Momo's Traffic – Get Busy 1.0
Author:
Tacsi68
| 21-04-2019, 13:15 |
Views:
512 |
Comments:
0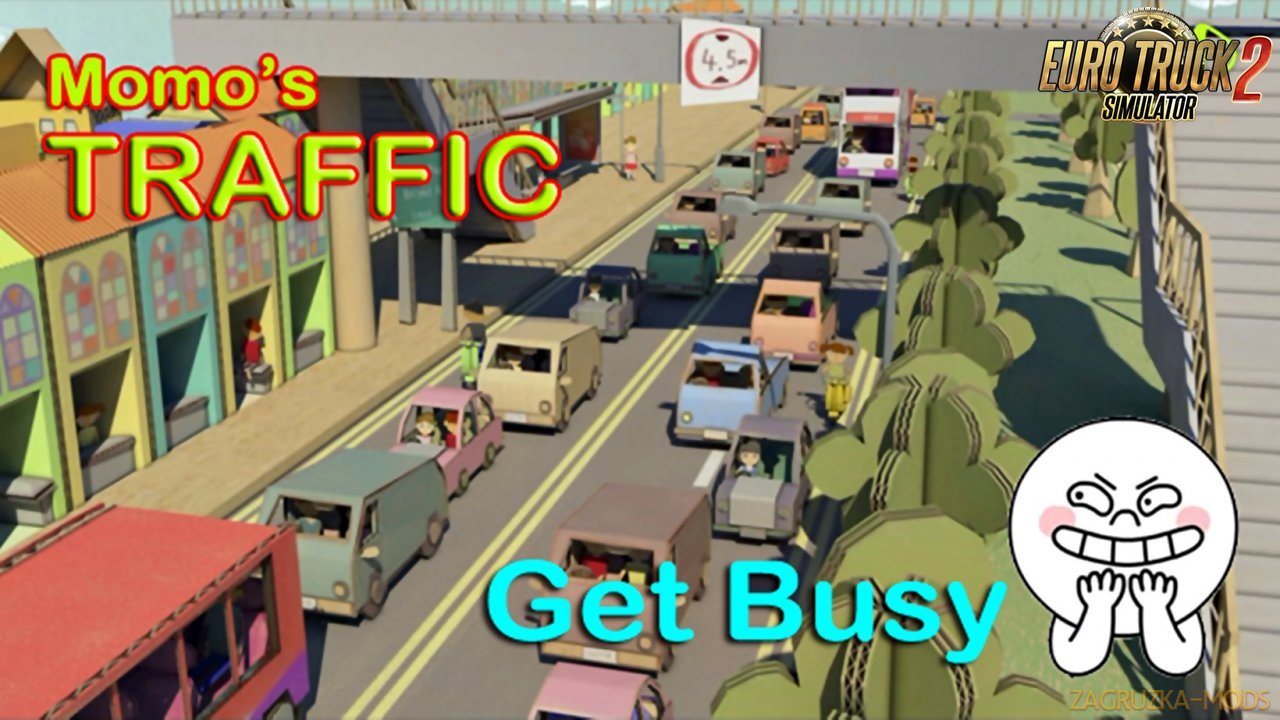 Category
-
ETS 2 other mods
Credits: - Momo
Momo's Traffic – Get Busy 1.0 for Euro Truck Simulator 2 game
DISCLAIMER
1. This is a traffic mod. It modifies the existing game contents, it does not add any new item.
2. The photo is for a display purpose only, it does not represent the content of this mod.
3. I am not the owner of the photo.
INTRODUCTION
Has it occurred to you that in the vanilla game the traffic in front of you is always empty 
while the opposite direction and behind you is always busy? If the issue has been bothering you, 
this mod is for you. Because the main objective of this mod is fixing the "empty front" issue. 
But it also has some nice realistic traffic features.
WHAT IS THIS MOD/WHAT DOES IT CHANGE THE GAME?
This is a traffic mod that does not increase the density or make traffic jam. Why? 
Because you can always use the console command "g_traffic" to increase the density and make traffic 
jam by yourself without any mod. While most other traffic mods just give you only density and 
traffic jam (which you can do it by the console command anyway), this mod does more than that.
– Fixes the issue "empty front" traffic. With this mod there should always be AI in 
front of you most of the time (where it makes sense).
– Slightly reduces the AI patience to encourage overtaking to happen more often.
– Makes some AI vehicles (1/4 of the total number of AI) low torque to simulate relaxed 
drivers who are not in a hurry. This is to reduce the issue where the AI always accelerate like rockets in the vanilla.
– Makes some AI cars have top speed only 80km/h (less than 1/4) to simulate cautious drivers.
– Make a few AI cars have top speed only 65km/h (very rare, you would be lucky to meet them) to simulate problematic drivers.
– This mod does not touch the density or spawn rate. 
I intentionally leave it up to you to define your own preferred density by using the 
command code "g_traffic". But for realism sake, I highly recommend "g_traffic 3" or a little higher.
KNOWN ISSUES/SIDE EFFECTS
1. Sometimes you may see AI spawning right in front of you. This is a side effect of the 
attempt to fix the "empty front" issue. But it is not too close. I am sure we can live with it.
2. There is no particular rush hour. I have tried to designate rush hour period, but the game 
seems to ignore the parameters. So the traffic could still be busy during night time (but lighter than day time).
COMPATIBILITY
– Game patch 1.34
– All AI vehicle mods (such as Jazzycat's) but their vehicles will not gain the changes. 
And the effects maybe different depending on the spawn rates of such other mods.
– All map DLCs and all map mods.
– All double trailer mods, but place this mod higher.
– NOT compatible with any other traffic mod (such as DB Creation, Rudy's Rush Hours).
– This mod should always be higher than AI vehicle mods (Jazzycats).
HOW TO THANK ME LOUDER THAN WORDS ?
1. Send me your Steam Trading Cards or any Steam tradable item.
1.1 Add me to your friend list. (My profile name is "Momo & Yuna" make sure you add the right person)
1.2 Go to my profile page.
1.3 Click the button "More" next to "Send a Message".
1.4 Choose "Offer a Trade" from the drop down menu.
1.5 Move your Trading Cards to my inventory.
2. Paypal
CAN YOU STEAL MY MODS ?
Be my guest, but please give me some credits. You could either learn from my mods to 
produce your own, or just post them as they are. Either way, please give me some credits for my hard work. 
That way you will look good like a gentleman.
HOW TO CONTACT MOMO ? :
Share / Download mod «Momo's Traffic – Get Busy 1.0»
---
---
Download Links – Policy & Disclaimer
This document refers to links to third-party content/website, from both our website(s) and our official Social Media pages. External links are selected and reviewed when a page/post is published. However, we are not responsible for the content of external websites. If you would like us to remove a link to your website from NHS Choices, please Contact us (Admin) Note that unless you have a legal right to demand removal, such removal will be at our discretion.