Vapid Torrence SSO v1.1a for GTA 5
Author:
admin
| Date: 11-09-2019, 16:21 |
Views:
314 |
Comments:
0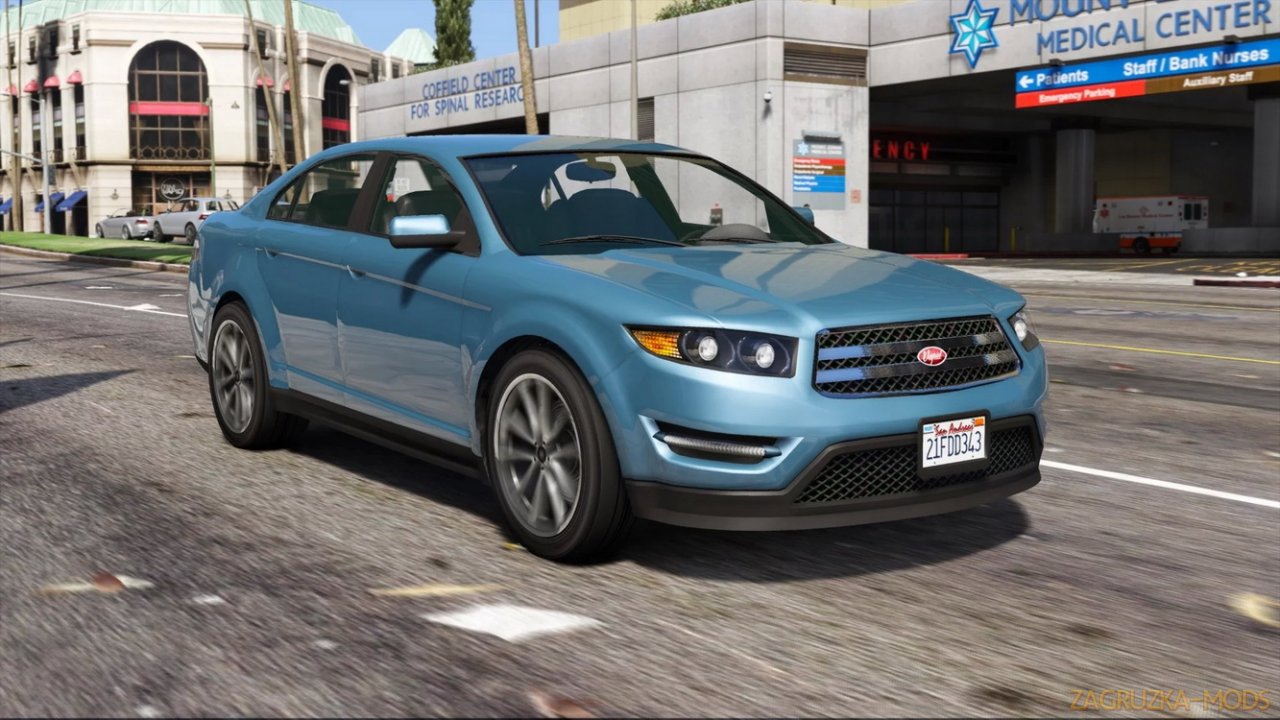 Credits: - Vx5 Voltage, Voit Turyv, Eddlm, Lt Caine, Rockstar Games, MyCrystals!, VanillaWorks Discord
Description about Vapid Torrence SSO v1.1a for GTA 5:
Download mod passenger car Vapid Torrence SSO v1.1a for GTA 5 | Grand Theft Auto V game.
"For those not letting the work go in the after hours, the Torrence is the perfect pick. Stripped of all the goodies so useful in a jam, it's still got the spirit of oppression in it. And even though there ain't much oppressing to do on the parking lot of a 24/7 or your favourite whorehouse, let it be known – this car can take more abuse than a pro-circuit boxer or your missus. And it's gonna keep rolling – no matter what"

This is a lore inspired model of the Ford Taurus SHO. The original R* one is based off the 2010 Taurus, but I've added some design cues from the 2014+ models. I noticed there wasn't allot of major stuff that had been done with the vanilla Interceptor, so that's basically how this mod came to exist.
Features car Vapid Torrence SSO:
- High-quality detailed exterior
- High-quality detailed interior
- High-quality 3D model
- open all doors, covers, engine compartment and Luggage compartment
- working lights
- exterior and wheels get dirty
- exterior scratches
- animated suspension
- present the illumination of arrow speedometer and tachometer
- working arrow speedometer and tachometer
- the character is correctly sitting in the driver's seat
- the character's hands grasping the steering wheel
- the car can be up to two characters
- away model looks like near
- correct display of textures on models after the explosion
- Full body dirt
- Burn area
- Bullet impact
- Breakable glass
- Good interior camera
- All lights working (Including Fog & Indic.)
- Working dials
- Working steering wheel & good hand placement
- Spawn in real life colors
- Correctly scaled tires
- Working steering wheel
- Hands on steering wheel 
- Mirrors Collision
- detailed model
- 
the Vapid Interceptor police model has been split into its own mod for convenience. 
1. Open the program OpenIV;
2. Specify the path to the directory installed games GTA 5 for Windows;
3. To enable edit mode (if prompted to install the plug-in for GTA V, hit the "ASI Manager" in the window that appears, select "Install" OpenIV.ASI);
4. Next, go on this way - x64e.rpf\levels\gta5\vehicles.rpf;
5. Replace "fugitive.yft", "fugitive.ytd" and "fugitive_hi.yft" in the same modification file from the downloaded archive;
6. The modification will be installed and the program OpenIV can be closed.
Tested in game version v.1180.1
Share / Download Vapid Torrence SSO v1.1a for GTA 5: