Kenworth T680 The General + Interior v1.8 by Harven (1.42.x)
Author:
Zagruzka
| 5-10-2021, 16:17 |
Views:
1 072 |
Comments:
0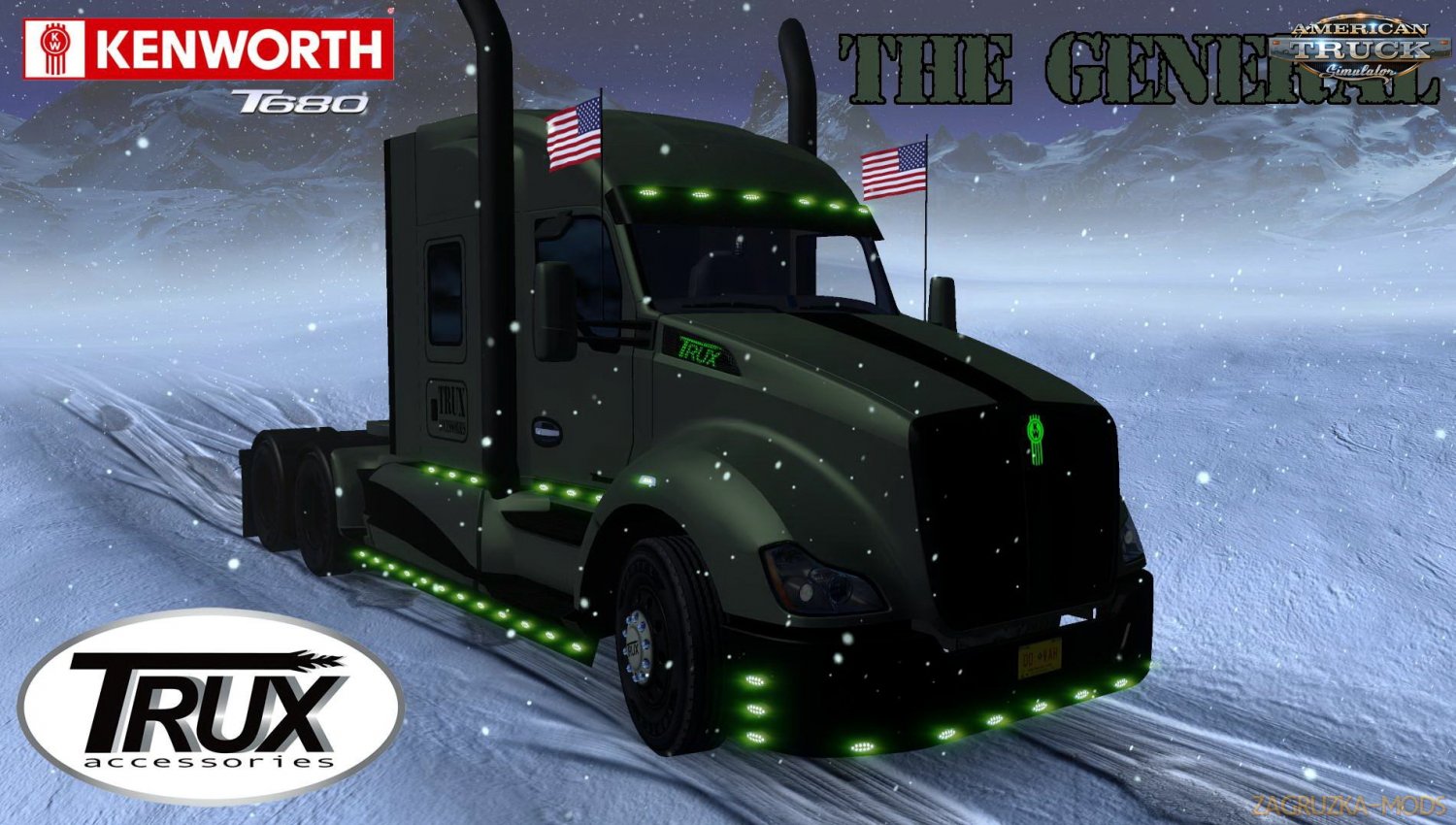 Credits: - Harven, Sirblackyalot, Kriechbaum, SCS Software
Last edited by: Zagruzka - 5-10-2021, 16:17
Reason: Mod Updated to v1.8
Download mod Kenworth T680 The General + Interior v1.8 by Harven (1.42.x) for ATS | American Truck Simulator game.
A great addition added to the game American Truck Simulator is Truck Kenworth T680 The General + Interior by Harven for 1.42.x game version, which can be downloaded for free and without registration. You can also see other fashion from the category Trucks for American Truck Simulator or go to the main section ATS mods.
---
Kenworth T680 The General - this truck mod is a recreation of Trux Accessories 2017 show truck. The original one is 2014 Kenworth T660 glider truck built as a tribute to the military and all that it stands for. Original drivetrain: Detroit 12.7 liter 550hp engine and 13 speed transmission. There aren't many customization options as this truck is already customized. Skin is made by Sirblackyalot, sounds by Kriechbaum and everything else by Harven. The interior is my design as there are no reference images (besides T660 interior looks more like W900). There are 6 new fully functional gauges on the dashboard and background lights here and there. You can change the headlights color: green or stock and also few other things on the truck exterior. The truck is available for quick jobs (normal and oversize cargo) and you can admire it in the truck browser. 
---
Features Kenworth T680 The General:
- independent truck model
- High quality 3D model
- High quality detailed exterior
- High quality detailed interior
- passanger seat
- the model has own wheels
- the model has own sound
- the model has own interior
- present the illumination of arrow speedometer and tachometer
- animation parts on interior
- the character is correctly sitting in the driver's seat
- the choice of wheels configuration
- the choice of color body / metallic paint / skins
- the choice of transmission, gearbox
- the choice of power engine
- correct position of the Kenworth logo
- The correct position of the player
- Working headlights, brake lights, tail lights, front and rear turn signals, steering wheel and reverse signals
- Tuning and accesories present
– interior accesories configuration
- Supports all major functions of the game
- buy from Kenworth dealer
Changes in v1.8
:
- Adapted to the latest game patch 1.42
Tested on game version 1.42.x