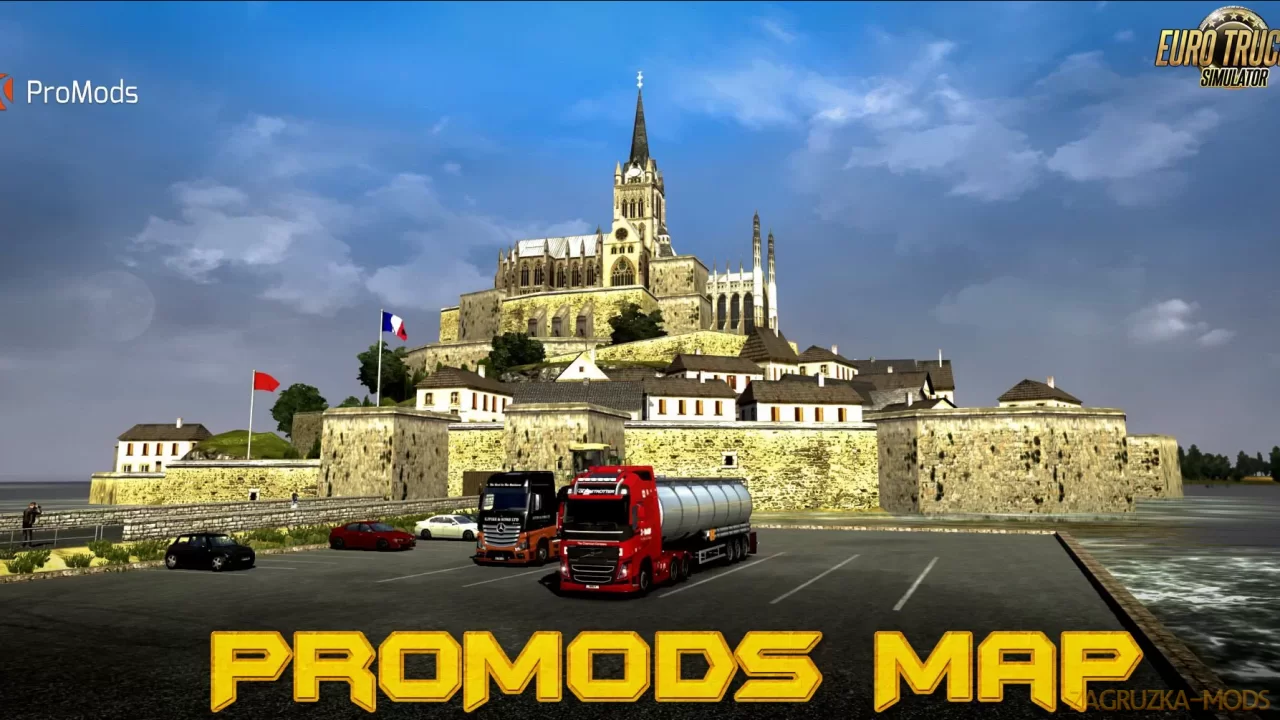 Download mod ProMods Map 2.43 (1.36.x) for ETS 2 | Euro Truck Simulator 2 game.
A great addition added to the game Euro Truck Simulator 2 is Mod ProMods Map 2.43 for 1.36.x game version, which can be downloaded for free and without registration. You can also see other fashion from the category Maps for Euro Truck Simulator or go to the main section ETS 2 mods.
ProMods 2.43
brings compatibility with the most popular mod for Euro Truck Simulator 2:
TruckersMP
. Around a week ago SCS pushed out update 1.36 bringing a large number of features and improvements, like removing DX9 entirely. In the early stages of the open beta 1.36 was still quite unstable and had a lot of issues causing issues in the map editor, which has affected our ability to update our modification for 1.36 version of ETS2, such as broken mouse movements that made our work on the update to stall or become significantly difficult.
Over the weeks the build stabilised and we started working on preparing our first beta. One of the largest issues we had was that we had to replace every single walker, as SCS was removing them and replacing them with movers. After a lot of work Mandelsoft managed to get a script to replace them all for us. 
---
REQUIRES DLC :
- EAST, NORTH, FRANCE, ITALY & BTBS 
Supported DLC:
- Special Transport DLC
---
Changes in v2.43:
- adapted to the latest game version 1.36.x
- fixed bugs from previous version
- this update will over-write the new Black Sea DLC areas, but they were not 100% is overwriting all of it, so there will be some strangeness on the map. 
- new content soon with the new version ProMods Map 2.5
Changes in v2.42:
- Sweden: Scania Demo Centre upgraded
- General: Many bug fixes and tweaks versus 2.41
New version 2.41:
Padborg, Rødbyhavn (port), Aarhus, Herning, Holstebro, Kolding, Viborg, Rønne. 
Rebuilt: Aalborg, Hirtshals, Frederikshavn, København, Padborg
 Gävle, Haparanda, Karlstad, Kristianstad, Sundsvall, Söderhamn, Södertälje (Scania plant and demo centre), 
Örnsköldsvik, Umeå, Östersund, Åre, Kalix, Skellefteå, Ystad, Ljugarn, Visby. Rebuilt: Stockholm, Linköping

 Kirkenes, Svalbard island (Longyearbyen, Hiorthhamn), Dombås, Hamar, Honningsvåg, Lillehammer, 
Oppdal, Orkanger, Otta, Tana Bru, Trondheim, Drammen, Grumantbyen, Hammerfest. 
Improved: Longyearbyen 
Kuopio , Varkaus, Jyväskylä, Mikkeli, Joensuu, Kemi, Kärsämäki, 
Oulu, Pori, Rovaniemi, Tornio, Vantaa, Viitasaari, Alajärvi, Kemijärvi, Kristiinankaupunki, 
Vaasa, Ivalo, Kokkola, Sodankylä, Utsjoki, Kittilä
 Mariehamn

 Cherbourg (port), Bayonne, Pau, Narbonne, Perpignan, Lacq. Rebuilt: Calais, 
Orléans, Reims, Lyon 
Oberhausen , Bad Oeynhausen, Aurach, Bremerhaven, Fürth, 
Halle (Saale), Heilbronn, Ulm, Bonn, Koblenz, Mainz, Sangerhausen, Uelzen, Wiesbaden. 
Rebuilt: Köln, Frankfurt, München, Berlin, Magdeburg, Leipzig, Nürnberg,
Mannheim, Erfurt; Flensburg, Burg auf Fehmarn (port)
Croydon, Portsmouth (port), Wick, Inverness, Oban, Fort William, Hull (port), Chelmsford, 
Birsay (Orkneys), Broadford (Skye), Evie (Orkneys), Heysham (port), Kirkwall (Orkneys), 
Portree (Skye), Stromness (Orkneys), Belfast, Cairnryan (port), Canterbury, Dumfries, 
Fishguard (port), Folkestone, Fraserburgh, Holyhead (port), Larne (port), Lisburn, (London)derry, 
Perth, Stranraer, Ullapool, Aberystwyth, Porthmadog, Hawes, Stornoway, Tarbert. 
Rebuilt: Dover, Aberdeen, Croydon, London & M25, Chelmsford, Felixstowe, 
M6 and A1(M). Improved: Aberystwyth
 Dublin, Galway, Limerick, Sligo, Wexford
 Douglas, Ramsey
 Saint Helier, Trinity
 Arnhem, Eindhoven, Zwolle, Moerdijk. 
Improved: Amsterdam. Rebuilt: Rotterdam
 Antwerp. Rebuilt: Brussels
 Vaduz

 Basel, Rebuilt: Bern
 Reutte, Hainburg a.d.Donau, Obsteig, new Brennerautobahn & Karawankentunnel. 
Rebuilt: Innsbruck, Salzburg, Wien
Added: Jēkabpils 

 Trieste. Rebuilt: A4 Torino-Milano, A8-A9, Como (border), A22 Brenner, Milano
 Irun, San Sebastián/Donostia, Barcelona, Bilbao, La Jonquera, Manresa, Huesca, Lleida, 
Jaca, Pamplona, Soria, Teruel, Valencia, Vinaròs, Zaragoza

 Andorra la Vella
Improved: Balvi, Kolka, Rēzekne

Improved: Ukmergė

 Reykjavík, Reyðarfjörður, Seyðisfjörður, Keflavík Airport, Akureyri, Vík, Blönduós, 
Borgarnes, Akranes, Hólmavík, Bolungarvík, Ísafjörður, Vestmannaeyjar. Rebuilt: Höfn, Selfoss
 Klaksvík, Tórshavn
 Ljubljana, Maribor
 Bydgoszcz, Cieszyn, Gdynia, Gorzów Wielkopolski, Grudziądz, Kielce, Koszalin, Krosno, Nowogard, 
Opole, Ostrołęka,Płock, Przemyśl, Radom, Rzeszów, Sanok, Siedlce, Suwałki, Świnoujście, Wałcz, 
Zamość, Zgorzelec, Augustów, Elbląg, Ostrów Mazowiecka, Ełk. Rebuilt: Szczecin, Wrocław, Łódź, 
Lublin, Warszawa, Suwałki, Augustów, Cieszyn, Grudziądz
 Prague, 
Olomouc
. Improved: Motorway network
Trnava
. Improved: Košice

 Győr, 
Vásárosnamény. Rebuilt: Debrecen.
Improved: Szeged
 Osijek, Rijeka, Slavonski Brod, Zagreb, Senj, Šibenik, Split, Zadar, 
Ploče

 Нови Сад (Novi Sad), Суботица (Subotica), Зрењанин (Zrenjanin), Београд (Beograd), 
Крагујевац (Kragujevac), Ниш (Niš), Лесковац (Leskovac), Врање (Vranje). 
Improved: Београд (Beograd)

Битола (Bitola), Скопје (Skopje), Охрид (Ohrid), 
Прилеп (Prilep)

 Arad, Bacău, Baia Mare, București, Cluj-Napoca, Constanța, Craiova, Oradea, Piatra Neamț, Sibiu, Timișoara
 Bălți, Chișinău
 Русе (Ruse), Монтана (Montana), Плевен (Pleven), Видин (Vidin)
Improved: Мукачево (Mukachevo), Ужгород (Uzhhorod)
 Мурманск (Murmansk), Никель (Nikel), Кандалакша (Kandalaksha), 
Верхнетуломский (Verkhnetulomsky), Гусев (Gusev)

 Ηγουμενίτσα (Igoumenitsa, port), Ιωάννινα (Ioannina), Πτολεμαΐδα (Ptolemaida), 
Θεσσαλονίκη (Thessaloniki), Αλεξανδρούπολη (Alexandroupoli), Καβάλα (Kavala)
 Λάρνακα (Larnaca), Λεμεσός (Limmasol), Λευκωσία (Nicosia), Πάφος (Paphos)
This version requires all current map DLCs to be installed.
Tested on 1.36.x game version