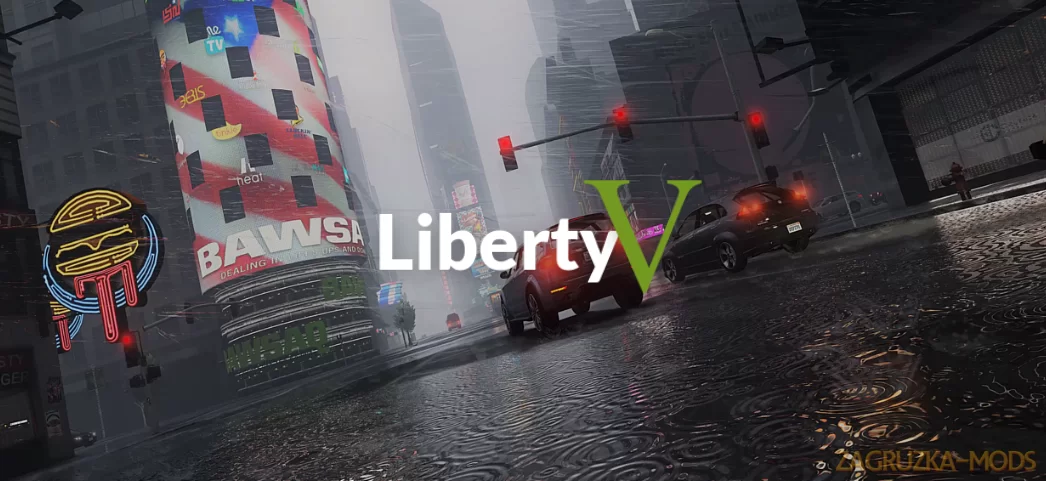 Download LibertyV Mod (FiveM & SP) v1.0.1 for GTA 5 | Grand Theft Auto V game.
LibertyV Mod - is a resource for FiveM and GTA V Single Player (SP) that brings Liberty City from GTA IV into GTA V. The FiveM version replaces Los santos with Liberty City. The Single Player Version Is add-on for temporary, at a later date it will replace Los Santos. The Single Player version is currently a heavy WIP, but we will continue to develop it. 
Features LibertyV Mod:
Single Player Version (WIP)
Traffic, with working traffic lights (Fine tuning in progress)
Subway, with working trains (FiveM version for now only)
Proper MLO Interiors (Fine tuning in progress)
Working Navmesh for peds/population to naturally spawn
Correct LoDs, and SLoDs, up to SLoD3 for reflections on water
Working LoDlights, and Distantlights for added night time city and skyline lighting 
Gar Gens for vehicles to naturally spawn (Fine tuning in progress)
Custom Population Zones
Custom Timecycles for a more New York feeling (Fine tuning in progress)
Upscaled and improved Textures (Fine tuning in progress)
No Crashes
Important Notice
You Must READ the READ ME File in the Download, there are additional files that are needed to be downloaded!
We strongly suggest downgrade your GTA V copy to the last Patch (The Diamond Casino and Resort Update) you can find a guide HERE on how to downgrade you copy
Please also note that cracked copies of GTA V are NOT supported!
MODS NEEDED!
Tested in game version v.1180.1