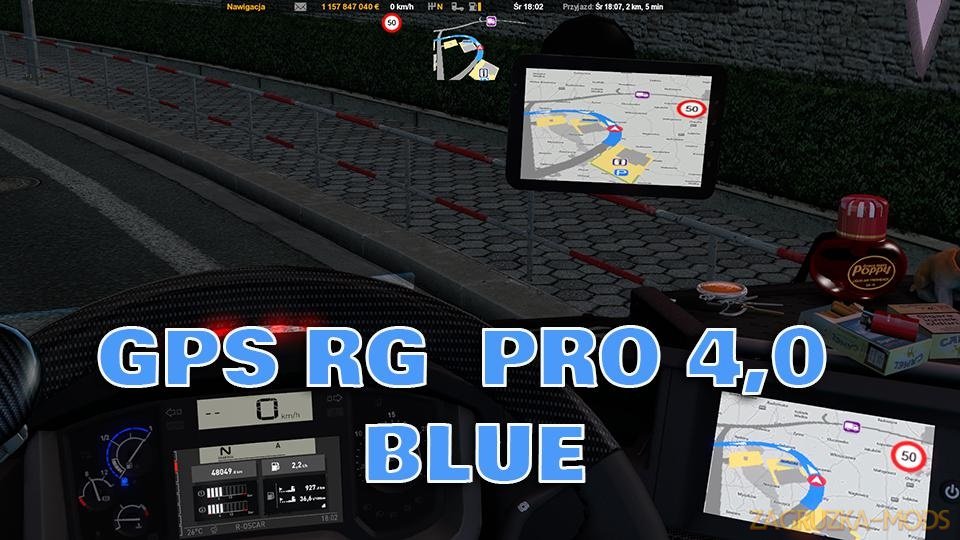 GPS RG PRO v4.0-(Red,Blue,Green) by RKM (1.37.x) for ETS2 | Euro Truck Simulator 2 game. 
GPS RG PRO v4.0 - 
you can choose 3 different colours (Red,Blue,Green) for your GPS in ETS2 game
Features:
The mod is intended only for the basic SCS + DLC map
(Patch for other maps mod will definitely appear with mod)
The mod adds:
– complies with dx 11
– speed limiter changed position
– changes colors
– changes the look of a road adviser
– smaller mirror size on the F2 key
– new icons on the map
Mod tested on version 1.37.2.0s
Works fine, if you notice errors, let me know in the comments,
which I will improve in the next version.
DOWNLOAD LINKS:
LINK 1.) 
GPS RG PRO 4.0 RED
or 
Alternative link
LINK 2.) 
GPS RG PRO 4.0 BLUE
or 
Alternative link
LINK 3.) 
GPS RG PRO 4.0 GREEN
or 
Alternative link
Do not upload again to other servers,
keep my links if you intend to share them.
Do not use my modifications in other works without my permission
If you like it and want more of my mods,
support a charity
Yes, thank you for my work
https://zrzutka.pl/6uw2he
https://paypal.me/pools/c/8fAqm8x8ks
THANK YOU
Want to learn more and keep up to date. Visit my channel You Tube
https://www.youtube.com/channel/UCM07ylzTEdrndwuL4cAf6HA
This document refers to links to third-party content/website, from both our website(s) and our official Social Media pages. External links are selected and reviewed when a page/post is published. However, we are not responsible for the content of external websites. If you would like us to remove a link to your website from NHS Choices, please Contact us (Admin) Note that unless you have a legal right to demand removal, such removal will be at our discretion.