SCS Truck Sounds Reworked MEGAPACK v7.0 (1.43.x) for ETS2
Author:
Zagruzka
| 3-03-2022, 21:57 |
Views:
2 773 |
Comments:
0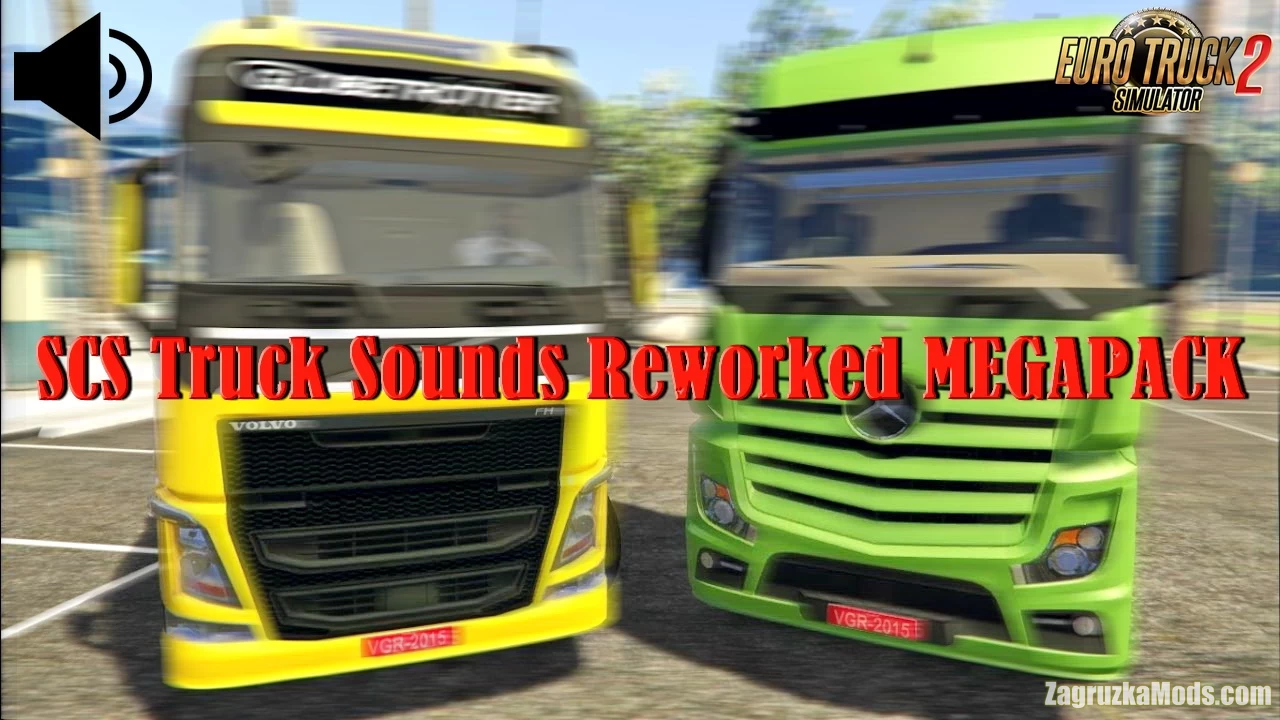 Category
-
ETS 2 other mods
Credits: - R.J Productions
Last edited by: admin - 3-03-2022, 21:58
Reason: Mod Updated to v7.0
Download mod SCS Truck Sounds Reworked MEGAPACK v7.0 (1.43.x) for ETS2 | Euro Truck Simulator 2 game.
---
SCS Truck Sounds Reworked - high quality mod which adds realistic sound engine for the default trucks by SCS Software and custom mods. Although recorded from REAL TRUCKS, It is audible that the current SCS Truck Sounds on the new release of the new FMOD sound engine for the game have a some what unprecedented lack of quality that have arisen due to the ongoing implementation of the new sound engine. Noting the improvement progress of SCS making on its own.  Nevertheless, RastaJr Productions as a sound modder with a defined taste of own has made changes to all the truck sounds as preferred as possible and as tasteful as one simply can design.  The Following work that includes a rework of, most for now but all for the future, sound of the current SCS in-game trucks of ETS2 has been implemented in a way to improve some of the mishaps of the overall truck sounds.
---
Features SCS Truck Sounds Reworked MEGAPACK:
- Completely re-designed, re-structured, and re-sampled all the sounds of SCS.
- Using the whole sound library that SCS ever released in the base game file, a New MIX of sounds according to the recorded samples by SCS and respective engines.
- The Interchanging of sounds in the game has now been accurately re-defined.
- With a New Formula to mix all sounds (transitions that reach 200-400rpm per sample based on dependency) is used in mixing the sound. This has resulted in a success up to 90% of Sound Smoothness, when ever revving the engines or when ever the revs fallback.
- Carefully taken care of Horn Sounds that resemble the magnificent Hadley and FIAMM Horns of European Trucks.
- On the Basis that SCS has made a GREAT Improvement in the Miscellaneous Interior Stick Sounds, a unique Low Air Pressure Sound for every truck along with wiper sounds was only added to each sound improvement. Stick sounds that play for blinker sticks and so on were recorded uniquely for every truck as new by SCS and independently added for every truck. As a result, a decision not to replace such sound samples.
- And many more improvements made.
Changes in v7.0:
- Adapted to the latest game patch 1.43;
- Full Support for Multiplayer. All sounds now work on multiplayer.
- New interior sounds (Sticks, buttons and warning sounds)
- New interior sound volume balance that came with update v1.43
- New truck noise sounds (suspension noise)
- New Volvo and Renault trucks effect sounds (gear change)
- Rebalanced volume of Mercedes-Benz Actros MPIII truck sound
- Overall update to a new template for ETS2 v1.43+

Old Changes

Type of Sounds

Download Links
Tested on 1.43.x game version
Share / Download mod «SCS Truck Sounds Reworked MEGAPACK v7.0 (1.43.x) for ETS2»
---
---
Download Links – Policy & Disclaimer
This document refers to links to third-party content/website, from both our website(s) and our official Social Media pages. External links are selected and reviewed when a page/post is published. However, we are not responsible for the content of external websites. If you would like us to remove a link to your website from NHS Choices, please Contact us (Admin) Note that unless you have a legal right to demand removal, such removal will be at our discretion.