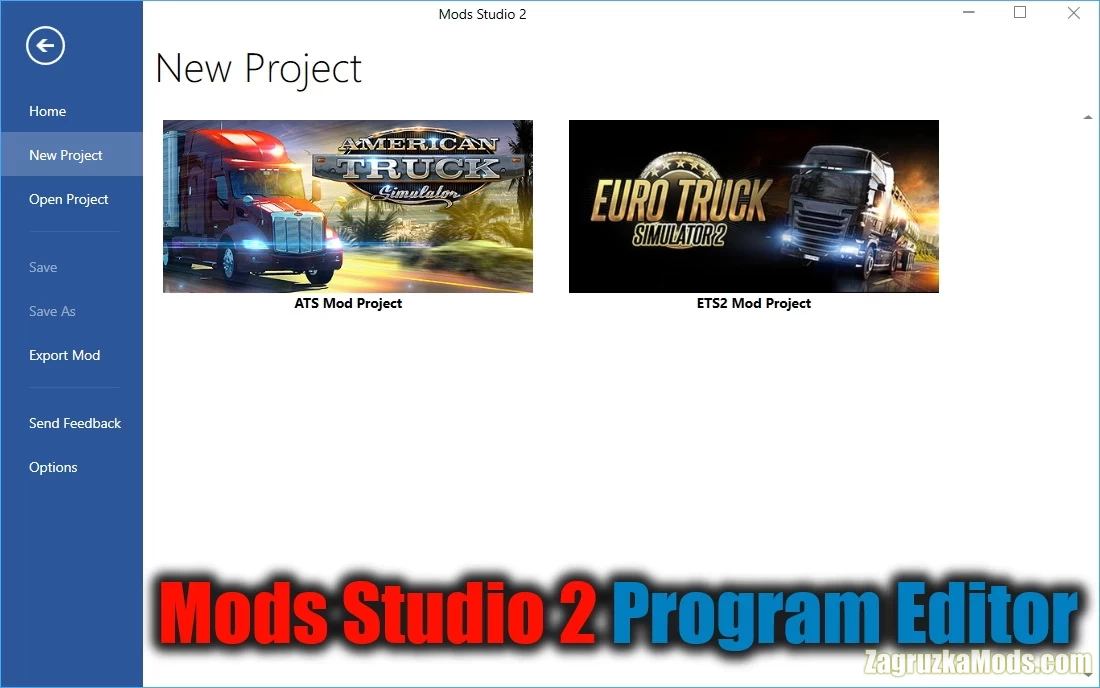 Download Mods Studio 2 Program Editor v2021.02 (1.40.x) for Euro Truck Simulator 2 | American Truck Simulator game.
Mods Studio 2
- is a program for editing and creating configurations of ETS and ATC mods, registration of tuning, modifications and editing of textures. In Short Mods Studio 2 is the successor of ETS2 and ATS Studio. 
Featurs Mods Studio 2:
- 2 Games supported: ATS & ETS2
- Simple truck skins (old type of skins)
- Advanced truck skins (new type, Scania, MAN E6, Renault T...)
- Simple trailer skins
- Metallic skins
- Mask skins (the ones where you change colors in game)
- Simple engine mods
- Updated TOBJ editor
- Standalone cargo containers with support for up to 20 looks per container!
- Trailer mudflaps
- Truck mudflaps
- Traffic trailer skins
- Traffic trucks skins
- AI traffic vehicle skins
- Mod trucks support
- 3D skin preview
- UV map export tool
Changes in v2021.02:
Bugfixes:
- Fixed filenames of .mat files so they can be uploaded to Steam Workshop
- Fixed vehicle editor not allowing dot (.) in internal names    
- Fixed missing spawn ratio in some traffic trucks definition files    
- Updated vehicle XML files with new 1.40 SCS internal names    
- Fixed export issue with ATS rear trailer mudflaps  
- Fixed issues with ETS2 trailer mudflaps   
- Fixed issues with 53ft ATS cargo container
New Content:
- ATS truck mudflaps
- ETS2 traffic truck: Scania S 6x2 High Cab  
- ATS: added support for 3 new trailers (Food Tanker, Flatbed Curtain, Bulkfeed)   
- Added Western Star sleeper cabins support
UI improvements:
- Added item values into the tooltips of all list items
- Added preview images for truck cabin variants
Infrastructure:
- Moved all log files into My Documents MS2 folder    
- Moved all mod build temp folders into My Documents MS2 folder

Important
Tested on game version 1.40.x