Mexico Extremo Map v2.0.5 (Update) (1.32.x) for ATS
Author:
admin
| Date: 27-11-2018, 21:50 |
Views:
370 |
Comments:
0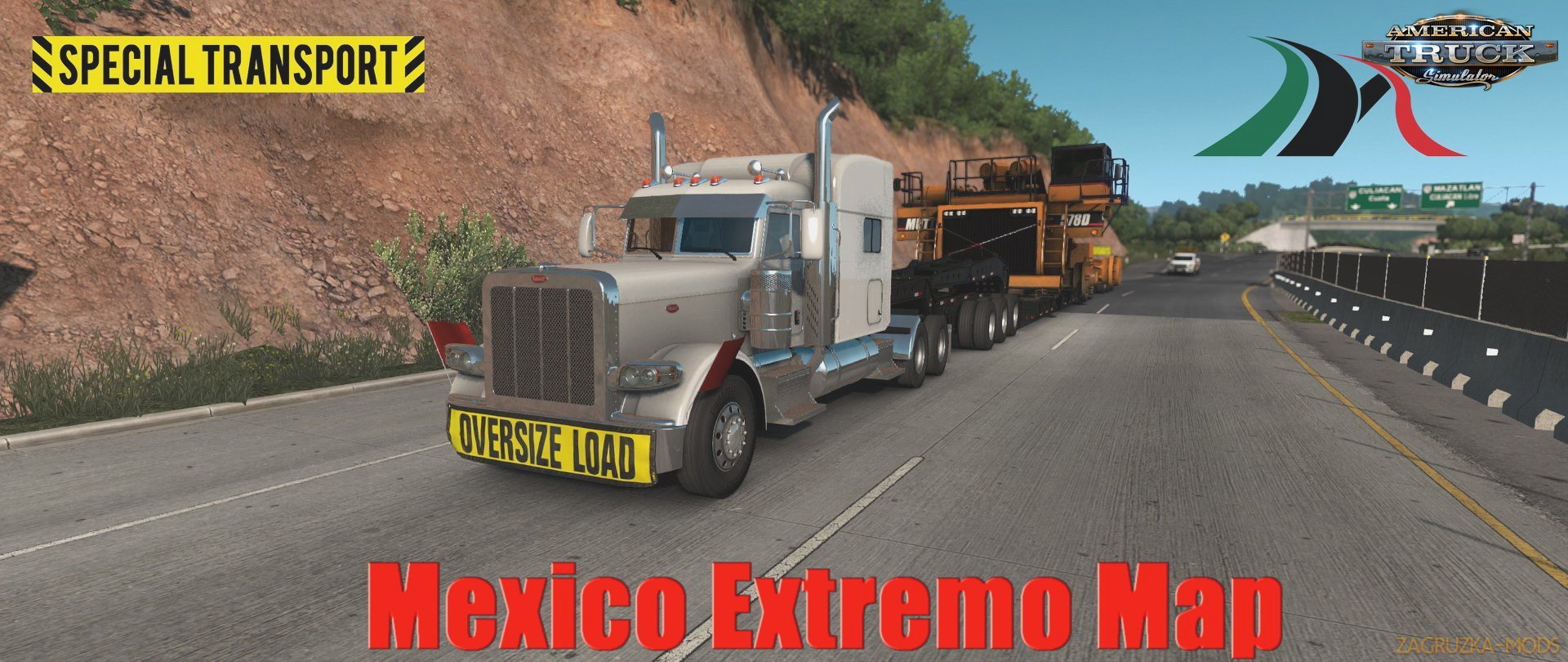 Description about Mexico Extremo Map v2.0.5 (Update) (1.32.x) for ATS:
Mexico Extremo v2.0.5 (Update) (1.32.x) for ATS | American Truck Simulator game.
A great addition added to the game American Truck Simulator is Mexico Extremo for 1.32.x game version, which can be downloaded for free and without registration. You can also see other maps from the category Maps for American Truck Simulator or go to the main section ATS mods. 
Do you want a challenge?
Here you have.
This mod adds extreme roads for American Truck Simulator game.

Changes in v2.0.5 (Update version):
-Special transport support (6 routes)
-Aguascalientes state added.
-Remodel of durango state enterely.
-New areas south of chihuahua state (rest of the state is WIP)
-New deliveir areas from oregon DLC assets (Oregon DLC needed)
-Remodel of extreme route in Canelas and Tamazula
-New remodel routes in Durango state, federal road 23, 45, 49 and state road 44.
-A maze! first in ATS, figurate out in Mapimi area called "Zona del Silencio"
-New urban and rural junctions in map
-17 new cities and remodels in 2.1 "Aguascalientes".
New version 2.0.5:
-Fixed some invisible walls in different areas.
**NEW MEXICO DLC NEEDED**For the moment no need for Oregon DLC.
LOAD ORDER:**Other mods such vehicles, trailers, skins, etc
Mega Resources 2.0.3
Mexico Extremo 2.0.5
Viva Mexico 2.4.8
**OTHER MAP MODS such CanaDream or Coast2Coast
Authors:Eblem Torres - general edition of Mexico Extremo map.
Raúl Martínez - especial editions, testing and quelity improvements.
*Special thanksHugoces
Hugo César Cabrera - author Viva México Map
Tested on game version 1.32.x
Share / Download Mexico Extremo Map v2.0.5 (Update) (1.32.x) for ATS:
Vkontakte
Facebook
Тwitter
Pinterest