Rock Spawn Script Mod v1.0 for FS17
Author:
admin
| 18-01-2019, 11:24 |
Views:
996 |
Comments:
0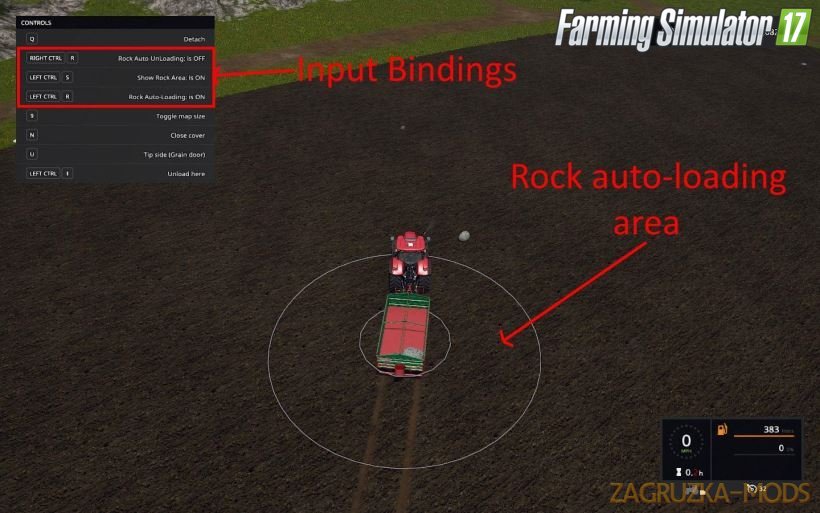 Category
-
Other mods FS 17
Credits: - akuenzi
Download Rock Spawn Script Mod v1.0 for FS17 | Farming Simulator 2017 game.
A great addition added to the game Farming Simulator 17 is Rock Spawn Script Mod for v1.5.x game version, which can be downloaded for free and without registration. You can also see other fashion from the category Other mods for Farming Simulator 17 or go to the main section FS 17 games.
The purpose of this mod is to simulate the experience of digging up rocks during the tillage process.  The "rock spawn" mod is a global specialization that will affix itself to all plows and cultivators in-game.  If activated during tillage, rocks will occasionally be dug out of the ground.  The player may choose between 5 varying levels of rock spawn output, or to turn off the feature entirely, all from the comfortable seat of the tractor… which is a choice we didn't have back in the day.  A few details pertaining to the mod are below.  The rest may be found in a pdf file manual included in the mod zip file, including instructions on how to customize the mod further if desired.
Input Binding:  ALT-R
Number of Rocks Included With Mod:  15 (small to large)
Multiplayer Ready:  Yes
Rock Spawning Levels:
The middle-left column is the approximate number of rocks that will spawn in the entire field # 16 on Westbridge for a particular setting.  The rightmost column shows the approximate number of rocks per hectare for each setting.  Each rock has an equal chance of spawning during the tillage process, with one exception: A "gold" rock is included in the pack.  The chance of it spawning during tillage is 1:1,401.  It may be sold for substantially more than regular rocks.
Rock FillTypes:  rock,
Two new fillTypes are registered with this mod – rock and gold – and their 'sales' value will fluctuate on the market like other fruits or fillTypes.  Each rock has different fillLevels, depending on their size.  Rocks may be disposed of at any bale destroyer trigger.
Note:
●  Each rock is a dynamic physics object, similar to a bale.  As such, it requires computing power in the game engine to render each rock and to remember where they are moved to.  The same recommendations and warnings regarding too many bales are also applicable to rocks. So... do pick up after yourself.
●  The stock game does not come with rock handling equipment, with exception of the loader buckets and forks.  The manual included with the mod contains a few suggestions as to mods you may wish to consider to help you pick up and deal with all the rocks you spawn.  Anyone using this mod is urged to review the manual, and consider additional mods needed before using this mod in-game.
Enjoy the rocks!
Tested on game version 1.5.x
Share / Download mod «Rock Spawn Script Mod v1.0 for FS17»
---
---
Download Links – Policy & Disclaimer
This document refers to links to third-party content/website, from both our website(s) and our official Social Media pages. External links are selected and reviewed when a page/post is published. However, we are not responsible for the content of external websites. If you would like us to remove a link to your website from NHS Choices, please Contact us (Admin) Note that unless you have a legal right to demand removal, such removal will be at our discretion.