Allison Automatic Transmission Pack EU v1.5.1 [1.35+]
Author:
Tacsi68
| 20-06-2019, 10:10 |
Views:
457 |
Comments:
0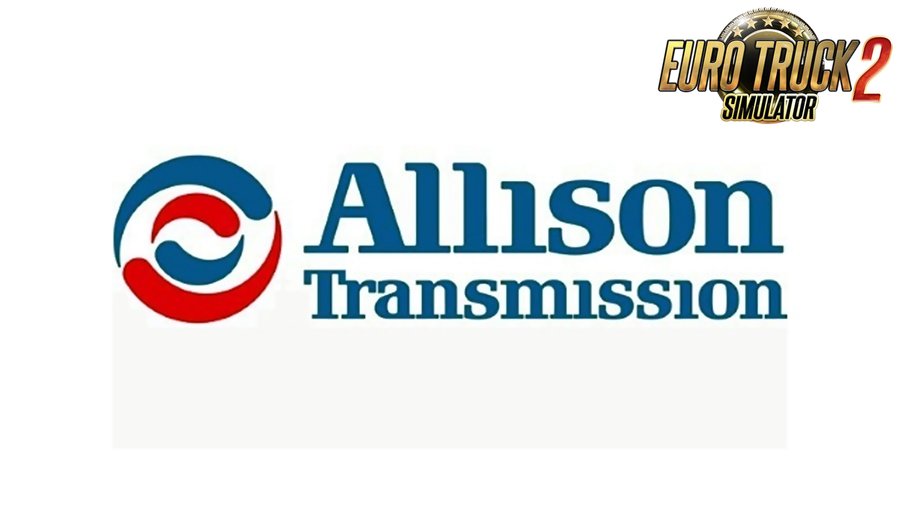 Category
-
ETS 2 other mods
Credits: - Boeing73FLY
Allison Automatic Transmission Pack EU v1.5.1 for Ets2 1.35+ game versions


Experience SEAMLESS shifting with Allison's automatic transmissions!



NOTICE: 

This mod will only be supporting SCS Default trucks. 
However, upon request, I will be happy to make it compatible with 
other engine mods which involve the default trucks.
Since the release of American Truck Simulator, SCS has added the ability to create 
automatic transmissions starting with the Allison 6-speed. Compared to [automated] 
manual transmissions, these automatics utilize a torque converter in place of a clutch. 
Now with the 1.24 update, torque converter simulation has been added.
Allison Transmission strives to drive customers with "new and unique innovation in 
fuel-saving transmissions designed especially for road tractors." 
Utilizing a torque converter 
and many other important features, Allison promises to deliver better fuel efficiency, 
improved maneuverability, reliable operation, and low-cost maintainence(1).
In-game: 
I STRONGLY SUGGEST DRIVING IN REAL AUTOMATIC MODE WHEN EQUIPPING A TRUCK WITH AN AUTOMATIC TRANSMISSION.
These transmissions are available only on all SCS Default trucks(2)(3)(4)(5). 
Gear ratios were selected to ensure efficient operation at 56 MPH (90 KPH). 
Torque rating for the TC10 model is 2,305 Newton-meters; for the 4000 series is 2,508 Newton-meters; 
for the 6600 model is 3,390 Newton-meters. Be sure to select the appropriate engine for each transmission model.
(1) Results vary with driving style.
(2) You must be at minimum level 13 to start unlocking these transmissions.
(3) THIS MOD REPLACES THE 4500 MODEL (INCLUDING REBRANDED TRANSMISSIONS IN SOME TRUCKS) ALREADY IN-SIM!
(4) IMPORTANT: To avoid crash to desktop, DO NOT SELECT a transmission incompatible with an engine!
(5) Multi-torque engines are NOT supported!
New version 1.5.1:
- Added support for Drivetrain Revision engines from galimim

Version 1.5.0 (18 Jun 2019)    
- Added the transmissions for the MAN TGX Euro 6
- Added "conflict_with" code to prevent crashes from selecting incompatible engine with Allison transmission
- Removed support for EngineMOD from Snoman  
- NOTE: You may need to re-purchase a compatible engine.
Check the "Diagnostics" of your truck and see if the engine has been reset
The following models are included in this pack:
- 4000
- 4500
- 4700
- 6600 (H6620)
- TC10
**DO NOT FORGET TO EXTRACT THE .SCS FILE INSIDE!
 **
Share / Download mod «Allison Automatic Transmission Pack EU v1.5.1 [1.35+]»
---
---
Download Links – Policy & Disclaimer
This document refers to links to third-party content/website, from both our website(s) and our official Social Media pages. External links are selected and reviewed when a page/post is published. However, we are not responsible for the content of external websites. If you would like us to remove a link to your website from NHS Choices, please Contact us (Admin) Note that unless you have a legal right to demand removal, such removal will be at our discretion.