MTL Flatbed Tow Truck v5.0.1 for GTA 5
Author:
Zagruzka
| 11-07-2019, 00:11 |
Views:
2 714 |
Comments:
0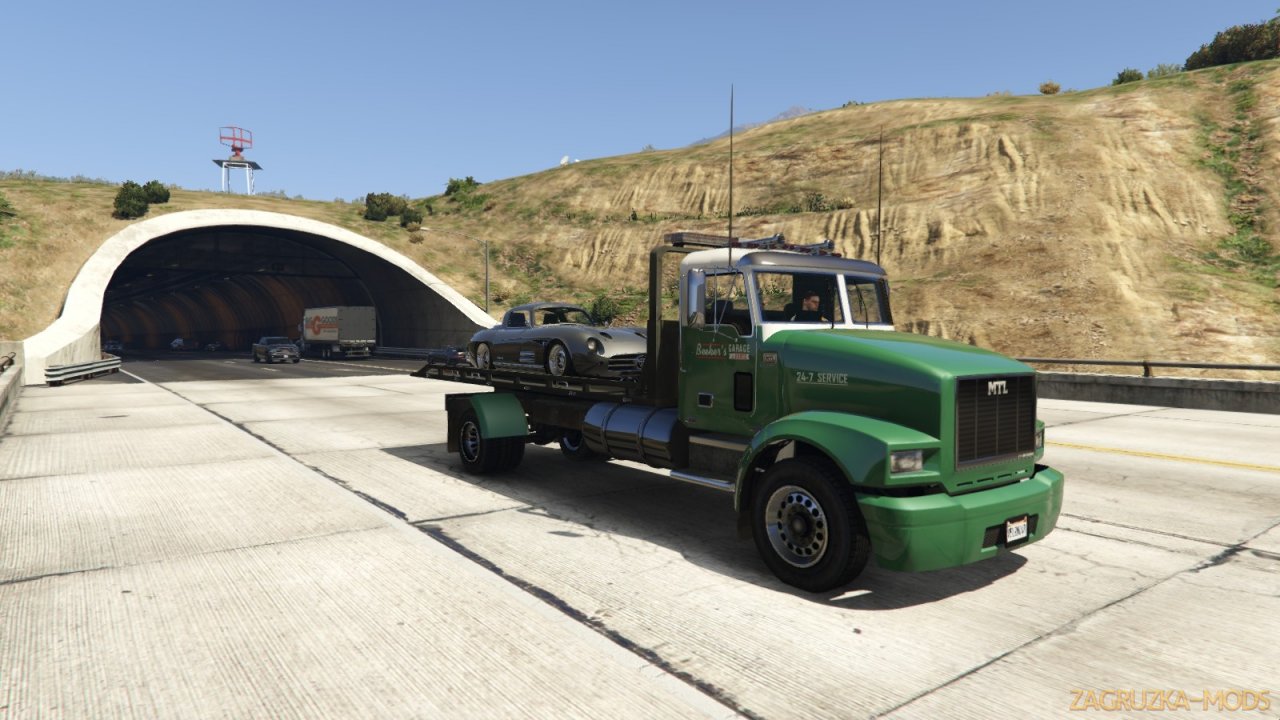 Credits: - I'm Not MentaL, Yoha, SxY, TheF3nt0n
Download mod truck MTL Flatbed Tow Truck v5.0.1 for GTA 5 | Grand Theft Auto V game.
Features Truck MTL Flatbed Tow Truck:
- High-quality detailed exterior
- High-quality detailed interior
- High-quality 3D model
- open all doors, covers, engine compartment and Luggage compartment
- working lights
- exterior and wheels get dirty
- exterior scratches
- high quality textures wheel tires
- the tires of the wheels are pierced
- correct display rim after breaking tire
- animated suspension
- present the illumination of arrow speedometer and tachometer
- working arrow speedometer and tachometer
- the character is correctly sitting in the driver's seat
- the character's hands grasping the steering wheel
- the car can be up to two characters
- away model looks like near
- correct display of textures on models after the explosion
- Full body dirt
- Burn area
- Bullet impact
- Hands on steeringwheel
- Correct truck proportions
- Correct door handle & opening
- Correct window tint (no tint on lights & windscreen)
- Correct seat positions for 2 peds
- Correct damage
- Correctly collision
- Correct camera 
- Working animation exhausts & engine
- Correct proportions
- Trunk & doors work
- Correctly scaled tires
- Working steering wheel
- Hands on steering wheel 
- Liveries
- Tow Winch
- Working Bed
- Attach Vehicles to Flatbed (So it won't fall when driving)
- Mirrors Collision
- detailed model
Changes in v5.0.1 
- Added Replace version.
v5.0
- New Flatbed model bugs fixed with LODs with working bed thanks to TheF3nt0n & SxY.
- Wipers feature removed due to R* fucked up the bombbay doors.
- Replaced roof Beacon with a lightbar attach on bed thanks to MrPrime.
- New liveries thanks to Yannerins and AlexanderLB.
- Added new winch system.
- Flatbed will not despawn whenever it is load/unloading vehicles.
- Removed Realistic Physics from v3.2 update due to people keep complaining it was a bug. *annoyed*
- Fixed random Help notifications pops-up when other npc nearby.
- Removed ability to attach hook winch inside flatbed.
v4.0
- Re-wrote the script
- Fixed no respawn bug.
- Fixed Saving bug.
- Localized some language including: English, German, Spanish, Chinese Simplified, Chinese Traditional & Korean.
Requirements: 
- Latest ScriptHookV
- Latest Community Script Hook V .NET
- Visual C++ Redistributable for Visual Studio 2015 x64
- Minimum Microsoft .NET Framework 4.5.2
- Flatbed Script
- OpenIV
Install:
1. Open the program OpenIV;
2. Specify the path to the directory installed games GTA 5 for Windows;
3. To enable edit mode (if prompted to install the plug-in for GTA V, hit the "ASI Manager" in the window that appears, select "Install" OpenIV.ASI);
4. Next, go on this way - x64e.rpf\levels\gta5\vehicles.rpf;
5. Replace "fugitive.yft", "fugitive.ytd" and "fugitive_hi.yft" in the same modification file from the downloaded archive;
6. The modification will be installed and the program OpenIV can be closed.
Tested in game version v.1180.1
Share / Download mod «MTL Flatbed Tow Truck v5.0.1 for GTA 5»
---
---
Download Links – Policy & Disclaimer
This document refers to links to third-party content/website, from both our website(s) and our official Social Media pages. External links are selected and reviewed when a page/post is published. However, we are not responsible for the content of external websites. If you would like us to remove a link to your website from NHS Choices, please Contact us (Admin) Note that unless you have a legal right to demand removal, such removal will be at our discretion.