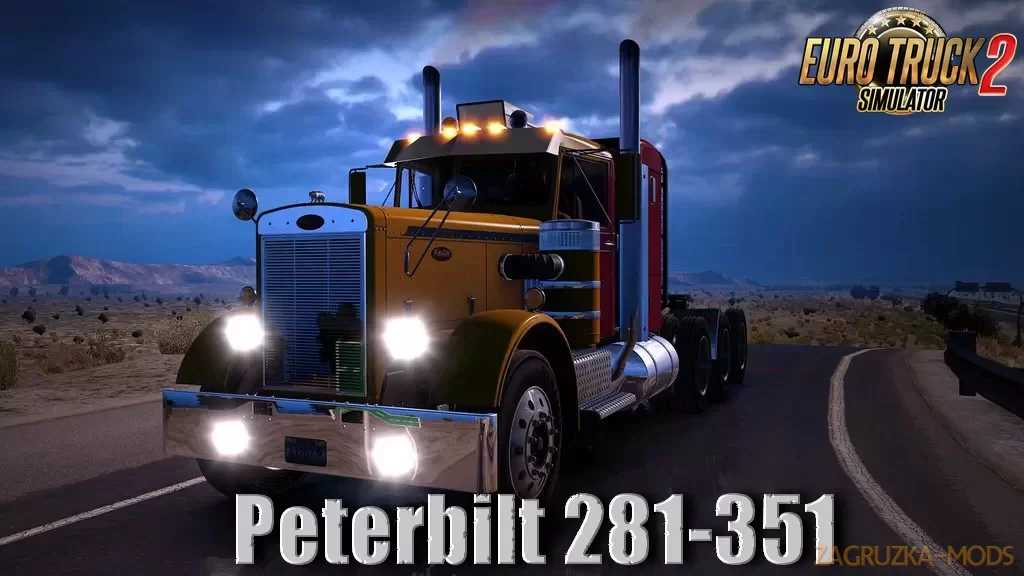 Download mod american truck Peterbilt 281-351 + Trailers v2.0 (v1.36.x) for ETS 2 | Euro Truck Simulator 2 game.
A great addition added to the game Euro Truck Simulator 2 is Truck Peterbilt 281-351 + Trailers for 1.36.x game version, which can be downloaded for free and without registration. You can also see other fashion from the category Trucks for Euro Truck Simulator 2 or go to the main section ETS 2 mods. 
---
Peterbilt 281-351 - is a classic truck line developed by Peterbilt Motors Company in the mid-50s. The main difference between the models lies in the chassis, Peterbilt 281 has one drive axle, and Peterbilt 351 has two drive axles, trucks were produced until 1976 and gained great popularity! This mod will add the standalone Peterbilt 281-351 truck to the game, which is registered in the Peterbilt own salon (Brand dealers from the modification).

---
Features truck Peterbilt 281-351: 
- independent truck model
- hiqh quality 3D model
- hiqh quality detailed exterior
- hiqh quality detailed interior
- the model has own interior
- the model has own sound
- the model has own wheels
- present the illumination of arrow speedometer and tachometer
- the character is correctly sitting in the driver's seat cabin
- the choice of chassis
- the choice of power engine
- the choice of transmission, gearbox
- the choice of interiors
- the choice of wheels configuration
- the choice of color body / metallic paints / skins
- correct position of the Peterbilt logo
- Working headlights, brake lights, tail lights, front and rear turn signals, steering wheel and reverse signals;
- The correct position of the player
- interior accesories configuration
- There are external tuning
- 2 cab variants (with and without sleep)
- Original interior (with and without sleep)
- 8 variants of the chassis
- loads of "mannequins" for a tandem chassis
- total more than 100 elements of external adjustment
- 17 skins (full template for self-tightening the skin)
- 9 upholstery options
- 9 options for inserts on the dashboard and doors
- 12 upholstery options
- 7 variants of floor coverings
- 3 different steering systems
- 14 engines with sound binding
- 8 reducers
- Running inner chamber
- DLC support
- More choice of tuning
- There is a template for skins
Changes by Phantom94 (1.36.x):
- Full adaptation for 1.36.x
- updated all 3D models for a new patch
- fixed bugs and cleaned in the log (there is only one warning that the model is "heavy")! 
- Added cable support for all chassis (including on trailers)
- adapted the model for DX11
 The authors of the mod mo3Del Truck Game (mTG):
- JAWA (Maxim Saprykin): 3D model.
- Stas556: Conversion to the game, animation.
- Kriechbaum: Sounds.
- Mikhail Iontsev: Registration of a pack of trailers.
- adaptation for 1.36: Phantom94
Tested on game version v1.36.x