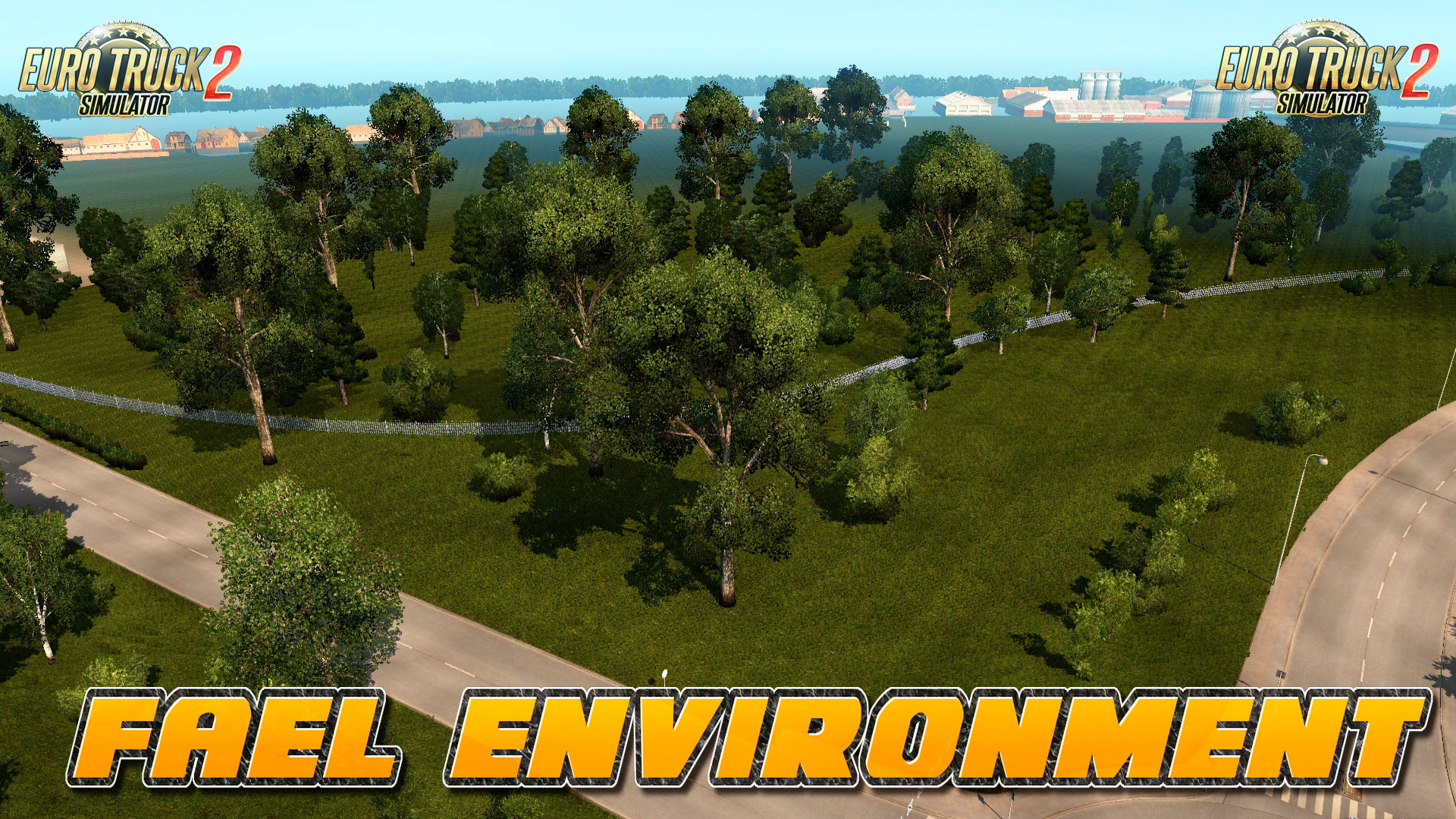 Mod Fael Environment v3.1 by Rafaelbc (1.36.x) for ETS 2 | Euro Truck Simulator 2 game.
A great addition added to the game Euro Truck Simulator 2 is Mod Fael Environment by Rafaelbc for 1.36.x game version, which can be downloaded for free and without registration. You can also see other fashion from the category Other mods for

Euro Truck Simulator 2

or go to the main section ETS2 mods.
---
Fael Environment
-
A small but quite functional graphic mod called makes noticeable changes in the environment that the player encounters throughout the trip. Changes are primarily aimed at vegetation. It becomes much larger with the use of this mod. And this is not just an increase in the amount of vegetation, but a significant processing of these objects. Added a lot of trees with better rendering, with the presence of a large number of foliage, which looks very impressive.
The FAEL Environment mod will give you a better visual to Euro Truck Simulator 2 with new textures for trees, road, ground, grass, water,… and will not change the weather in game. 
---
Features mod Fael Environment:
- Changed tree models.
- The grass is redone.
- The best variations and color adjustments
- Recycled land and grass textures
- Road textures not included 
- New improved 

textures for trees, road, ground, grass, water
- Improved trees foliage on the whole map - including DLC's -> Scandinavia - Going East - France - Italy - Baltic Sea 

Old Changes



The game_data.sii is already included in my mod, but If you use other mod that modifies this file,




I recommend to edit the Distance Draw (or LOD) to a better quality environment.


Change these lines in the Game_data.sii:


leaves_lod_start: (610.0, 410.0, 70.0) 


leaves_lod_end: (660.0, 460.0, 120.0)



It's very important to set these Graphic Settings at high to get the best visuals with this mod:



VEGETATION DETAIL -

HIGH


GRASS DENSITY -

HIGH
Tested on game version 1.36.x