Big Heavy Pack v3.8 (1.34.x) for ETS 2
Author:
Zagruzka
| Date: 29-04-2019, 14:29 |
Views:
438 |
Comments:
0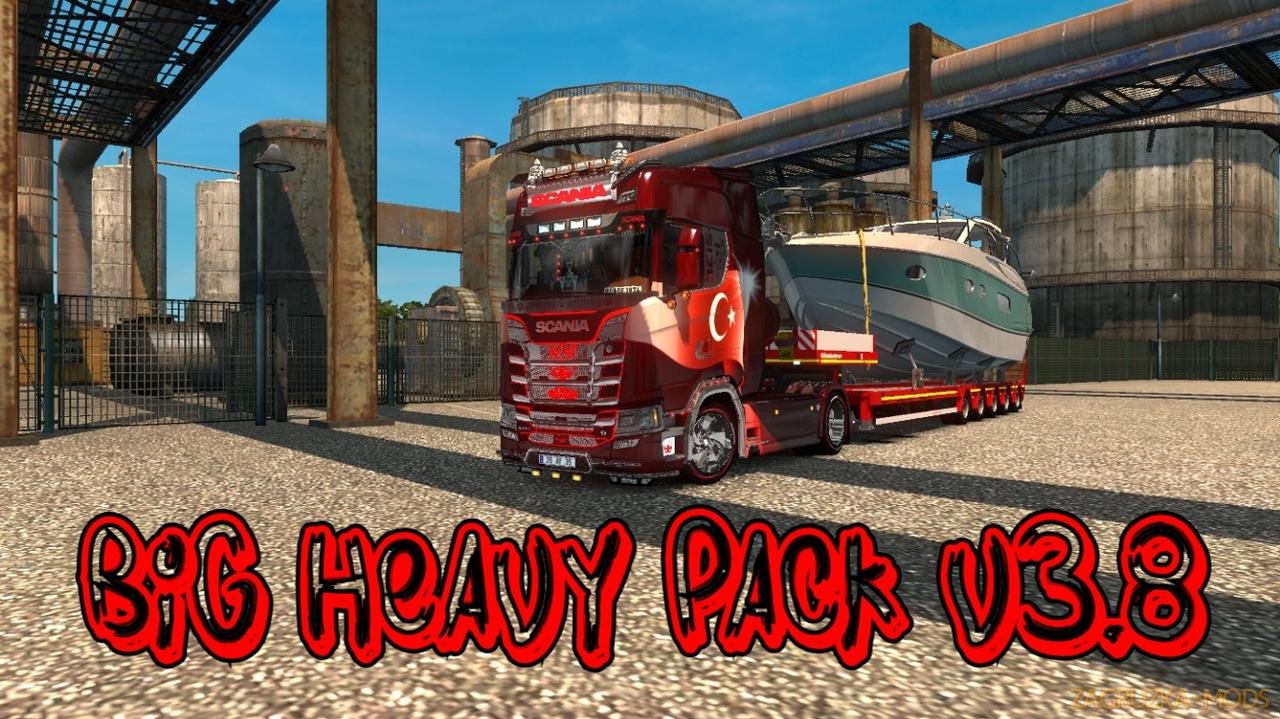 Description about Big Heavy Pack v3.8 (1.34.x) for ETS 2:
Download mod Big Heavy Pack v3.8 (1.34.x) for ETS2 | Euro Truck Simulator 2 game.
A great addition added to the game Euro Truck Simulator 2 is Big Heavy Pack for 1.34.x game version, which can be downloaded for free and without registration. You can also see other fashion from the category Trailers for Euro Truck Simulator or go to the main section ETS 2 mods.
Features mod:
Adapted 1.34
Tonnages arranged
New loads added
This mod adding 560 cargo
D_tec 40 ft 5 Axe
D_tec 40 ft 5 Axe
D_tec 20 ft 3 Axe
Etrc 3 Axe New
Etrc1 3 Axe New
Euro Fuel 3 Axe New
Faymonville 10 Axe
Faymonville 8 Axe
Faymonville 7 Axe
Goldhofer 10 Axe
Goldhofer 8 Axe
Goldhofer 3 Axe
Goldhofer 10 Axe Train
Hardox 3 Axe New
Kassbohrer 4 Axe
Kassbohrer 5 Axe
Kassbohrer 6 Axe
Kassbohrer Tırsan 3 Axe New
Kögel Panel 3 Axe New
Kögel Flatbed 3 Axe
Kögel Sal 3 Axe
Krone 4 Axe New
Lamberet sr2 3 Axe New
Lowboy 4 Axe
Military Lowbed 3 Axe New
Öztreyler old & new 3 Axe New
Schmitz cococola 3 Axe New
Sert Sal 3 Axe New
Truck Trans 3 Axe New Fmax
Bonus Ats Heavy Pack
ETS2 1.34+ DLc Scandinavia + DLC France + Dlc İtalia ready
Advanced coupling
Steerable Wheels
Liftable Axe
The trailer is standalone
The trailer not in traffic(Game Ai system does not accept high pmg)
Compatible with all trailer packs
Have to sleep 1 in-game days to refresh the joblist with the standard trailers.
Enjoy the mod!
Tested on game version 1.34.x