Fallout Miami (Early Version) v1.02 for Fallout 4
Author:
Zagruzka
| 7-07-2019, 16:29 |
Views:
2 262 |
Comments:
0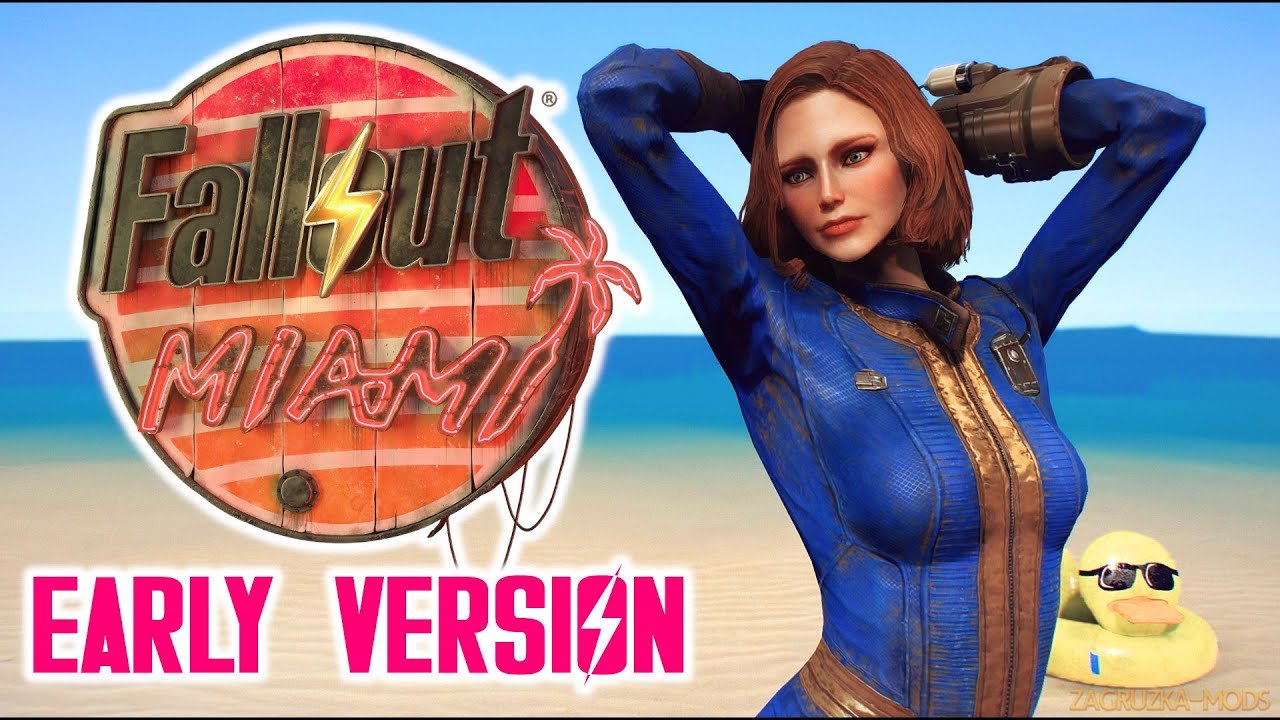 Download mod Fallout Miami (Early Version) v1.02 for Fallout 4 game.
This early version of Fallout Miami is the first worldspace I made when I started this project, and that's why I must emphasize that it won't be present in the final version of the Fallout Miami and is not associated with the current project. In agreement with the Fallout Miami Development Team, we all decided to move some stuff from this worldspace to a new one that will be more optimized, have better LOD and PipBoy map. That means that final version of the Fallout Miami will look different then this one, where most stuff I made is on my own, when the team counted only a few members...
But, because I'm so tied to my old worldspace, collective decision to move entire project to a new worldspace fell very hard on me, and I couldn't just leave it...  So, I decided to make this download available for everyone and also for my personal use. Over time, I will try to update this early version and make it better for playing and exploring, so you can enjoy a little bit more while you are waiting for the official Fallout Miami to be done. :)
About the Fallout Miami Early Version:
- This version contains built parts of the old explorable worldspace which won't be present in the final version of the Fallout Miami, no NPCs or enemy encounters, no quests. But, it will be updated over time with NPCs and new areas.
- File is ESP, I use it because it is easier for me to update it in the future then ESM
- If you see buildings loads in front of the player when he enter next exterior cell that is because I didn't put the LOD file, that is also why it doesn't show Miami PipBoy map. I only generate LOD once for the test, to see if its working. I will upload LOD file as separate file when I generate it again, when it looks better. :)
Requirements:
- To play Fallout Miami Early Version you need base Fallout 4 game and ALL official DLC-s. Otherwise the game won't show objects used from DLC-s correctly.
How to use it:
- From the "Fallout Miami Early Version.7z" copy "Data" folder to your "...\Steam\steamapps\common\Fallout 4\"
- Use Nexus Mod Manager to activate "FalloutMiami.esp"  plugin
- Play :)
Location: 
- If you want to access the new Miami worldpsace you need to go at the southeastern part of the Commonwealth. There you will find bus, just pass the new small town and you will see it, it is parked in front of the tunnel. Use bus door to tavel to Miami. :)  
Changes in v1.02:
- Fix for the invisible walls....
- Replace the original "FalloutMiami.esp" file with this one, from the update / fix.
Share / Download mod «Fallout Miami (Early Version) v1.02 for Fallout 4»
---
---
Download Links – Policy & Disclaimer
This document refers to links to third-party content/website, from both our website(s) and our official Social Media pages. External links are selected and reviewed when a page/post is published. However, we are not responsible for the content of external websites. If you would like us to remove a link to your website from NHS Choices, please Contact us (Admin) Note that unless you have a legal right to demand removal, such removal will be at our discretion.