Johndoe SiCKX ReShade v2.1 - VEESEVEN (1.36.x) for ATS
Author:
admin
| Date: 2-02-2020, 22:01 |
Views:
148 |
Comments:
0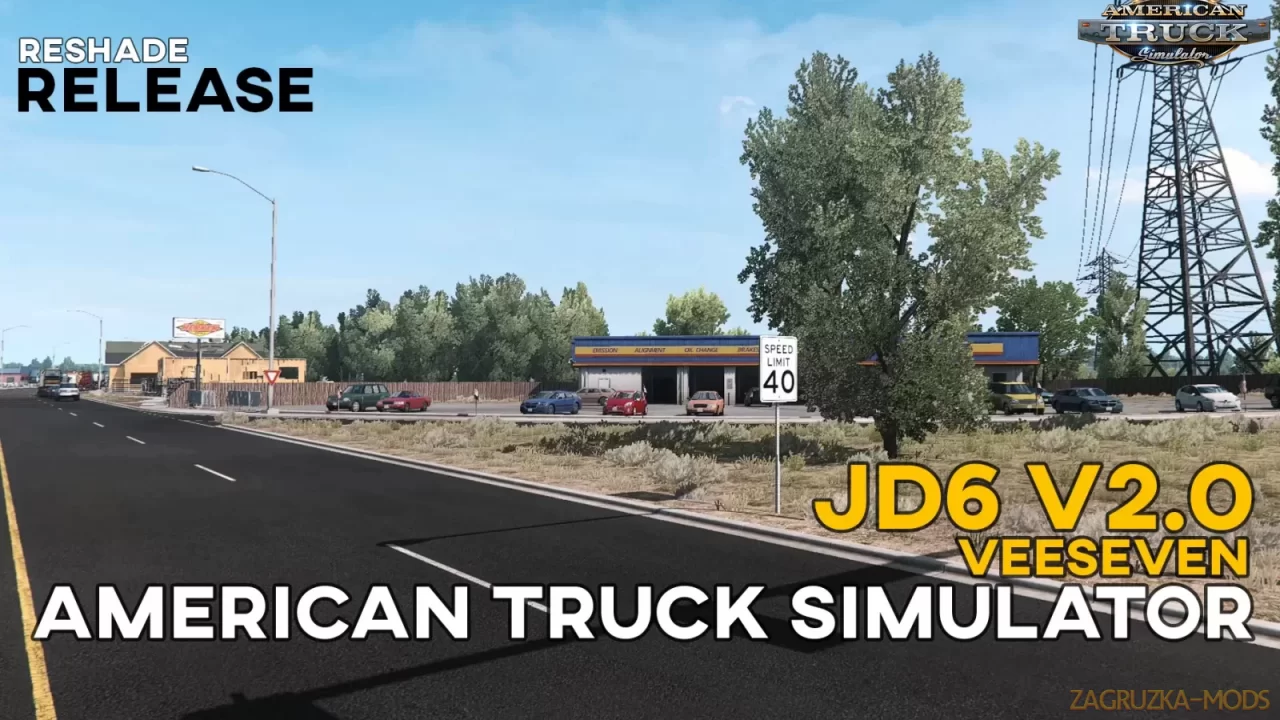 Category
-
ATS Other Mods
Credits: - Johndoe SiCKX
Description about « Johndoe SiCKX ReShade v2.1 - VEESEVEN (1.36.x) for ATS: »
Download mod Johndoe SiCKX ReShade v2.1 – VEESEVEN (1.36.x) for ATS | American Truck Simulator game.
A great addition added to the game American Truck Simulator is Johndoe Sickx ReShade VEESEVEN for 1.36.x game version, which can be downloaded for free and without registration. You can also see other fashion from the category Other mods for American Truck Simulator or go to the main section ATS mods.
Johndoe SiCKX ReShade - preset file for ATS game which improve visuals and make game more realistic.
It's been an eternity since I released v1 dubbed FAKEDX11, I'm proud to share with you the next version of my ReShade Preset v2.0 aka VEESEVEN. This is the definitive way to enjoy ATS . This version is designed to bring ATS closer to the modern look of AAA racing/driving videogames, taking inspiration from titles such as Forza Horizon 4 and GT Sport as well as tons of Real Life footage.
For fancier skies use DamianSVW's mod for ATS.
Enjoy the very best and unmatched JD6 v2.0 ReShade Preset! Just like the ETS2 version,  a ReShade for KINGS.
Johndoe SiCKX - ReShade v7.0 "KIMOCHI"
ATS_Johndoe_SiCKX_v2_VEESEVEN-LOW.ini
ATS_Johndoe_SiCKX_v2_VEESEVEN-ULTRA.ini
Needed FX for ReShade v4.4.2 (or newer test builds):
AmbientLight.fx
DPX.fx
Fu-Bama CA for YACA.fx
HexLensFlare.fx
LiftGammaGain.fx
PandaFX.fx
Smart_Sharp.fx
- Updated shaders/texture
- Minor Performance Tweaks
For a default ReShade Installation TUTORIAL follow this video (starting at 3:19):
FOR DX11, during install choose Direct3D/10/11/12 !
IMPORTANT!!! 
After following the usual ReShade install procedure (pick any shader, makes no difference) copy the contents of the ATS.DX11.Johndoe.SiCKX.v2.VEESEVEN.PRESET folder into the win_x64 folder, overwriting everything.
ALTERNATIVE FAST INSTALL:
1. Download and install ReShade using the DX11 choice, pick any shader you want.
2. Copy the contents of ATS.DX11.Johndoe.SiCKX.v2.VEESEVEN.PRESET folder to win_x64 folder.
3. Default UI shortcut for ReShade is HOME.
Recommended in-game settings:
HDR ON
Color Correction ON
SMAA Ultra
Everything else is up to you or your PC performance.
Follow on TWITTER:
Tested on game version 1.36.x
Share / Download Johndoe SiCKX ReShade v2.1 - VEESEVEN (1.36.x) for ATS: