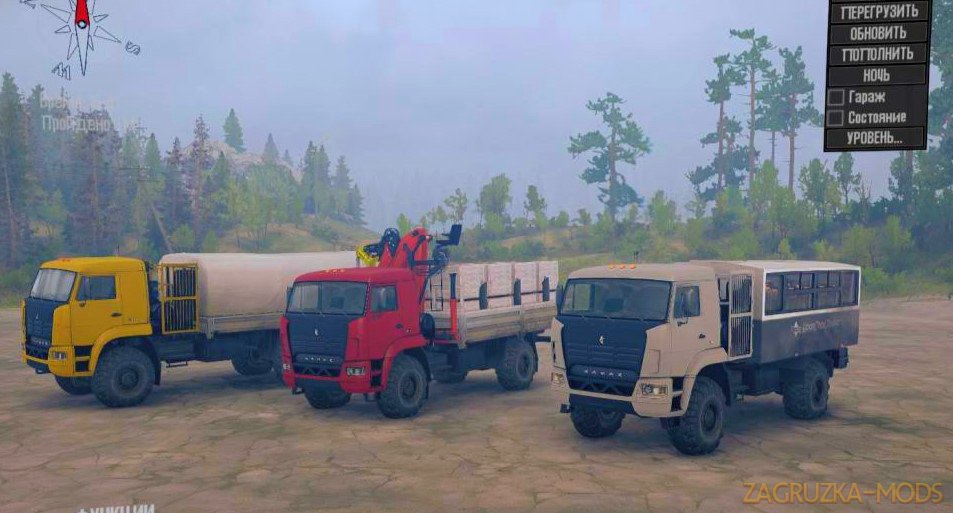 Mod Pack KamAZ Trucks BadCat v1.0 for Spintires MudRunner game.
A great addition added to the game Spintires MudRunner is 
Mod
 Pack KamAZ Trucks BadCat 
for v14.08.19 game version, which can be downloaded for free and without registration. You can also see other fashion from the category Trucks for Spintires or go to the main section Spintires games.
There are three variants of Kamaz in the pack; 4x4, 4x4, 4x4 Long. With cabins in two versions and in three colors. Only frames spawn:
4x4 and 4x2 took from the author Max Dmitriev (MaximDm67) from the MAZ-5337/5434 mod.
4x4 Long and add-ons for it were taken from the author MaximDm67, RedPaW from Ural Next and M Pak mod. The cabin was taken from Oksana (BadCat) from Kamaz 6560 mod.
Author of the manipulator: Jan Soroka (yansors), from the JCB Fastrac 3230 mod. 
Features
 mod Pack KamAZ Trucks BadCat:
- have own addons + default addons
- Animation of steering, doors, hood, trunk
- Animation: cockpit, frame, rudder, motor, tanks, air gripping, swivel fists and bar, mirrors on impact
- Animations: cabs,suspensions, steering wheel, mud flaps, add-ons.
- splashes on the windshield from water

- spray on the glass
- animation of knuckles and beams


- animation of fuel in tanks

- animation of starting / jamming / damaging the engine
- There is a cockpit and a dashboard.

- frames
- The view from the cabin
- the model has animation parts 
- model gets dirty
- the model has own wheels
- the model has own sound
- the model has own configuration
- working lights
- present the driver
- model far away looks like up close
- detailed model
Install the mod

:
Installation: the contents of the archive to be dropped into the folder Media.zip

Tested on game version 

v14.08.19