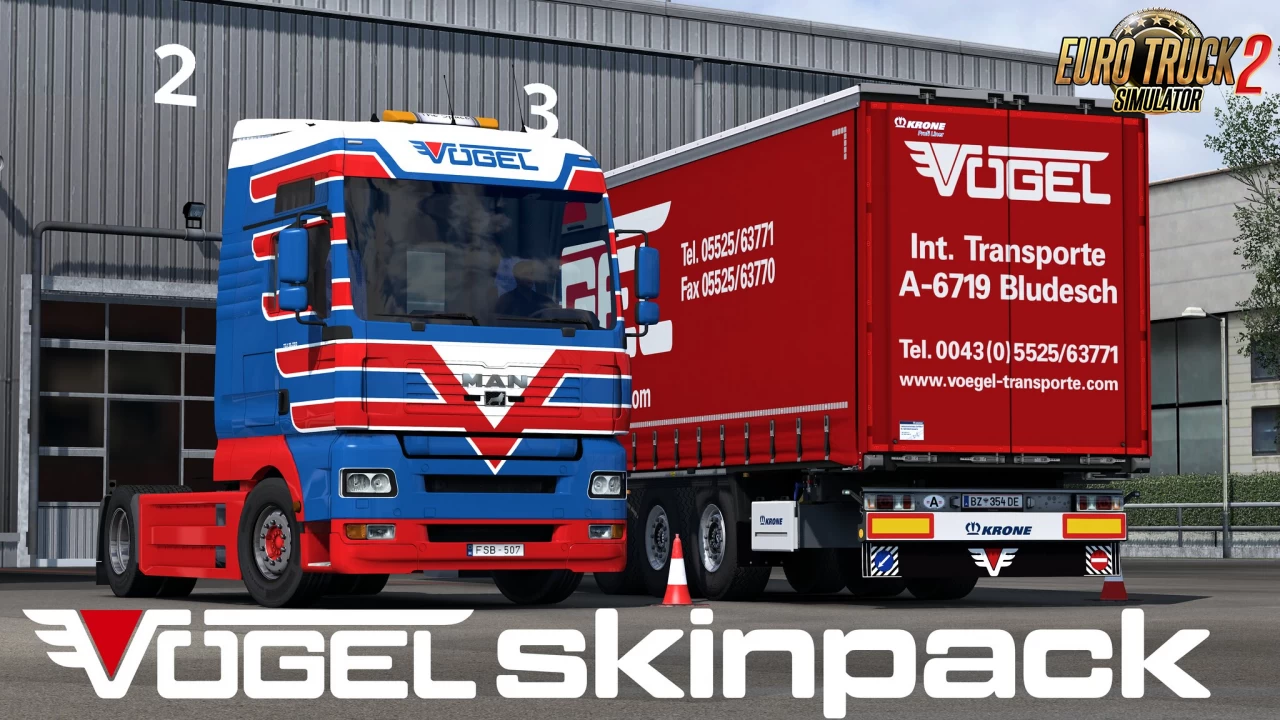 Download mod The Big Vogel SkinPack + Tuning v1.2 (1.40.x) for ETS2 | Euro Truck Simulator 2 game.
A great addition added to the game Euro Truck Simulator 2 is Mod The Big Vogel SkinPack + Tuning for 1.40.x game version, which can be downloaded for free and without registration. You can also see other fashion from the category Trailers for Euro Truck Simulator or go to the main section ETS2 mods.
---
The Big Vogel SkinPack- this is a small skinpack featuring fleet skins of the company Vogel Transporte. I wasn't satisfied with the available Vogel skins so I decided to make a big skinpack focusing on accuracy. The skinpack will expand from time to time with future updates.
---
TRUCKS:
– Scania S Next-Gen
– Scania RJL 4-series (2 versions; blue and red)
– Scania T 4-series by RJL
– DAF XF 105 (2 versions; blue and red + a skin for 50K lightbox and for the Kelsa lightbox by obelihnio)
– MAN TGA by Madster (2 versions; blue and red)
TRAILERS:
– Krone Profiliner by Sogard3 (custom mudlap and license plate included
– Schwarzmuller DLC trailer
– Schwarzmuller SPA 3E Mega by Fred
– added skin for Schwarzmuller Mega by Fred (for those who have it)
– added skin color for the Kelsa front spoiler from Scania R&S 2016 addons
– added skin for Scania S 6x short sideskirts
– added a skin for Abasstreppas' Maxion wheels
– added rear details and corrected miscolored parts on the DAF XF 105 skin
– added a standalone custom rear mudflap (for Vad&k's DAF)
– slightly reduced mod size
Tested on game version 1.40.x