Plasser & Theurer 09 Series Ballast Tamper
Author:
DIESSEL
| 3-02-2022, 21:31 |
Views:
4 153 |
Comments:
6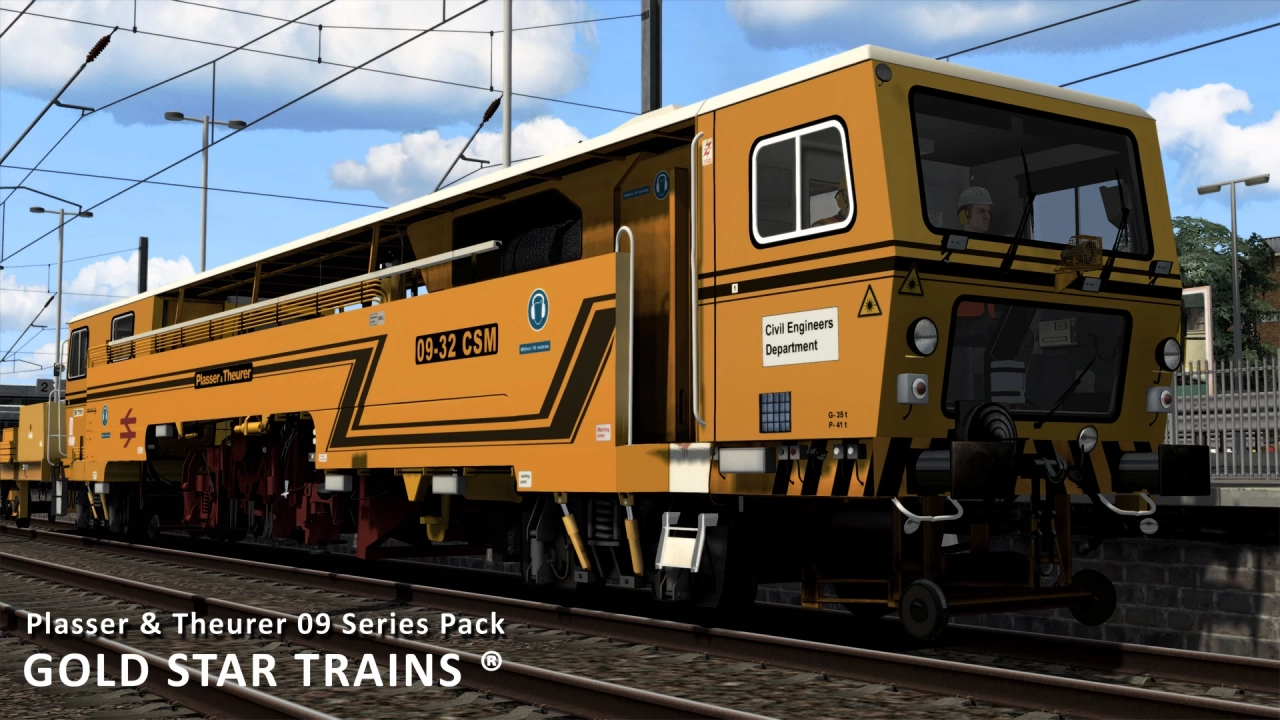 Category
-
Locomotives Train Simulator
Version game
-
TS 2021, TS 2022
Credits: - GOLD STAR TRAINS
GOLD STAR TRAINS® Proudly Presents – The Ballast Tamper Pack
Now with approved Plasser & Theurer branding
The Ultimate On-Track Plant Experience for Train Simulator
Take to the controls of a classic 1980's ballast tamping machine with GOLD STAR TRAINS® Ballast Tamper Pack. The pack features authentic Cummins KT1150 engine audio, authentic ballast tamping kit audio & authentic single blast horn and siren audio. Fully working authentic drivers' console. 
Seven liveries are available:
– DR73001 Jarvis
– DR73101 Intercity
– DR73102 Carillion
– DR73105 Carillion
– DR73106 Intercity
– DR73106 Fastline
– DR73107 Fastline
The ballast tamper model has been overhauled considerably since its first release. Updates include: Ballast tamping kit model improvement, automatic tamping speed correction, exhaust model improvement, gauges added to tamping bogie, gauges added to vehicle sides, cooling fans added, missing springs and dampers added to tamping bogie, missing hydraulics added throughout, material use improved throughout, hoses and cables improved throughout, side indentations re-worked, texture bleeding corrected, 4 additional spotlights added, colour correction on tail light housing, windscreen wiper models improved, smoothing added to cylinders, cab cable on right hand side removed, small geometry error on cab1 left hand side fixed, max speed texture added, black lining improved on sides, all TS LOD issues corrected, exterior mirror window issue fixed, spot lights only illuminate at night. Sounds tweaked: Final mix improved; engine sound improved, better track joint sounds and better flange screech sound.
Controls & features include:
– Instrument Lights
– Right Side Lights
– Left Side Lights
– Spot lights
– Cab Lights (Interior & Exterior)
– Siren
– Front Wipers (Upper or Upper & Lower)
– Rear Wiper
– Headlights/Taillights (Front/Rear)
– Tamping Bogie Control Key (Lower/Raise)
– Tamping Action (Stop/Start)
– DRA
– Hazard Lights
– Engine Key
– Engine Start
– Single Blast Horn
– AWS
– Throttle
– Gear Lever (Combined Gears & Reverser)
– Engine Brake
– Emergency Stop
– Leveller LED Panel
– Liner LED Panel
– ALC PC Boot-up
– Operational Cab 2 VDU's

Read More Here
Share / Download mod «Plasser & Theurer 09 Series Ballast Tamper»
---
---
Download Links – Policy & Disclaimer
This document refers to links to third-party content/website, from both our website(s) and our official Social Media pages. External links are selected and reviewed when a page/post is published. However, we are not responsible for the content of external websites. If you would like us to remove a link to your website from NHS Choices, please Contact us (Admin) Note that unless you have a legal right to demand removal, such removal will be at our discretion.