John Deere 7x30 Premium v1.0 for FS 17
Author:
admin
| 10-04-2018, 22:19 |
Views:
672 |
Comments:
0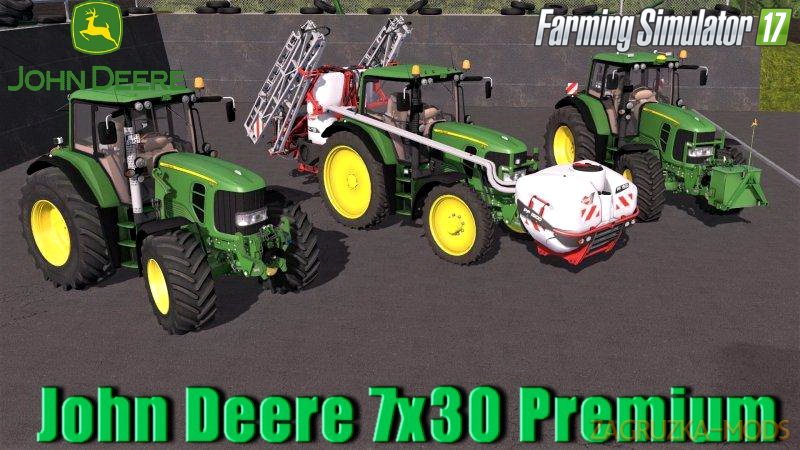 Category
-
Tractors FS 17
Credits: - Papageno Inc, Sotillo, Kub (FBM)
Agricultural Tractor John Deere 7x30 Premium v1.0 for Farming Simulator 17 game.


A great addition added to the game Farming Simulator 17 is Tractor John Deere 7x30 Premium for v1.5.x game version, which can be downloaded for free and without registration. You can also see other fashion from the category tractors for Farming Simulator 17 or go to the main section FS 17 games.
This tractor, offers two different types of engine performances. As configuration options at the shop, you are able to buy different frontloaders, a frontshield, 6 different types of wheels, warning signs, seed pipes, GPS and Terminals. Also little decorations like horns or orange lights on top of the roof are possible. Additionally you are able to optimize the light settings, whether you want to have additional lights at the back or at the front. Or if you want, at both sides. Choose whether you want LEDs for more money or just leave the normal ones. Furthermore you can switch between a "normal" cab or a "panorama". You want to change your exhaust color in silver? Then do it at the shop. Functions like the back wiper, changing between toplights and normal lights, opening door and window, are self evident!

Features tractor:
- the choice of Engine Power
- the choice of wheels
- the choice of attacher
- Max. Speed: 40km/h ; 50km/h
- Fuel capacity: 350 liters
- Price: 120.000 €
- Selectable Light
- Selectable RUL
- Selectable Terminals
- Selectable Extras
- Selectable Roof
- Selectable Design
- IC Control
- Registering Tractor
- animation parts
- The dust and traces of wheels
- Dirt / Washable
- detailed model 
 
Tested on game version 1.5.x