Claas Jaguar 900 Series Type 497 v3.1 (Beast Pack) for FS 17
Author:
Zagruzka
| 24-07-2018, 19:55 |
Views:
948 |
Comments:
0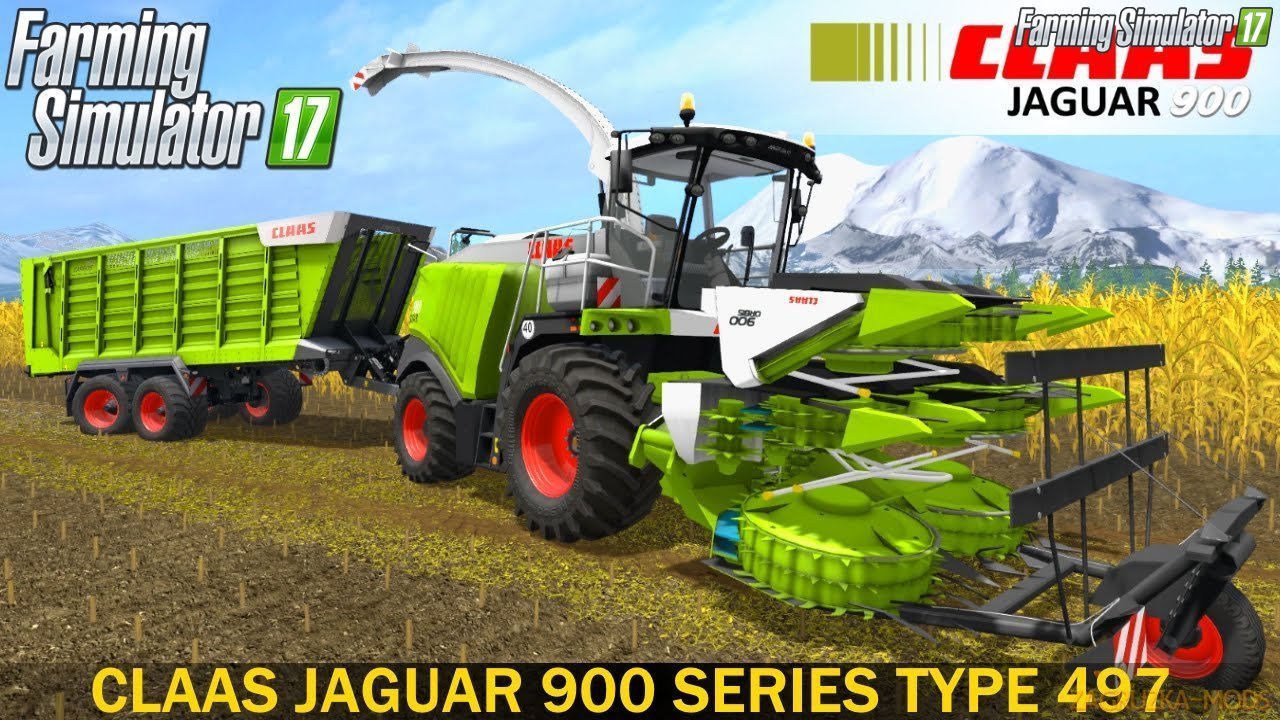 Category
-
Combines FS 17
Credits: - xXMalleXx, Marthu, MB3D
Claas Jaguar 900 Series Type 497 v3.1 (Beast Pack) for Farming Simulator 17 game.
A great addition added to the game Farming Simulator 17 is Claas Jaguar 900 Series Type 497 for v1.5.x game version, which can be downloaded for free and without registration. You can also see other fashion from the category combines for Farming Simulator 17 or go to the main section FS 17 games.

Changes in v3.1:
- Fixed a warning on the buttons.
Changes in v3.0:
- Improved texture, shine and dirt
- New model elements
- Improved inside, screen and new joystick
- New Michelin tires -> 3 types of tires (Michelin, Michelin XL, Michelin XM)
- The configuration of all Trelleborg tires has been changed
- New XL tube. Better model and it is better programmed. Also bigger, fits better with Orbis 900
- New sticker configuration (Agravis or Gavazzoni)
- New visual configuration (old type 496 or new type 497)
- Improved steering
- Improved engine performance
- Update sounds
- New RDA system
- New real exhaust system
- Passenger script added
- IC animation changes
- The descriptions of the IC animation function have been corrected
- Visual improvement of the lights
- Changes to all reapers -> textures, attachment points and rotations
- Better optimization for multiplayer. Due to optimization and textures issues, the black version is no longer available.
- And a few others that I do not remember ...
List of changes:
Special Black Edition called "Gavazzoni"
New Green Color Texture
New Dirt Specular Texture
New Sounds
New Interactive Control (IC) Buttons
Added Back Weight (on IC)
Added RDA in wheels (on IC)
New Jaguar Models 930 and 950
Added Front Dual wheels
Added Crawler Configuration
Changed Front Wide Tires + changed texture
New Scale for Orbis 600 and 900
Black texture for Orbis 900
Programmed Claas Pick Up 300
Fixed pipe. Modified range and chaff width.
There is still no Claas Jaguar 900 for Farming 17 so two months ago I decided to make my own.
Everything was more difficult than I thought but did not want to give up. It was necessary to make model edit (cabin and back) and long work on the textures to make it look good in the game.
At the end everything nicely programmed. Of course, the base model comes from xXMalleXx and I contacted him, everywhere I tried.
Thank you to everyone who helped me and supported me during this project. They will know ;)
Most important functions:
2 set of wheels
4 engine configurations (described below)
Full lighting with the stop and turn signal icon inside
All Parts are washable
2 screens to choose with a lot of indoor hud pointers
Animations - Steering Column and flaps (Right/Left and Back Flaps) (Working on interactive control)
Left Flap opened on approach
Joystick Indoor Animation
Transport trolley for Orbis 900
Claas Jaguar 940: 516 ps Price: 280.000
Claas Jaguar 960: 626 ps Price: 335.000
Claas Jaguar 970: 775 ps Price: 360.000
Claas Jaguar 980: 884 ps Price: 385.000
Claas Orbis 600 Width: 6m (recommended for Jaguar 940 and 960)
Claas Orbis 900 Width: 9m (recommended for Jaguar 970 and 980)
Claas Direct Disc 520: 5.2m

Verion 2.0 Beast Pack Gavazzoni Edition
This is an enlarged package. It has new models, textures, options, configurations and numerous fixes
Zip Cleaned! No unnecessary and extra textures! Size is 100% natural. There are new txt and pick Up in this pack!
During tests No Log Errors has been detected! Fehler frei!
This is the first version so it might be not 100% perfect!
Please do not edit this version!
Please keep only my download link!
Tested on game version 1.5.x