Download Farming Classics v1.0.1.1 for FS17
Author:
admin
| Date: 29-11-2018, 16:43 |
Views:
382 |
Comments:
0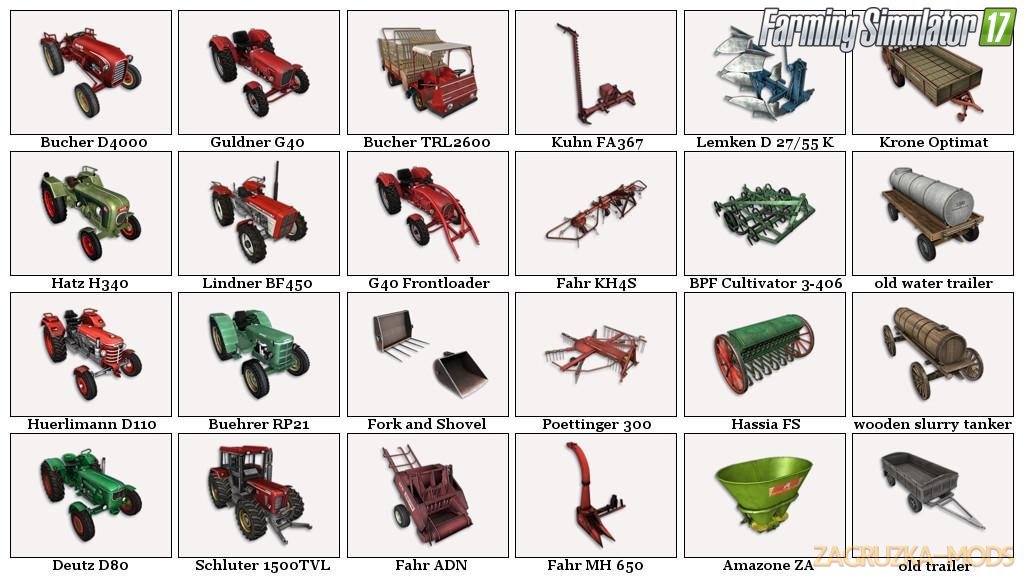 Category
-
Other mods FS 17
Credits: - Dogface
Description about « Download Farming Classics v1.0.1.1 for FS17: »
Download Farming Classics v1.0.1.1 for FS17 | Farming Simulator 2017 game. 
A great addition added to the game Farming Simulator 17 is Download Farming Classics for v1.5.x game version, which can be downloaded for free and without registration. You can also see other fashion from the cat
This is a conversion of the GIANTS FS-15 Farming Classics DLC. This is a collection of historical tractors and tools from the 1960s.
Changelog v1.0.1.1
- Added Tension Belt support to Small Bales
- Added hitch to Fahr APN
Changelog v1.0.1.0
- Animated dashboard gauges on all vehicles
- Added Rear Worklights to Schlueter_1500TVL
- Added ability to hire worker for Poettinger_300 & Fahr_KH4S
- Corrected Trailer Unload effect
- Corrected overfill on Krone_Optimat
- Changed tractors from 4WD to 2WD: Bucher_D4000, Hatz_H340
- Corrected grass bales
10 historical vehicles
Bucher D4000 | Buehrer RP21 | Deutz D80 | Guldner G40 | Guldner G40 Frontloader | Hatz H340 | Huerlimann D110 | Lindner BF450 | Bucher TRL2600 | Schluter 1500TVL
15 historical tools
Amazone ZA | BPF Cultivator 3-406 | Fahr KH 4 S | Fahr MH 650 | Fahr ADN | Hassia FS | Lemken D 27/55 K | Kuhn FA367 | Krone Optimat | Poettinger 300 | old water trailer | wooden slurry tanker | old trailer | Frontloader Fork and Shovel |
The bale loader required a script and was not included. A hitch was added (v1.0.1.1) to the Fahr APN to tow the Classic Bale Wagon mod.
Tested on game version v1.5.x
Share / Download Download Farming Classics v1.0.1.1 for FS17: