Fix 1.33 for Chris45 Trailers Pack v 9.10 [1.33.x]
Author:
Tacsi68
| Date: 7-12-2018, 20:48 |
Views:
217 |
Comments:
0
Description about Fix 1.33 for Chris45 Trailers Pack v 9.10 [1.33.x]:
Fix 1.33 for Chris45 Trailers Pack v 9.10 for Ets2 1.33.x game version
This is a temporary basic definition fix of cargoes that will help the main pack to work correctly in ETS2 1.32, 
until Chris45 will decide to fully update his pack. 
 You need to place this fix above the main mod.
*The file contains main mod, fix 1.33.x 
and Chris45 doubles in traffic 
Remember this is a basic update, not all trailers and cargoes have been updated! only 
the best heavy cargoes and all doubles in total about 50% (too much hassle as most of the files require individual editing)
There are in exchange one double locomax trailer and a diesel triple trailer imported from ATS version of Chris45 pack
in order to eliminate all errors and warnings you need to remove the entire def folder from the main pack!
Other remarks:
-there are no ownable trailers in this fix!
-the weight of the cargoes was only estimated, it may not be the same as the original
-many thanks to Chris45 for this great pack, I hope he will fully update this pack one day
Chris45 doubles in traffic by Cipinho :
-I have tried long time ago to bring the doubles from Chris45 pack in traffic, 
thanks to Mr Larrington who helped in solving the issues, we have finally done it !
-in order to appear correctly in traffic, in the same way as my ATS doubles, 
you need to use my traffic density mod and my sounds pack for Ets2 (link in signature both Steam and non-Steam versions)
-the trucks includes links to my traffic sounds, you need to activate my sounds for ETS2 in order to work, 
as I did not want to copy/paste the same sounds and waste space (links Steam and non-Steam version in my signature) 
Tested in Ets2 1.33.x game version 
Screenshots Mod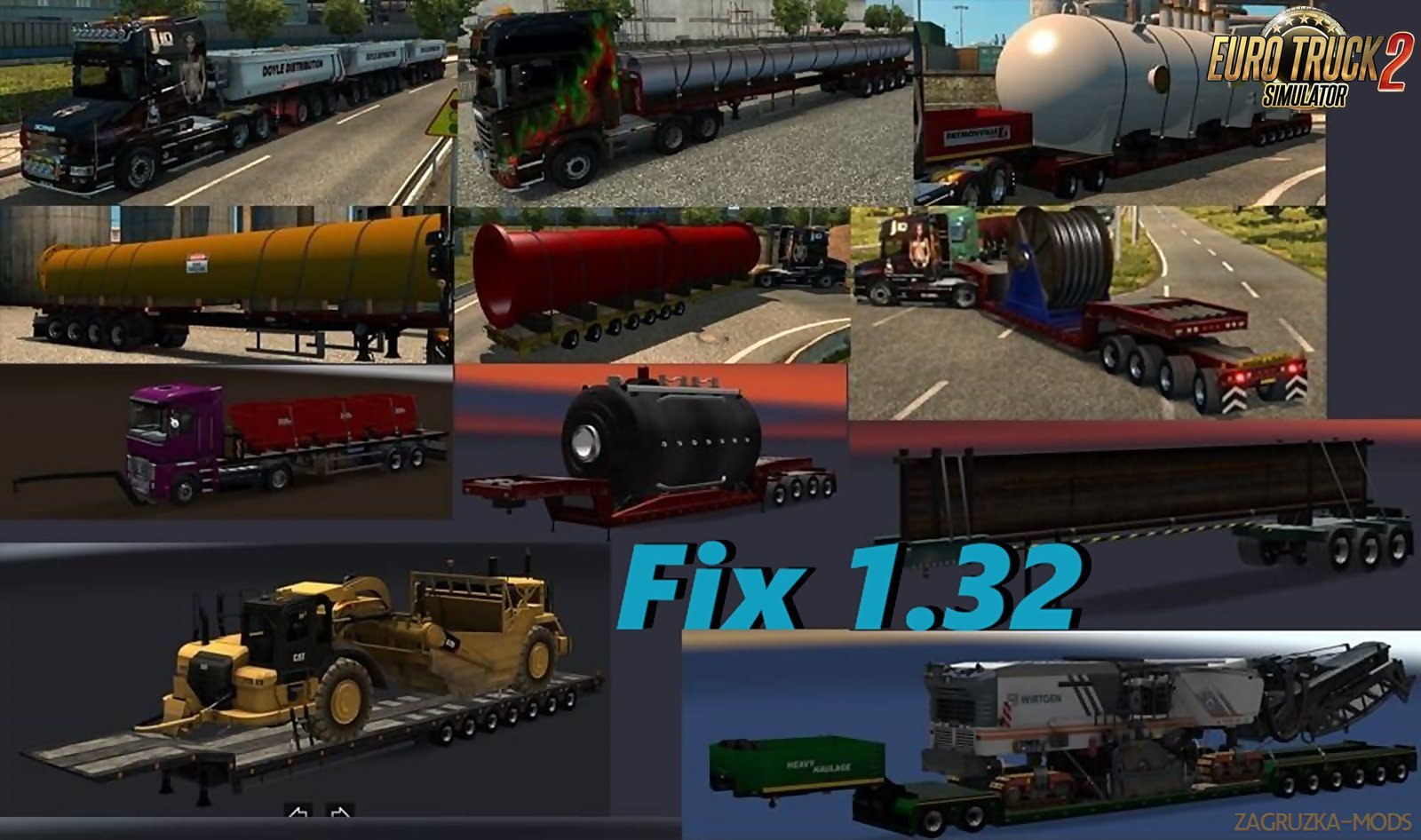 Share / Download Fix 1.33 for Chris45 Trailers Pack v 9.10 [1.33.x]:
Vkontakte
Facebook
Тwitter
Pinterest