Project US Expansion v2.5.1 (US 50 & CA 99 Mod) (1.34.x) for ATS
Author:
admin
| Date: 9-02-2019, 17:59 |
Views:
253 |
Comments:
0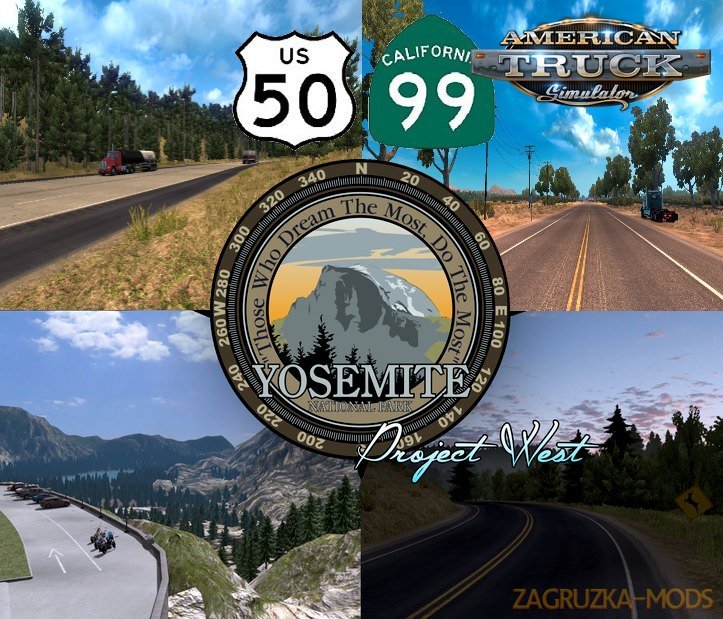 Credits: - P16, seal0027, stoked_dude, Dybr
Description about « Project US Expansion v2.5.1 (US 50 & CA 99 Mod) (1.34.x) for ATS: »
Download Project US Expansion v2.5.1 (US 50 & CA 99 Mod) (1.34.x) for ATS | American Truck Simulator game.
A great addition added to the game American Truck Simulator is Project US Expansion (US 50 & CA 99 Mod) for 1.34.x game version, which can be downloaded for free and without registration. You can also see other maps from the category Maps for American Truck Simulator or go to the main section ATS mods. 
From the author: I have decide to combine my US 50 & CA 99 & Cities Expansion mods in one big map mod called US Expansion!
I have rework and edit the US 50 & CA 99 map mod by seal0027 so it is now working with the new 1.20 scale!
The original map mod was made by seal0027
I also add the Yosemite Park roads (CA 108 & CA 120) and Lee Vining city as a scenery city form Project West in this mod with authorization of stoked_dude so you don't need Project West anymore!
This mod add lots of new cities and highways missing from the game!
Changes in v2.5.1:
– Made it compatible with the 1.34 update (including the OR-140 & the refreshed Tonopah)
– Fix the invisible wall in hotel in Parker
– Fix missing scenery in the distance in Parker
– Fix some buried objects
Cities Expansion Mod
I have also decided to share with you one of my private mod that I've done few
months ago that add three new little cities with some drop off points! 

Cities Expansion:
INSTALLATION
Place the US Expansion mod above every map mod that you have!
You'll need to have New Mexico DLC to make it working!
You must use only one version! Choose V2.0 (C2C) if you play with the C2C map mod or choose V2.0 if you are not using C2C!
Tested on game version 1.34.x
Share / Download Project US Expansion v2.5.1 (US 50 & CA 99 Mod) (1.34.x) for ATS: