Project North Map (Northern USA) v0.2.0 (1.35.x) for ATS
Author:
Zagruzka
| Date: 5-08-2019, 19:42 |
Views:
328 |
Comments:
0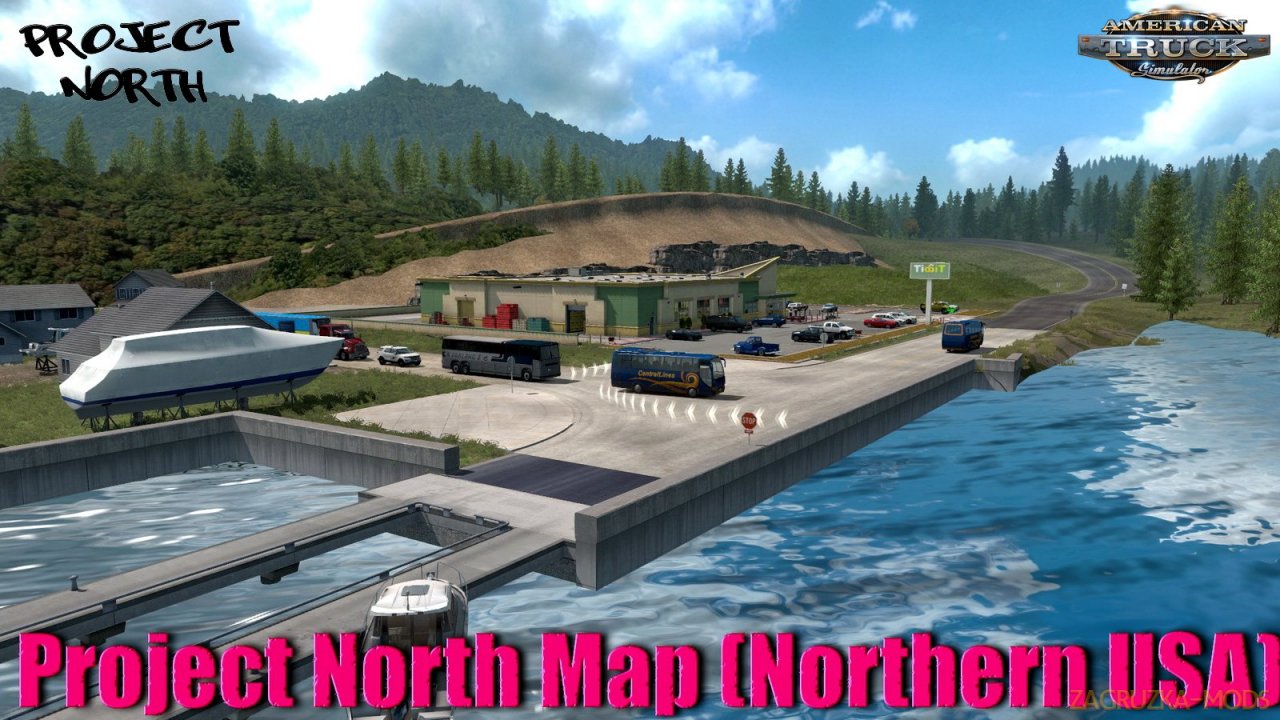 Description about « Project North Map (Northern USA) v0.2.0 (1.35.x) for ATS: »
Download mod Project North Map (Northern USA) v0.2.0 (1.35.x) for ATS | American Truck Simulator game.
A great addition added to the game American Truck Simulator is Project North Map (Northern USA) for 1.35.x game version, which can be downloaded for free and without registration. You can also see other maps from the category Maps for American Truck Simulator or go to the main section ATS mods.
Beta Release of Project North 0.2.0
Although beta, the version should be very stable, in a week, I will remove the beta status, if no bugs are reported.
SCR US Objects is REQUIRED. Crash if not. Read the readme
Download:
Brief History and About The Project
The Project originally was going to focus on the North West. In Mid July of 2019, I decided to remove my boundary. Opening a new plan, to create a detailed map -- high quality map for ATS. I decided to focus east (rather than west). I hope to stretch my map through the northern states. Right now, Idaho is being worked on. After 0.3 I will move towards Wyoming then South Dakota and so on.
READ ME:
To ensure that the functionality of this map is administered to your game properly, please read this readme:
To install...
1. simply click the download link found on this fourm.
3. Once all files are downloaded. Drag and drop all .scs files into My Doucments/ATS/mods (If no mod folder is present, create one "mods")
4. Launch ATS (Recommend DX 11)
5. Click on a particular profile, and click mod manager
6. Ensure that no maps that are incompatible are listed in the priority manager. (C2C, Canadream)
7. Ensure the priorities are set as
- SCR US Objects
- PN. Root File 0.2.x
- PN. Map File 0.2.0
Changelog:
Idaho Contents: 
- City: Mountain Home
- I 84 Extenstion (To Mountain Home)
- Various back roads near Mountain Home
- Downtown Boise
- Boise Airport
- New Section of Boise (SE Boise)
Washington Contents:
- Town: La Push
Do not post files of my map on any other site other than ShareMods
Thanks for downloading, enjoy.

0.2 Downloads
1. Map File (~75mb)
2. "Root" File (~325mb)
3. SCR US Objects (<1mb) viewtopic.php?f=195&t=235316&start=35
Tested on game version 1.35.x