Russian Roulette Map v1.0 for CSGO
Author:
admin
| 13-08-2019, 13:02 |
Views:
3 104 |
Comments:
0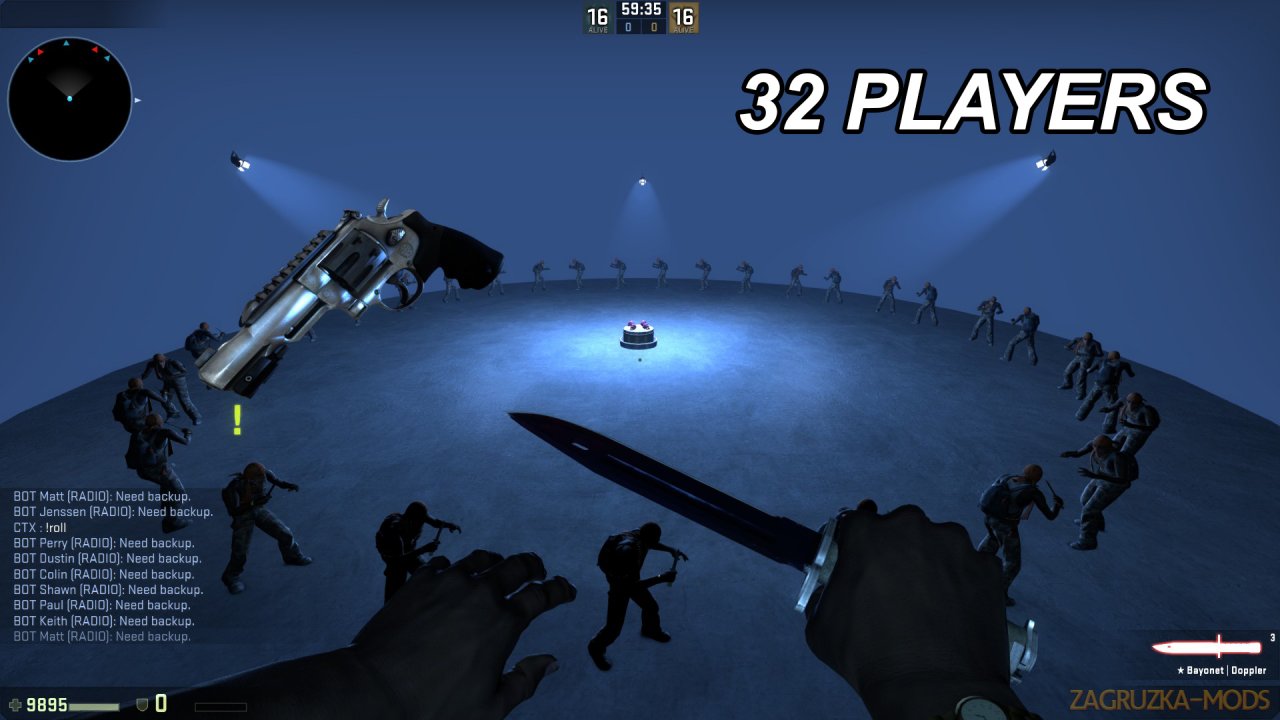 Download mod Russian Roulette Map v1.0 for CSGO | Counter Strike: Global Offensive game.
Map Russian Roulette for CS GO is a unique development for the fan of Counter-Strike: GO.
The basic concept of the card is that players will receive a gun in turn and spin the drum in a revolver, from which they will later shoot.
Depending on your only luck, you will survive or die in the first round.
You can download the Russian roulette card for cs go here, the number of players simultaneously playing on it reaches 32 people.
The meaning of this card is that players will stand in a circle and each of them will take turns spinning a drum in a revolver, where he subsequently shoots with a pistol.
And depending on luck, the player will survive or die.
Such is the meaning of the game.
Up to 32 players can play it.
You can complicate the mode and when the player dies, he kicks from the server.
Co
mands for playing Russian roulette in CS GO:
! roll - scroll the drum
! autoroll true / false - automatically spin the drum
! setrounds "quantity" - indicates the maximum number of rounds
! addhost "player id" - adds the host (to see the id, write status in the console)
! hardcore true / false - turns on hardcore mode (if a player dies, it will kick from the server, but the host will not kick)
! hostplaying true / false - the host plays with the others or not.
1. Click on the "Subscribe" button and wait until it downloads
2. Create a lobby, invite friends, press "Play" - "Workshop Maps", choose this map and start the game
NOTES
- wait until everyone connect then type 'mp_warmup_end' to start
- after you started, you can type !help to the chat
- don't set up this map on dedicated server
Enjoy!
Share / Download mod «Russian Roulette Map v1.0 for CSGO»
---
---
Download Links – Policy & Disclaimer
This document refers to links to third-party content/website, from both our website(s) and our official Social Media pages. External links are selected and reviewed when a page/post is published. However, we are not responsible for the content of external websites. If you would like us to remove a link to your website from NHS Choices, please Contact us (Admin) Note that unless you have a legal right to demand removal, such removal will be at our discretion.