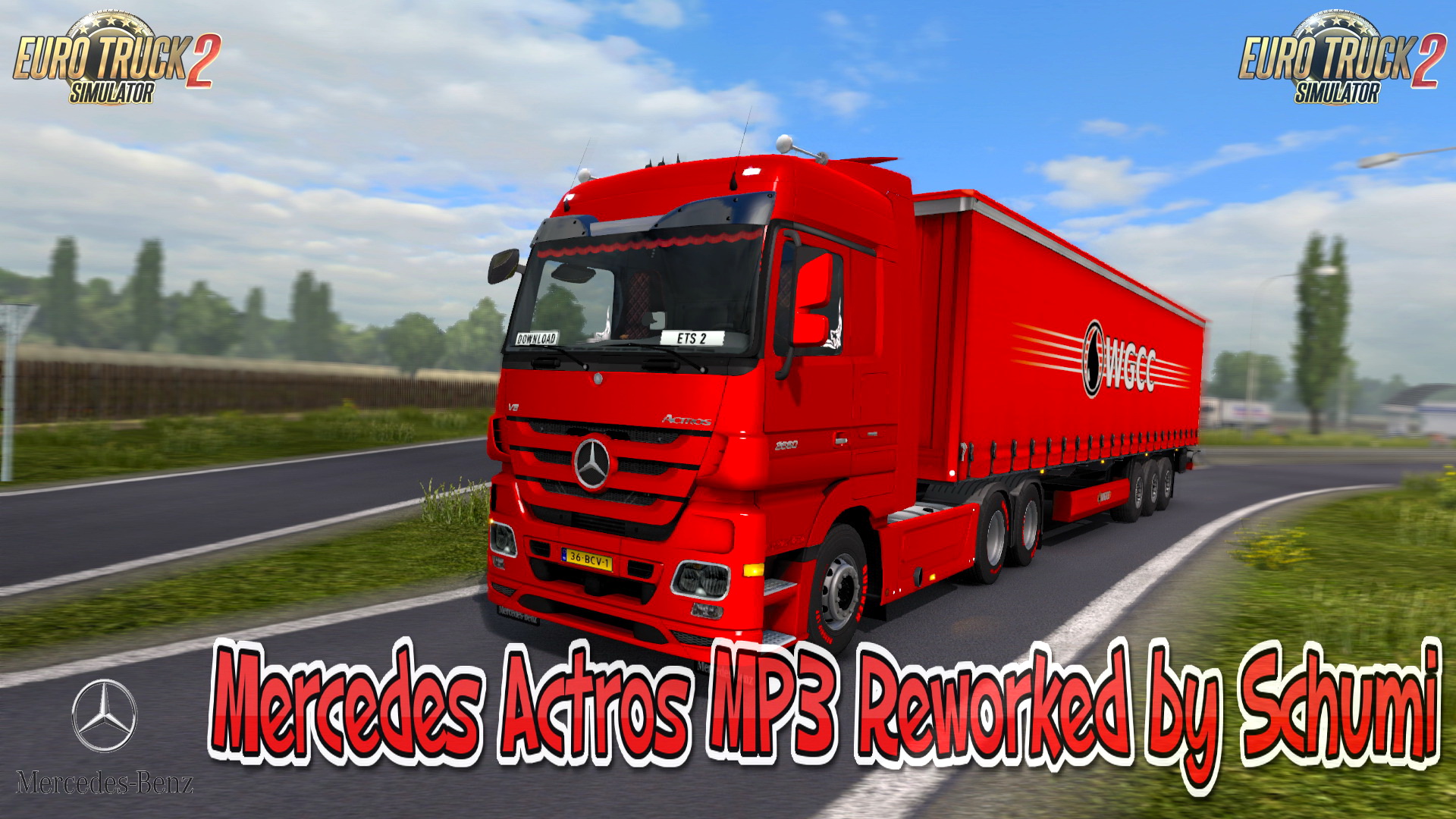 Mercedes Actros MP3 Reworked v2.9 by Schumi (1.35.x) for Euro Truck Simulator 2 game.
Features truck Mercedes Actros MP3 Reworked by Schumi:
- independent truck model 
- High quality 3D model 
- High quality detailed exterior 
- High quality detailed interior 
- own interior - own sound 
- passangers seats 
- the character is correctly sitting in the driver's seat 
- the choice of engine power 
- the choice of transmission and gearbox 
- the choice of wheels configuration
- the choice of interiors
- choice of color body / metallic paint / skins 
- correct position of the Mercedes logo 
- present the illumination of arrow speedometer and tachometer 
- Working headlights, brake lights, tail lights, front and rear turn signals, steering wheel and reverse signals 
- working lights - The correct position of the player 
– There are external tuning
- Cabin Accessories support
- Supports all major functions of the game
- buy in Mercedes dealer
Reworked Edition: 
- Mod replaces the default model of the Mercedes Actros MP3
- Plastic and paint bumper and part of the cab
- Plastic and paint grid engine
- A movable part on the rear wings
- Front mudflaps
- The decals on side glass
New Updated version 2.9:
- Fixed bugs
- New tuning 
*Before installing the mod must sell the old truck! 
Credits: 
- SCS - Schumi - abalazs - piva - kuba 141 - MTP(Moders Team Poland) 
- Kriechbaum - Paulnice - CosmicLizarddd - nfshp253 
Tested on game versions 1.35.x
Allow copy on another forum but keep orginal download link and author!
 Do not reupload!