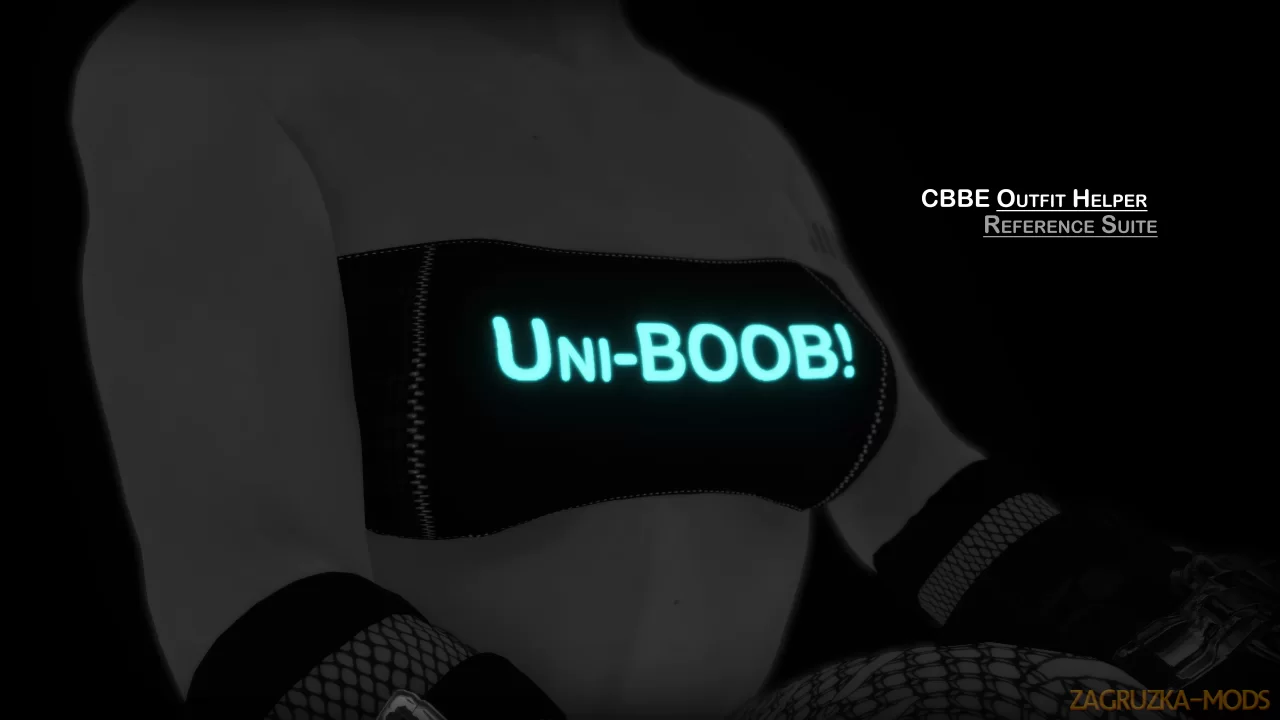 Mod CBBE Outfit Helper Reference Suite v1.02 for Fallout 4 game.
CBBE Outfit Helper Reference Suite - is a collection of helper references for CBBE outfits, including the long-awaited 'Uni-Boob' conversion reference.    
This collection of new helper references should help you make near-perfect conversions of certain types of outfits (you know which ones these are). If you don't understand what this does, refer to the comparison images (GIFs) to understand.
Extra care and time have been spent to ensure the most accurate and best quality conversion sliders.
Features and Glossary:
The references are built around four main changes: the Uni-Boob, Uni-Butt, No Nipple variants, and Ab/Spine Dip Removal. These references should satisfy almost all conversion scenarios. Uni-Boob/Full Uni-Body references have adjusted weights for better CBP physics.
Note: A smoothed out Under-Boob version may be released later.
Uni-Boob - Uni-Boob references are designed to remove the dip/sinking between the breasts. You need to adjust outfits to the Uni-Boob shape for the best results.
Uni-Butt - Uni-Butt is slightly different from the above idea. The goal isn't to remove the dip/sinking entirely, but mainly to prevent excessive deformation and crushed vertices caused by vanilla CBBE sliders. Slight to no shape adjustments are needed to take advantage of this.
Full Uni-Body - Combines both Uni-Boob and Uni-Butt features into a single reference. Useful for outfits that cover most of the body.
Ab Dip/Spine Dip Removal - This is an adjustment included in all the references. Basically, removes the slight dip in the back/spine and the abdominal region, (flattens the navel too).
No Nipple variants - This is quite a bit different from what is included with vanilla CBBE (Nipple-Gone slider). Converting outfits with these references will not deform the Nipple regions (provided the base shape is adjusted properly, prior to conforming). 8 out of the 12 nipple sliders have been removed from these references. 'Nipple Compensation' sliders have been added to prevent clipping with vanilla CBBE bodies when mixing various outfits.
-Skyrim to Fallout 4 Uni-boob reference - Self-explanatory. Should provide a reasonable quality conversion of the base shape from the original CBBE in Skyrim to Fallout 4's. Use 'Even Movement' to reduce deformation when using this.
-'To Helper Shapes' reference - A quick (and dirty) way to adjust an outfit's base shape to Uni-Boob/Uni-Butt compatible. Mainly useful for skin-tight or fitted outfits. Not really recommended otherwise, because usually, the results are less than ideal when changing an outfit's base shape this way.
Some Tips:
-Always use 'Even Movement' if conforming with a single slider (such as Skyrim To Fallout 4 conversion) and fix any clipping manually. 'Even Movement' will almost always give you smoother results. This feature of Outfit Studio works great with any sliders that are a little extreme or appear un-smooth.
-You can use the 'Dip' sliders in the references to apply a 'tighter' look on some clothing.
-Splitting and merging a project is a great way to avoid messing up existing zap sliders. Check the 'Articles' section for instructions.
This was an incredible amount of work for a Blender beginner like myself, so I hope you appreciate and enjoy using these references to enhance your outfits.
Credits:
-Thanks to the CBBE team and ousnius for CBBE/OS and for allowing this mod to be released on NexusMods publicly.
-Also, thanks to PaulGreen for the excellent Blender TRI plugin. This mod would not be possible without it.
-All the changes, modifications and testing were done by me.
Enjoy!