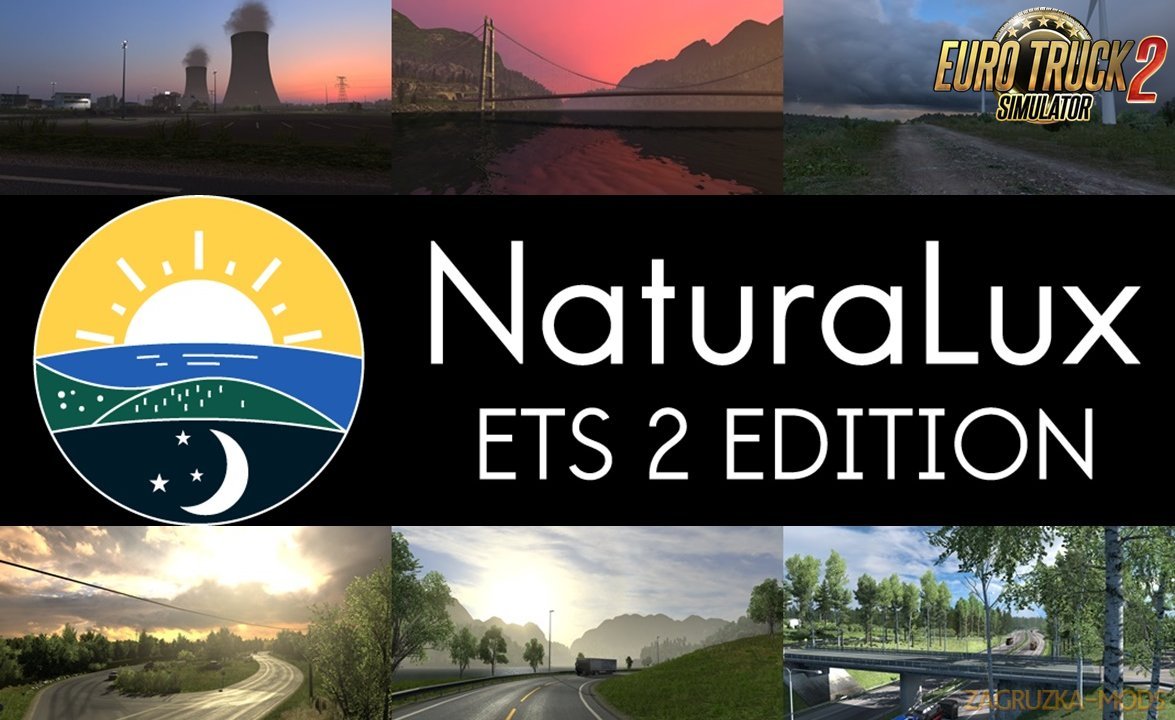 Mod Updated to v1.1
Category - ATS Other Mods / ETS 2 other mods
Credits: - GerScaniaTrucker, Bidolot
Download NaturaLux Graphics Mod v1.1 (1.39.x) for Euro Truck Simulator 2 and American Truck Simulator game.
NaturaLux - is a weather and graphics mod, bringing the visuals of the game engine to a new level. Mod is compatible with both simulators ETS2 and ATS.
- Over 250 skybox/skydome textures in mostly 8 and up to 16K quality
- Every single skybox/skydome texture comes with individual and the most realistic visuals, as currently possible within the game limitations
- Improved, custom and realistic cloud shadows
- Realistic sun visuals (including custom flare)
- Improved skybox model (higher poly, seamless textures)
- Improved alpha channels for realistic cloud masking (sun does not shine through clouds anymore)
- Enhanced visuals during rainy weather (new rain streaks, no shining sun through cloudy skies, fog, rainbows, rain intensity variations)
- Realistic and soft bloom settings
- New sound effects (rain and thunder)
- Some improved ground textures
- More realistic light flares and light behaviour / visuals
- Improved particles
- Total overhaul of night visuals incl. realistic and correct nightsky and star positions
- Realistic looks of the moon
- New loading screens
- removed all the accessories, flares, loading screens and hookups 
- just the climate data and the skyboxes remaining (which is anyway basically the entire mod).
- adapted to the latest game patch 1.39 
Tested on game version 1.39.x
This document refers to links to third-party content/website, from both our website(s) and our official Social Media pages. External links are selected and reviewed when a page/post is published. However, we are not responsible for the content of external websites. If you would like us to remove a link to your website from NHS Choices, please Contact us (Admin) Note that unless you have a legal right to demand removal, such removal will be at our discretion.