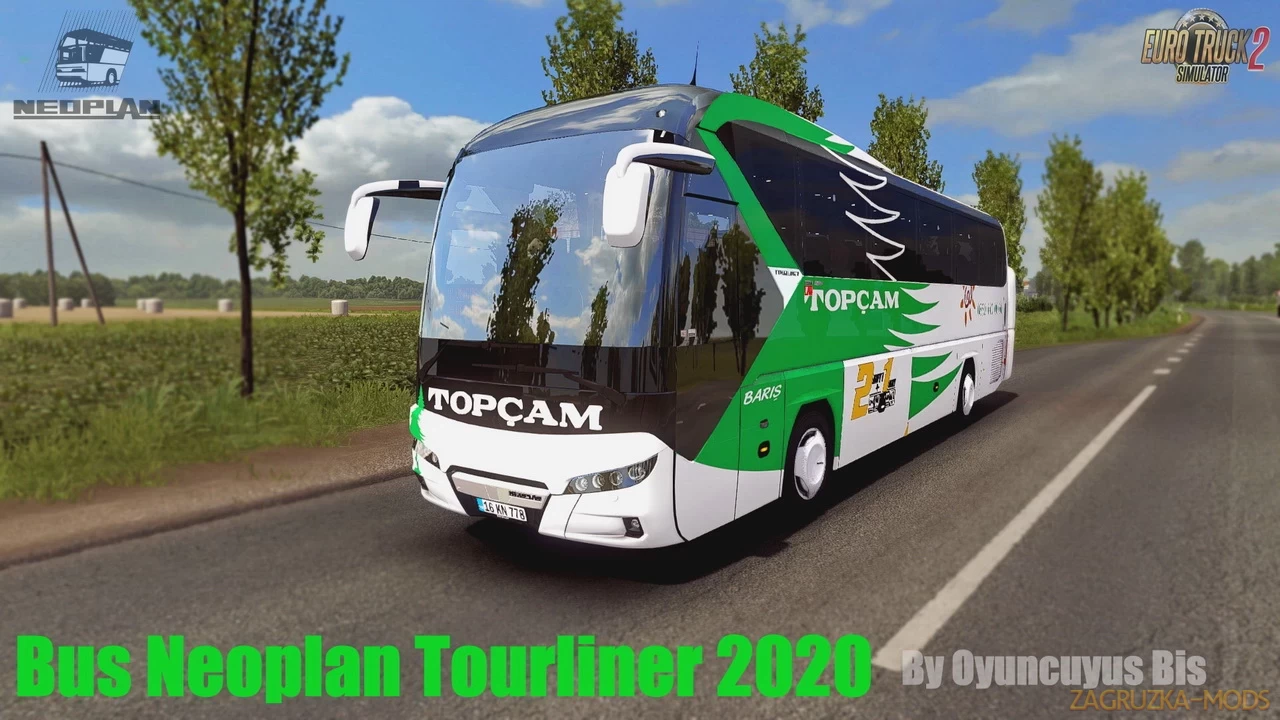 Last edited by: Zagruzka - 30-03-2021, 22:18
Reason: Mod Updated to v1.1
Download mod Bus Neoplan Tourliner 2020 v1.2 By Oyuncuyus Bis (1.40.x) for ETS2 | Euro Truck Simulator 2 game.
A great addition added to the game Euro Truck Simulator 2 is Mod Bus Neoplan Tourliner 2020 By Oyuncuyus Bis for 1.40.x game version, which can be downloaded for free and without registration. You can also see other fashion from the category Trucks for Euro Truck Simulator 2 or go to the main section ETS2 mods.
---
Neoplan Tourliner Euro 6 2020
- high quality bus model from Neoplan added for ETS2 players.
The bus has a realistic 3D model and a highly detailed interior with animation, the author has implemented new physics, functions for opening doors and driver's window, added support for external tuning and skins.
Technically, there are 3 suspensions with different ground clearance, 2 Euro 6 internal combustion engines with 420 and 460 hp.
with new sounds FMOD, 6-speed gearbox with retarder.
---
Features Neoplan Tourliner Euro 6 2020:
- independent bus model
- High quality 3D model
- High quality detailed exterior
- High quality detailed interior
- the model has own interior
- the model has own sound
- the model has own wheels
- passangers seats
- present the illumination of arrow speedometer and tachometer
- the character is correctly sitting in the driver's seat
- the choice of engine power
- the choice of transmission and gearbox
- the choice of wheels configuration
- choice of color body / metallic paint / skins
- correct position of the Neoplan logo
- Working headlights, brake lights, tail lights, front and rear turn signals, steering wheel and reverse signals;
- The correct position of the player
- the correct position of the passengers in the bus
- Realistic Engine Sound (FMOD)
- New Realistic İnterior
- There are external tuning
- Supports all major functions of the game
- buy in trucks dealers or Acces Mod
- adapted to the latest game patch 1.40
Tested on game version 1.40.x